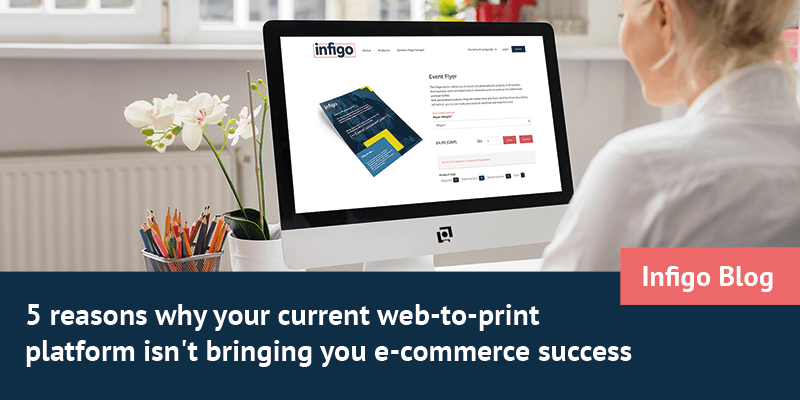 Blog: 5 reasons why your current web-to-print platform isn't bringing you e-commerce success
Technological advances are occurring at a staggering rate. Likewise, the demands of your customers are changing. Unsurprisingly the events of the last few years have accelerated both these trends.
At the heart of this shift is e-commerce. Whether you offer B2B or B2C products, your customers expect to be able to quickly and easily design and order a print. Like other e-commerce providers, they want to place their order with a few keyboard taps and mouse clicks, receive regular progress updates and know precisely when they will receive their shipment.
However, for a variety of reasons, many print companies are still unable to reap the true benefits of e-commerce, despite years of web-to-print investment with several different vendors. In this blog, I discuss the main barriers printers experience and how the right platform can overcome them.
Not enough storefront design flexibility
As I have mentioned, digital technology innovates at an astonishing rate – from functionality to user experience. Take something as simple as e-commerce web design. What was deemed best design practice and UX just a few years ago, has changed dramatically.
And different clients will have different needs. What works as a storefront or portal for one client, may not be optimal for another. I've lost count of the number of clients who have told us they invested in several different vendors, purely because each time they took on a new client, that client had different requirements that the previous platform couldn't deliver.
In some cases this was because of a lack of design flexibility, with others it was an inability to integrate with other software in the workflow (which I'll get on to below).
So, what starts off as an investment that should reduce costs, save time and improve productivity, ends up becoming a drain on time and resources.
Jay, Peczuh Printing:  "It's increasingly difficult to distinguish your business based on price, quality, or turnaround time.  We think the ability to make the print buying experience as easy as possible will often serve as the tie breaker.  Plus, by eliminating steps in the print lifecycle with Infigo's web-to-print solution, Peczuh can offer faster service, minimize the introduction of human error, and reduce labor costs."
Integration capabilities are limited
One of the main selling points of an effective web-to-print platform is the ability to automate processes and easily sync data. When a client places an order, the best platforms will significantly reduce manual touch points, from pre-flighting to shipping.
However, I often hear of printers becoming enamoured with one aspect of the platform, only to find (rather too late) that it doesn't actually sync with a critical part of the workflow. Or it can only automate a particular type of print job.
So it's critical to go with a vendor that has the development capabilities to create generic and dedicated APIs to connect with your MIS, CRM, shipping provider, and employee database – regardless of whether you are using your own in-house systems or other third-party providers.
Roger, FE Burman: "If you can't integrate with your other systems then you're not able to automate the entire process."
It's difficult to use – for both customers and staff
It doesn't matter how sophisticated your web-to-print platform is, if it's not simple to use. Unfortunately, a lot of web-to-print providers are great at selling the platform but when it comes to implementing, onboarding and training staff and customers they fall short. If staff aren't given adequate support and training in the first few months, then your e-commerce success is going to be limited.
If no one in your organisation really gets to grip with the web-to-print or sees the benefits, staff will be reluctant to use it, and your sales team won't be confident in selling the concept to clients. This is why it's so important to invest in a platform that is intuitive – from the CMS to create and update storefronts, to a simple customer journey – and backed by a dedicated support team. It's also important to use a platform that provides plugins for the tools that you use most regularly.
At Infigo, for example, we have developed Infigo Invent, which allows you to design products in Adobe Indesign and then transfer them to the Infigo platform, reducing template design time by 80%.
"Rather than building out a template in the browser from scratch, you can create it in InDesign and import it seamlessly to your Infigo storefront. In short, it allows you to control settings and features for your design template, directly from InDesign."
It's impossible to scale
It's great when all the pieces of the puzzle come together and you're significantly increasing online print revenue. But a typical problem printers experience is becoming a victim of their own success. While the front end of the platform is working great, the back end isn't able to keep up with demand. Either the integrations capabilities aren't up to scratch (so an increasing amount of time is spent on fixing system crashes and dealing with bottlenecks in the workflow), or the provider can't offer you the server space to host more storefronts or portals.
The most respected vendors in web-to-print will be able to help you take the leap from SME to enterprise level. They'll use providers such as Amazon web services, so you can scale your print e-commerce operation as often as you require.
Transferring storefronts, products and integrations is difficult
As I mentioned, I often speak to printers that have collected a suite of web-to-print platforms for different clients. Another one of the reasons that you'll have legacy systems building up is that transferring clients over to the new system causes such a headache.
A handful are moved across smoothly but then some of the clients with more complex products prove to be an issue. Several months later and you've still not moved all your clients over and you're facing up to the reality of speaking to yet another vendor.
To really achieve e-commerce success with web-to-print you want to be able to easily "lift and shift" the entire platform – storefronts, products and integrations. And you want it to be managed by a vendor that has a wealth of experience executing projects for some of the largest print and corporate organisations on the planet.
Think about the future
None of us knows what the future is going to bring, as has been painfully demonstrated over the past few years. However, when investing in a web-to-print platform it helps to not just think about your client's current needs but also about what they could be in the next 5-10 years.
Unfortunately, a lot of printers get excited about a specific aspect of web-to-print and don't consider how it can scale and grow along with your business. I don't have a crystal ball but in my decades of working in the print industry and building relationships with some of the biggest names in the industry, Infigo's managed to build and grow a platform that anticipates the needs of forward-thinking print organisations.
So if you feel your current web-to-print platform is becoming increasingly difficult and costly to maintain and isn't helping your business scale, then get in touch.