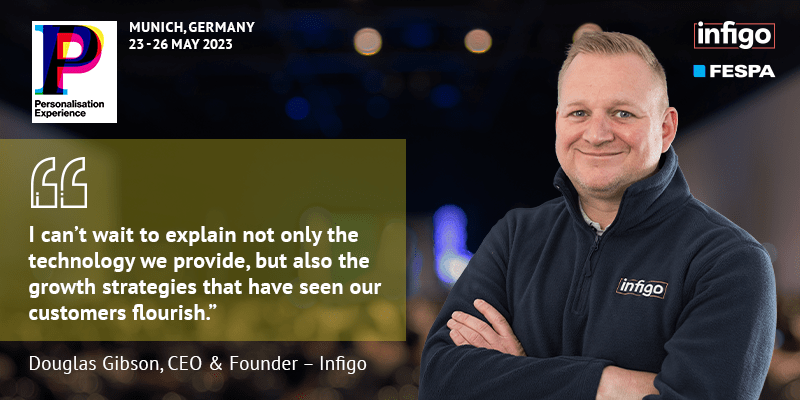 Why personalisation isn't just a name
Receiving a letter that's addressed to "Dear Sir/Madam", is one of my pet peeves. As Dale Carnegie famously wrote in his pivotal book How to make friends and influence people "a person's name is to that person, the sweetest and most important sound in any language."
It's a highly effective way of getting someone's attention and making them feel valued. I think that when someone's taken the time and trouble to at least find out what your name is, you raise yourself up a little bit taller in your boots.
So when an organisation hasn't even bothered to find out whether you're male or female, it has completely the opposite effect.
And I can give you the perfect example of this.
Outreach left me cold
I recently received a cold outreach email, enquiring about whether I wanted to sell Infigo.
To clarify, I don't. However, if I was looking for a suitable buyer I certainly wouldn't get in touch with this organisation.
Not only did they get the name of the company wrong but they weren't even in the same sector as Infigo. Which completely negated their claim that they had "taken great interest" in our company.
This is why personalised content is so effective. Personalised content makes your customer feel special. Personalised content creates emotional engagement, which makes your brand "sticky".
And you can create this personalised emotional engagement with your customers in a variety of ways – from corporate gifts to digital portals and everything in between.
Creative license plate
A great example of this is a letter I received from Audi. Not only had they got my name right but the letter included an image of their latest model, which included the number plate of my current car.
Not only did it immediately catch my attention but I've held on to that letter when I've thrown other direct marketing content away. Audi made me feel as though they were talking to "Doug" rather than "Sir/Madam".
And to be honest, I would have settled for something like D0UGL45. The point is, it was a completely different experience to the example above. It's the fact that the letter tailored to ME, in a thoughtful, creative way.
Sticky brands
That's what personalisation does, in my view. It makes it sticky because people are touched by it and remember it. People want to keep hold of it, and that doesn't matter whether you're giving somebody a mug with a name on it, or a letter that has some thought behind it and got the right content, or a card that's got somebody's picture on it.
So it really is about helping that message from the brand to the consumer to be a lot more sticky and emotional. In short it's all about using prospect and client data to create a (non-creepy!) personalised experience.
A shift in packaging demand
And because we're seeing increasing demand for personalisation, it's changing demand in the print and packaging industry. Printers can no longer rely on large volume jobs from a small number of corporate clients (unless they are diversifying and creating a personalised user experience, which is a conversation for another day).
Revenue is being driven by small volume jobs from a large number of clients.
The perfect example of this is a tiny independent coffee shop, in the tiny village of Lindfield, near our office in West Sussex. They sell their own ground coffee in their own branded packaging.
They're taking pride in their brand and they're personalising that to their own shop and then out to the consumer and they know that'll then get shared. And I've seen these these packs now in other local shops.
Obviously, they are not going to need the same volume of packaging as Starbucks or Costa does. But when you take into account the number of independent coffee shops and stalls in your town, let alone the entire region, then that's potentially a lot of business.
Productising print
However, to take advantage of this shift towards personalisation and shorter runs, printers need to be innovative. Not just innovative in their thinking but in the technology they use. At the heart of this is web-to-print. A platform that allows you to easily create branded storefronts (for consumers) or portals (for corporate clients).
Not only does this allow you to create that personalised "sticky" experience for customers and clients, you can integrate it into a completely automated workflow.
With this technology, printers can easily produce 1000 different coffee packaging products (with the name of the shop or image personalised) at a run of 2000 each at the same price as it would have cost for one run of 2 million.
In short it allows print organisations to productise their service.
It allows them to create a product that will go direct to consumer, as well as servicing larger brands. And this enables print businesses to add a bit more value and margin.
Creating change
And it's not just the packaging industry that can leverage this growing demand for short runs and personalisation.
We're seeing it used in a number of wonderful ways, which quite frankly, are helping the world to be a better place.
We have a fantastic customer called Sensitive Matters. In a world where we all come from very different backgrounds, they help parents and guardians tackle difficult conversations about where they come from.
They're using personalization to deliver very personal, very delicate information. So in that book it may be a little hand drawn piece from the child when they were younger or they may create their own avatar. And the personalised content is based on, whether it was two moms that created this beautiful child, or a mum and a dad, or if the child was adopted.
So please get in touch if you're going to be in Munich and we can chat about this dynamic new age of print further.
Come along to FESPA's Personalisation Experience with free tickets worth up to €160
So, while some organisations are incapable of getting a customers, others are really pushing the creative boundaries. Which is why I can't wait to discuss this at further length between 23-26th May at the FESPA Personalisation Experience, Munich, in May.
To come along to the Personalisation Experience, co-located with FESPA's Global Print Expo and European Sign Expo 2023 with FREE tickets worth up to €160 and up to 2 tickets per organisation, get in touch.