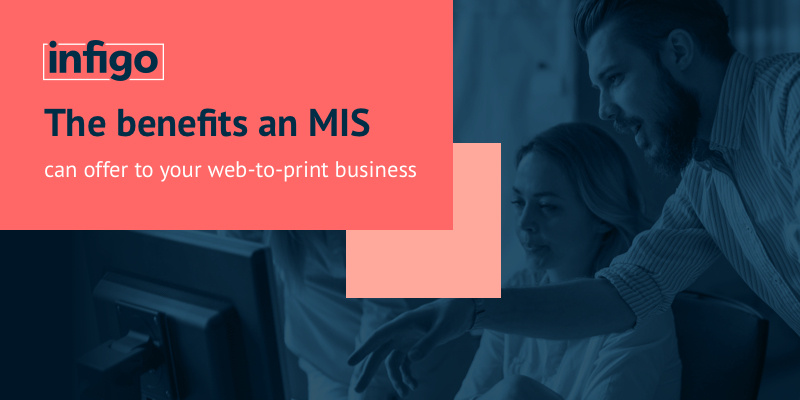 Ensuring your print business runs at optimal efficiency has never been as important as it is now. As we all adapt to the repercussions of the coronavirus outbreak, managing costs and getting the best out of your staff and resources is essential to the future of your printing operation.
A highly effective way of streamlining your processes and increasing your productivity is by investing in a Management Information System (MIS) and integrating it with your web-to-print solution.
What exactly is a Print MIS?
A Print MIS is an integrated software solution that enables print businesses to plan, organise and coordinate individual jobs or implement standardised processes that can be replicated for specific types of jobs or customers.
Costly and time consuming aspects of your workflow can be automated which means production costs on some jobs can be reduced by as much as 50%.
An MIS breakdown
Most systems follow a basic framework, enabling printers to automate various aspects of the workflow:
Web-to-print storefront
Often, MIS providers will partner with a specialist web-to-print software provider to offer storefronts. A web-to-print storefront has a number of benefits, from a global online presence to taking orders any time of the day or night. They also can be personalised, whether that's a branded website for specific products or services or a specific portal for a corporate client, which ensures brand consistency.
Estimating
Quoting for individual jobs is not only time consuming but can result in a lack of standardised pricing. An MIS ensures that the exact specifications of a job are entered and confirmed with the client. An electronic job ticket is created, defining the methods and materials required.
Data collection and scheduling
An MIS can automate production control, so you know what jobs are booked in, and when, and which machines are needed to complete them. The system will collect shop floor data to monitor and record actual production for costing, and this can also be sent to other systems, such as the CRM module or web-to-print storefront, so both the client and other members of staff know the status of the job in real-time.
Costing and accounts
Real costs can be used for the analysis of individual jobs or patterns of jobs over time. This, in turn, can be fed back to produce more accurate estimates, and also used in forward business planning.
What's best for my business – a cloud or server-based MIS?
Regardless of the size of your business, an MIS could make a substantial impact on your efficiency, productivity and profitability. However, you need to select an MIS that is most appropriate for your business.
One of the first things to consider is whether a cloud-based or server-based MIS will best meet your requirements. Both have their advantages and disadvantages:
SERVER-BASED MIS
Pros Cons
* You have control over your physical back up
* Critical data is kept in-house which means a third party company doesn't have access to your information
* You are not reliant on the Internet to access your data
* It can be a more cost-effective solution for small to mid-sized companies.
* It requires a capital investment in hardware and infrastructure
* It requires dedicated IT support as well as the physical space to house the server.
* It can be more vulnerable during disaster situations due to its in-house location – needs regularly backing up to an offline server.
* No uptime or recovery time guarantees.
CLOUD-BASED MIS
Pros Cons
* There are reduced hardware or capital expenses. Well-suited to smaller companies that are growing and may quickly need additional integrations
* Upgrades and new integrations can be added as needed. Solutions are often on-demand, so you only pay for what you need
* You can backup or restore from anywhere, using any device
* Data can be backed up in the cloud several times an hour, if required, reducing the risk of data loss in disaster situations
* The costs of the data recovery could outweigh the benefits for printing operations that are not as dependent on uptime and instant recovery
* There may be a limit to MIS data that can be stored in the cloud due to storage availability and cost
* If the Internet goes down on your side or on your cloud provider's side, you won't have access to your MIS
* Full data recovery could prove very time-consuming and impactful on systems
An investment that quickly pays for itself
During these challenging times, we know you'll be stringently managing your costs, so new software may feel like an unnecessary expense. However, many printing organisations have found web-to-print and MIS software pays for itself within a matter of months.
For a more in-depth look at how the different modules of MIS and web-to-print can help your business return to profitability, download our free White Paper 'The benefits a MIS offers to your web-to-print business'.