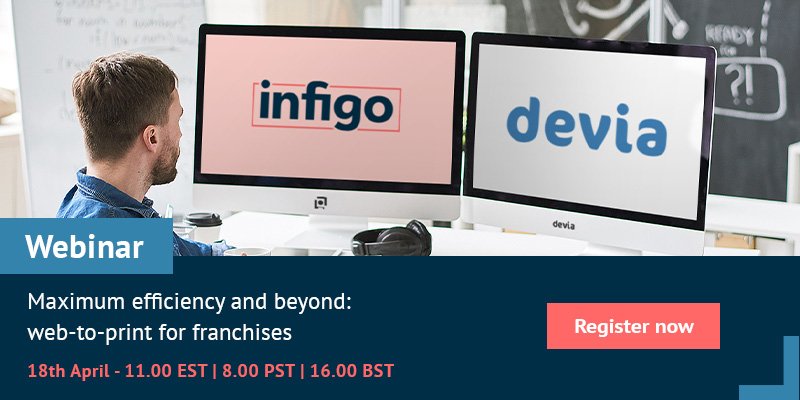 A valuable conversation for Print Service Providers (PSP's) thinking about growing revenue streams through franchise or multi-location customers.
As a PSP, margins can be tight on standard printing methods due to increased manual tasks and the added time it takes from file to press. Automation has become critical in areas like design, pre-press, and order management, to ensure speed and efficiency.
We are excited to bring together Infigo's Head of Customer Success, Greg Young, and Steven O'Brien, Devia to discuss how a digital strategy can be used to increase revenue streams. Implementing personalized digital storefronts not only makes it easier for your franchise or multi-location customers, but it also streamlines the process for your internal order and file handling, and ultimately provides a path for business growth.
Greg said: "We have found that PSP's may be hesitant in moving to web-to-print because they may not have the staff or technology background to ensure it's completed successfully. That's where our partner, Devia, comes in. They act as an extension of your team, providing services in the form of project management, implementation, integration, support, and more."
Steven said: "We are excited to be joining the Infigo team for this webinar. We are an Infigo Diamond Partner and have had a lot of success helping more than 50 customers launch their digital storefronts. We definitely have a story to share with PSP's and the success they can have adding e-Commerce to their business model."
Also joining the webinar is special guest, Cheryl McNeil, Online Sales Manager for McNeil Printing. Cheryl will share her first-hand experience with creating personalized storefronts for their franchise customers.
Cheryl said: "At McNeil Printing, we like to find the latest technologies to service our customers. We know that a personalized storefront reduces time for our print production process, but also makes things much easier for our customers. They can order on their time and have full control of the ordering process."
Web-to-print provides franchise customers:
Brand protection through template-based designs
One centralized location for ordering printed product
Automation to reduce time and manual tasks
An enhanced customer experience
Set yourself apart from the competition by pairing the right platform with the right technology partner. Save your seat today to learn more about how a digital strategy can evolve and grow your business.