Your customers are online. Are you?
Whether your customers are in the B2B or B2C sector, most buying decisions begin with a Google search. Not only does our web-to-print platform enable you to create eye-catching designs, but it also provides all of the features required for ultimate search engine optimisation (SEO). Building a strong online presence with responsive, search engine optimised and customisable web-to-print storefronts, that generates a steady stream of traffic, has never been easier.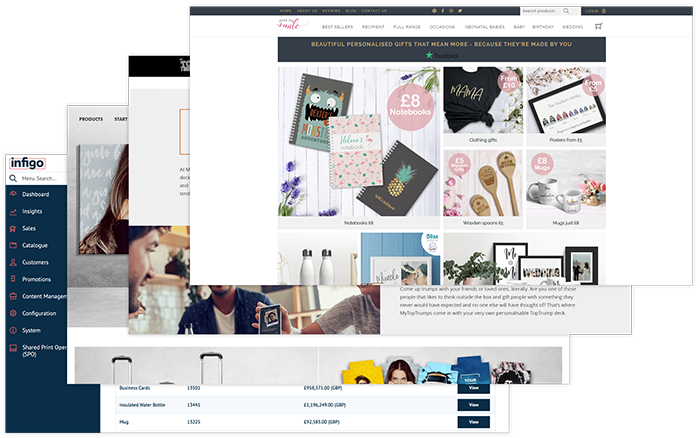 Every brand identity is unique, and your website should be, too
Don't allow your creativity to be boxed in. As a B2C business, you can create a strong brand identity – to stand out in a competitive market. As a B2B company, you are able to win more clients by creating unique B2B portals that fulfil your clients' exact requirements. You'll never have a project that's too simple or complex to take on again. And your team will never get bored, as they learn the full breadth of sites that can be built with our web-to-print software.
Build your own e-commerce printing website in no time
You don't need complex coding skills to create a website using our software. Our easy-to-use content management tools enable you to build professional print e-commerce web pages, ready to start taking online orders in hours. You can easily update the text, create new pages and add new product ranges, all with a few clicks of the mouse. Or alternatively, if you did happen to be a development ninja already, the possibilities are endless!
Multiple websites from one storefront
Configure the content displayed on your storefront for each individual user, based on their access permissions. Show different products, pricing, design templates, features and even branding depending on the login details. This means that, instead of building several storefronts from scratch, your team can quickly adapt an existing web-to-print storefront to a particular sector or client – and as a result, your portals will be ready to take orders in half of the time.
Our partnership with Trustpilot
Did you know customers are 12x more likely to trust a review than a product description? Which is why we've partnered up with Trustpilot, an independent review platform, used by over half a million businesses.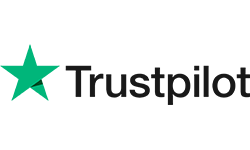 With a dedicated API, Infigo and Trustpilot's systems blend seamlessly together, so you can start requesting reviews from all of your customers instantly. The integration couldn't be easier to set-up – but we have plenty of support on hand if required, as always. The benefits don't stop there – you also get a free month long no-obligation trial, with a fast-tracked onboarding process and discounted pricing.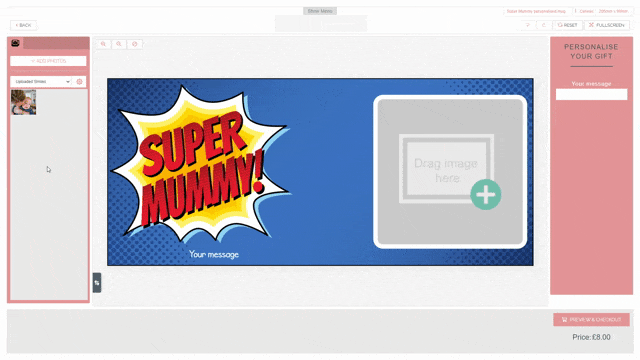 Allow customers to create or edit personalised designs online
Profit from the explosion in demand for personalised items, whether that's for corporate clients or retail. With our powerful web-to-print online designer and editor, customers can tailor pre-defined templates, or create custom designs from a completely blank canvas.
Effective editing tools: Infigo Editor
Allow customers to easily personalise templates directly on your web-to-print storefront with our Editor. Create variable PDF templates (with variable text, image, barcode fields and logic) using our simple yet intelligent Adobe Acrobat plugin, Designer, then upload them into Editor, ready for customisation.
Powerful personalisation editor: MegaEdit
Our flagship personalisation software, MegaEdit, offers unrivalled flexibility and online editing features. Boasting drag-and-drop functionality, with the ability to lock-down elements and image library upload, customers can edit from a pre-set template, or create a design from a fresh canvas. Seamlessly integrated into your website and styled to your brand, this innovative online editor offers an extensive range of editing possibilities. And it gets better, you can also easily set up product templates directly from Adobe InDesign, with our powerful plugin; Invent.
View it in 3D
Show a realistic view of the product, before the order is placed with our state-of-the-art 3D preview module. Besides adding the "wow" factor to your website, customers can also adjust their designs until they are happy, before they proceed to checkout – ultimately saving you time and money, whilst generating more orders.
Create product design templates directly from Adobe InDesign with Infigo Invent
Our upcoming Invent module will massively reduce the time it takes to set up artwork templates to your storefront. The seamless connection between your Infigo storefront and Adobe InDesign means you can control all settings and features for your design template directly from InDesign. This includes variants of text fonts and colours; restrictions on element position; generation of forms; and much more.
Take payments online and make money while you sleep
Your web-to-print storefront isn't just a static catalogue of products, but a dynamic and profitable revenue stream. With our solution, your e-commerce printing website can securely take payments online at any time of the day (or night) – generating cash flow even when you're taking some well earned time off.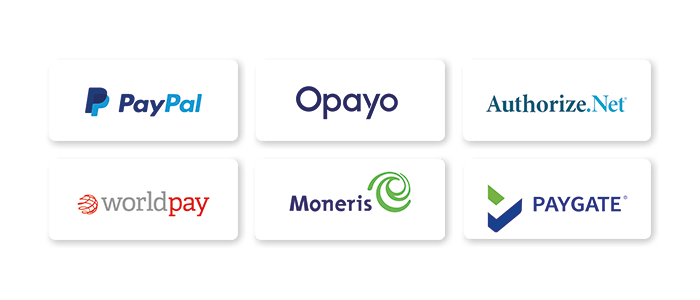 Display prices instantly
Customers are used to the speed of information – and studies show that a customer is more likely to proceed with a quote generated instantly, than one supplied in half an hour. Reduce manual work and offer consistent cost estimates by setting up pricing logic in your Infigo platform or by connecting it with your chosen print MIS software.
Take payments online securely
Taking payments upfront is a simple way to ensure your business is constantly generating cash, without having to chase invoices. You can integrate your e-commerce storefront with a range of payment gateways directly on your checkout page. This way, customers can securely complete a transaction in a seamless journey, greatly reducing abandoned baskets, exit rates and aborted sales.
Allow customers to manage their accounts and order history
With a fully integrated CRM system, you can easily view and manage all customer information, through our platform. Each customer can access their own account to view their details, including order history – making it easy to reorder materials.
Print automation behind the scenes
Our software offers a comprehensive print workflow management, with a simple and intuitive user interface. Easily view, manage and report your business operations and activities from one-central hub. Integrating your web-to-print storefront with other software providers not only creates an automated end-to-end print production workflow, but also translates into automated cash flow.
From digital to physical
To reduce manual work, minimise touchpoints and avoid potential human error, you can easily configure workflows to automated print production processes – from order placed to shipping. Our web-to-print software can be integrated with the majority of print MIS software providers, via Infigo Connect. We also have native integrations with market leading MIS gurus Tharstern and printIQ. Alternatively, jobs can be managed using Infigo Sync, a hot folder structure for print-ready files, connected with your presses.
Order ready, order dispatched
Once a customer order is off the press, it's time to ship. Through our integration with EasyPost, customers will automatically see the shipping costs based on the order's weight, size and destination. Shipping labels with their chosen service and tracking details are then automatically generated, so your team can efficiently prioritise and dispatch orders.
Customers' automated notifications
The buying experience doesn't end after payment is taken – communication during order processing is key. Within our web-to-print software, order status notifications can easily be automated. This frees up your staff for more important jobs while keeping your customers up to speed on their order progress – all leading to greater efficiency, repeat sales and positive user reviews.
Infigo Insights: our powerful reporting engine
Insights is our powerful new reporting engine – and all you need to analyse and understand your business performance. With this module, you can quickly and easily create rich custom reports, using simple or complex logic, on any business data, including sales, customer activity, order status, system usage and more. You can also display any relevant information in an easy-to-digest and concise way: handy dashboards give you in-depth snapshots of your Infigo platform and storefronts.
Powered by Metabase, Insights is available in four plans, each with different levels of access and customisation. Talk to our team to see how your business can benefit from this comprehensive new reporting module.
Ready to get started?
Find out how to scale your business with web-to-print in a tailored 1-to-1 demo
Book a demo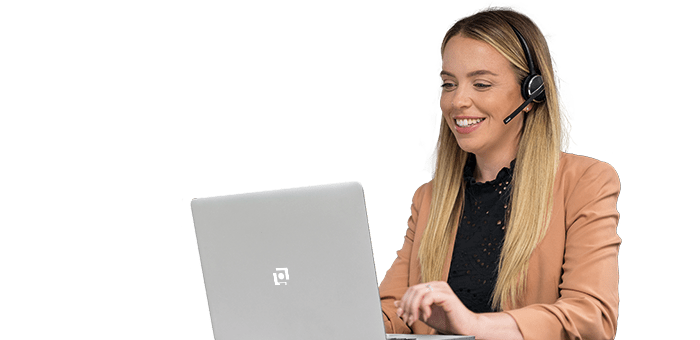 Need time to think it over?
Why choose Infigo?
Launched in 2010, we have a wealth of knowledge and experience to help your business grow and succeed.
About us
Our solution in more detail
We offer a complete web-to-print solution, with add-on modules and 3rd party integrations.
See features & benefits
Case studies
See practical examples of how we've helped our customers adapt and grow with our web-to-print solution.
Read more