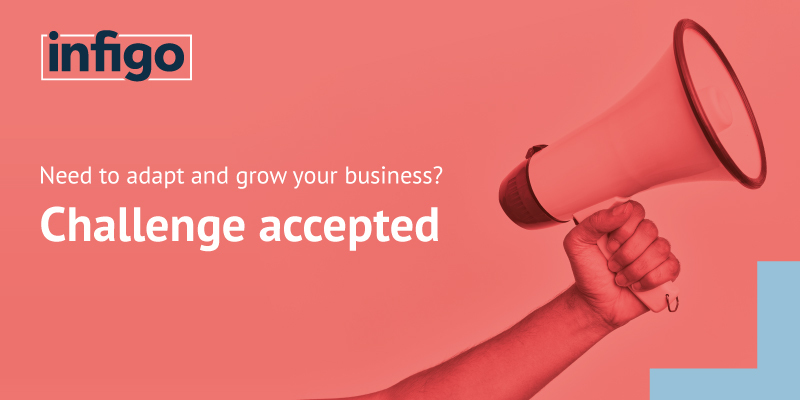 The past year has certainly been a challenging one – wouldn't you agree?
Unsurprisingly, our key focus throughout 2020 has been helping customers adapt to the sudden changes in circumstances – with the majority looking to digitise and automate their businesses and diversify their revenue streams as an opportunity to increase cash flow whilst operating with reduced manpower.
We, at Infigo, pride ourselves in being solution finders. By working closely with our customers, we understand some of the pressures that organisations are going through. Whether you predominantly serve the B2B or B2C sector, it's clear that all companies will have to adapt their processes to new buyer behaviours.
Our team are dedicated to finding and offering new ways for businesses to grow both during and post-Covid. Want to know how? We've collated a list of the most common challenges we hear from potential customers – ones they may have either encountered in the past, or are anxious to face in the future – and share below how our solution and teams can help you to overcome them.
Want to increase online orders? Challenge accepted. 
With the rise of e-commerce trading, customers now expect a more 'Amazon-like' experience. That is, an easy-to-use website with a simple journey and as little to no human interaction at all. Is your website fulfilling these needs?
With our web-to-print solution, you can create completely customisable websites and portals (without the need to be an expert web-developer). You are not limited to templated layouts and can create an online shop that shows your brand's personality and sets you apart from the competition. What's more, your website is responsive, which means it will automatically adapt to smaller screens to look professional on any device.
Having said that, it's not just the look and feel of your website that matters, but how easy it is for customers to navigate, find and order the products they are looking for – remember, you may only have a few seconds to grab a customer's attention. Our web-to-print system allows you to offer an intuitive online user journey, with out-of-the-box functionality that includes clear navigation menus, breadcrumbs, search and powerful editors to name a few – as well as, the important one-page checkout for a slick purchasing journey.
Need to digitise your business? Challenge accepted. 
Digitalising business operations isn't a new concept – however it's fair to say that continued social distancing rules in addition to nationwide lockdowns have further highlighted the importance for easy access to information online. As businesses continue to change their processes and routines, including the shift to remote working,they look for ways to maintain or improve efficiency, not only for the next few months but as a long-term practice.
With our cloud-based solution, all of your information can be easily accessed online 24/7, by anyone in your company (with configured access permissions), anywhere in the world. This ensures business continuity, as your staff can perform most (if not all) of their tasks from home.
Acting as a central system, a web-to-print solution not only allows different teams and departments to work consistently – but also gives a complete overview of your business performance, from stock levels to sales data, pricing to order shipments, allowing you to quickly and easily identify areas for improvement.
Need to manage workload with reduced staff? Challenge accepted. 
Many businesses have, unfortunately, had to reduce their workforce. With fewer team members, there is increased pressure to get tasks and jobs completed – without compromising the quality offered to the end-customer.
One of the key advantages of a web-to-print system is the ability to automate workflows. That means daily tasks, which are usually processed manually, can be massively reduced or even, at times, eradicated altogether – saving you not only time (as it frees up manpower to be applied on activities that require their specialised expertise) but money, too.
By implementing automation to your processes, you can quickly and easily reduce touchpoints (that is the number of times a job is 'touched' by a human, to move it along the fulfilment process). Some tasks that can be automated include:
Quote generation – To reduce the manual creation of quotes, ensure consistent pricing, and provide an overall better user experience, your prices can be instantly displayed on your website. That's because the pricing rules are configured in your Infigo platform, based on attribute selection, and estimates are automatically calculated for every web visitor.
Artwork pre-flighting – our personalisation editor flags warnings and notifications to customers when their artwork doesn't meet your configured criteria, such as design elements outside the crop area or low image resolution. This gives customers a chance to correct these issues themselves, before the order is placed for print. For more advanced functionality, we partnered with Enfocus PitStop, so you can create complex pre-flighting profiles and reduce manual input even further.
Customer notifications – order status emails can be automatically sent to your customers, which are triggered by key milestones in the order production journey, such as order confirmation and order dispatched.
On top of that, you can also have your customers do more – by providing intuitive tools. For example, you can offer pre-defined templates which can be easily edited online and a state-of-the-art 3D preview before checkout, which can prevent potential admin work of going back and forth to fix artwork issues.
Need to keep the same level of efficiency with staff working from home? Challenge accepted.
It has become common practice for the vast majority of organisations to allow their workforce to semi-permanently work from home – and this trend may continue even after the current social distancing rules are lifted. Ensuring your staff have all of the tools necessary to perform their tasks with the same level of efficiency and quality as they used to from your office or shop floor is essential, and that includes more than just the hardware, but the software too.
Our web-to-print solution is cloud-based, which means it can be instantly accessed online 24/7, on-demand. Access can be managed by permission basis, so you can easily delegate different roles, tasks and responsibilities throughout your organisation.
Our system also offers a simple and intuitive user interface – which increases employee-adoption and ensures your team can work efficiently and collaboratively.
Need to reduce operational costs? Challenge accepted. 
Tighter budgets and cost cuts are common themes nowadays. Businesses are looking for new solutions that can help reduce operational costs and a web-to-print system can be pivotal to achieve that.
Firstly, it reduces the number of costly human touchpoints which can soon add up. Your web-to-print system can automatically perform daily tasks which currently take up valuable human time and resource, including quote generation, artwork pre-flighting, customer notification emails and more.
When integrating your web-to-print platform with other systems, you can achieve an end-to-end automated workflow – and potentially even higher savings. That's why we have partnered with some of the industry-leading software providers, including Tharstern, printIQ, EasyPost, Trustpilot, Opayo to name but a few.
A web-to-print system also helps reduce waste. With a complete overview of your operations, you can easily identify where resources can be best applied – whether that be your workforce, product ranges or supplies. Streamlining and improving your overall processes can save you not only time, but also money.
Want to offer personalised products online? Challenge accepted. 
The demand for personalised products is on the rise. According to an article from Print Week, in the UK alone, the gift market is set to hit £1bn over the next 12 months – with the average UK shopper prepared to spend an extra 7% on gifts that have an element of personalisation. So why miss a slice of this revenue?
Our cloud-based solution provides a powerful personalisation editor, straight out-of-the-box. With simple-to-use editing tools and effortless drag-and-drop functionality, you can enable customers to personalise pre-defined templates, or create a custom design from a completely blank canvas. For B2B customers, you can lock-in design elements on templates – that means internal teams can only change selected areas, preserving brand consistency.
With our state-of-the-art 3D preview module, customers can closely inspect their finished item from all angles before checkout – besides adding a wow-effect to your offering, it can save you time and money as customers have a realistic visual representation of their order before confirming purchase.
Adding products in your Infigo platform is simple. Full training is provided for new customers as well as excellent ongoing support. This means you can:
Start small and scale sustainably;
Add new product ranges quickly and effectively, especially in order to take advantage of fast changes in market trends and customer demand (for example some of our customers added PPE products to their website at the start of the pandemic);
Be creative and try out new products, diversifying your revenue streams with low set up cost.
Want your website to work harder for you? Challenge accepted.
The online purchasing trend has been rapidly accelerated by the recent ongoing pandemic, as consumers now are, more than ever, turning to their phones, laptops and smart devices to order any item they need, without the need to leave their homes.
With all of this in mind, your first consideration should be: are your customers able to easily find you? Just having a website isn't enough to guarantee sales. You must also ensure your website is search engine optimised (that means 'Google-friendly', so it can be well ranked on result pages of search engines). For that, add meta titles, meta descriptions, alt tags (all fields available in our software) for each of your webpage and images. Going a step further, you can integrate your website with our customer review partner, Trustpilot and display 'stars' on your organic (and paid) listings, thus increasing the chances of a click.
Secondly, when visitors are on your website, how professional does it look? How easy is it to find your range of products, then to go on and complete an order? With Infigo, you can create fully branded websites, with a simple user journey and ordering process. We integrate with a range of trusted and secure payment gateways, so customers feel safe when proceeding to checkout.
But the purchase experience doesn't end after payment is taken – communication during order processing is key. From your web-to-print platform, order status notifications can be automatically sent, once again assuring your customers that they are taken care of, increasing chances of repeated sales and positive user reviews.
For B2B clients, the same principles apply – you can create fully branded portals, offering an easy-to-use ordering system with workflow automation for maximum efficiency.
What next?
Do you have a challenge that isn't listed above? Let us know!
And to see our software in action, request a free tailored demo – our team is happy to show you how our solution can help your business grow.