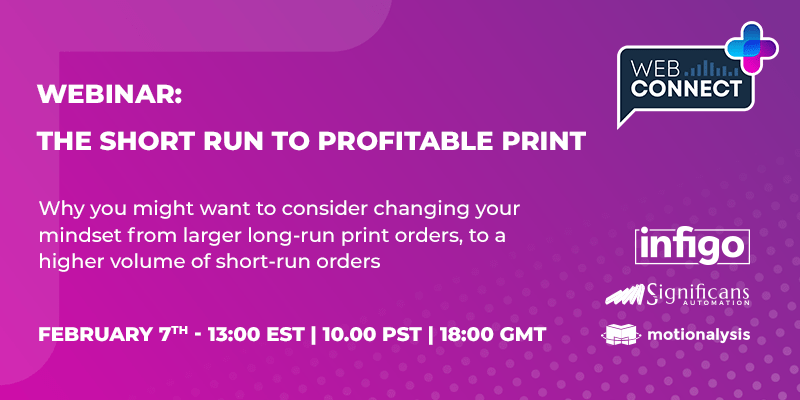 Why you need to change your mind set from larger long-run print orders to a higher volume of short-run orders.
The old rules no longer apply when it comes to print. Traditionally the only way to increase profitability was by only taking on jobs with a minimum print volume. But that has changed.
Join us on February 7th, where online print community Web Connect+ will demonstrate how print businesses can capitalise on the growing demand for:
Personalised products
Customised design
Short print runs
With Infigo and Significans Automation regulars, including Infigo Partnership Growth Manager, Antonia Fagan, Head of Global Marketing, Chris Minn, Significans President & CEO, Marc Raad, Director of Technology, Sean Davis and Workflow Specialist, Andrew Oswood, this session will also feature Founder & CEO of Motionalysis, Erin Hollandsworth.
Chris Minn said: "All the evidence shows that personalisation creates 'emotional engagement' in both B2B and B2C product offerings. I can't wait to discuss the opportunities for printers with the leading players in print personalisation and automation."
Mark Raad, who is flying over from the US to Infigo's HQ especially for the event, said: "More and more printers and packaging converters are looking to diversify their offering.
"An event like this allows us to address the potential of increasing the product mix. Together this incredible partner collaboration provides degrees of customization and personalization for digital printing that can only be achieved with a fully automated process."
We'll also be welcoming a very special guest speaker, who was the architect of one of the most successful marketing campaigns of all time, truly demonstrating the power of personalisation.
Richard Askam, who is also a motivational speaker and Personalisation Experience Ambassador for FESPA, devised the 'Share a Coke' campaign, where bottles were personalised with popular names. This campaign saw sales increase in the US by 11%.
He went on to repeat the trick with personalised marketing campaigns for brands such as Marmite, Nutella, Lynx and Dove.
Richard said: "I'm looking forward to joining the personalisation conversation with the Web Connect+ community on the 7th of February.
"I enjoy all things personalisation, so I'm really interested in everyone's views on this subject."
During the session Connect + will demonstrate how web-to-print software enables clients from companies of all sizes (from small artisanal food providers to multi-site franchises and corporations) to edit and order everything from business cards to food containers and pouches.
In short, you'll leave the sessions with the knowledge of how to change your mindset from larger long-run print orders to a higher volume of short-run orders.
Sean Davis concluded: "We are excited to get together again with the Web Connect+ team to talk about more advanced levels of automation. It's a great fit for us as software integrators to work closely with individuals who share a passion for getting the most out of complex workflows."
So, make sure you don't miss out and save your spot now.