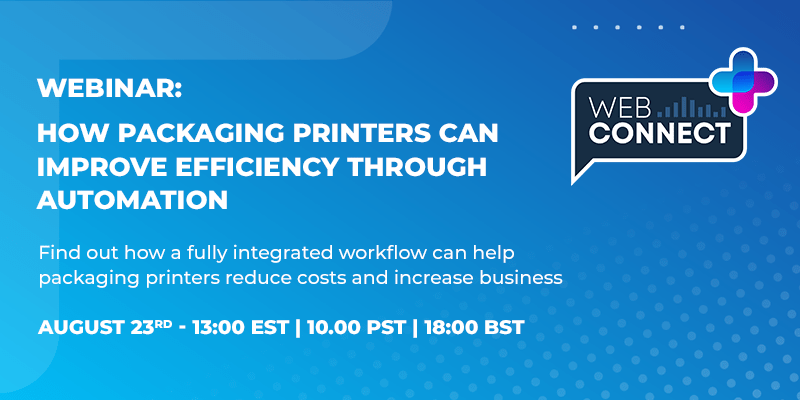 Web Connect+ to demonstrate increased efficiencies utilizing automation for a digital packaging and print production workflow.
Online print community Web Connect+ will be demonstrating how packaging printers can increase productivity and efficiency through automation in their second webinar.
During the session, to be held on 23rd August, solution providers from the packaging and printing software industry, will demonstrate how a fully integrated workflow can help packaging printers reduce costs and increase productivity.
The second webinar is the latest in the series held by the newly formed Web Connect+ community. Formed by Infigo, Significans Automation, and Tilia Labs, the Web Connect+ webinars give print service providers insight into how they can integrate innovative software into their workflow to automate order entry, imposition and planning, and print production.
Joe Lydic, VP of Operations at both Preflex, a digital prepress services company and Relm West, a complete label and packaging film manufacturer, commented on the first event:
"It was great to witness the Web Connect+ webinar which brought together the pieces of web-to-print in a fluid and automated way. Infigo, Significans Automation, and Tilia Labs demonstrated that a cooperative approach can be done well, with customization and automation."
During the second session, the members of Web Connect+ will demonstrate the various stages of receiving a job online and how it progresses through the print production workflow.
This will include:
How a print client can order and edit their design online through an Infigo storefront
How they can view a 3D print preview of their order, including additional post-print features, such as embossing, foil stamping, and more.
How the job is pushed through to pre-flighting software for automated checks via Enfocus Switch.
How hundreds of optimized layouts are created in a matter of seconds utilizing Tilia Phoenix.
Sagen de Jonge, Co-Founder, CEO at Tilia Labs Inc, said: "We had some superb feedback from our first webinar. It was clear from the Q&A session that many printers are keen to discover how they can implement AI and automation in their process. We are excited to share, first-hand, what is possible with a fully integrated workflow and give attendees the chance to openly ask questions to the experts to ensure they are set-up for success."
Marc Raad, President of Significans Automation, said: "Seeing a demonstration of an individual piece of software is one thing but showing exactly how the different components tie together – to automate the workflow from editing and ordering through to production is another.
"We are confident that print packagers will be genuinely blown away by what we are able to show them."
Douglas Gibson, CEO, of Infigo said: "We have always argued that the true value in web-to-print comes from integration. However, we can talk about automation as much as we want but actually showing the printers what can be achieved, by integrating several systems, is where the true value is. Those that attended the first webinar were truly impressed by what is possible. But this session really will be a game changer and get people thinking differently about their print packaging businesses."
To make sure you don't miss out on this valuable session, book your place here.