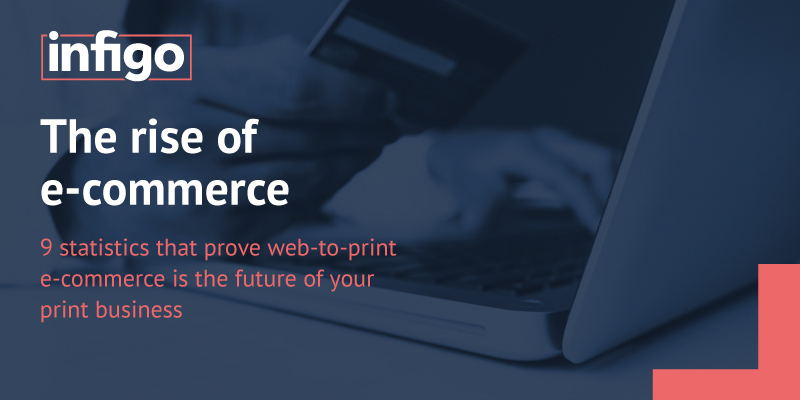 9 statistics that prove that e-commerce through web-to-print is the future of your print business.
Undoubtedly, 2020 will go down in history as the year of the pandemic. However, despite the turmoil of the last 12 months, we have seen printers just like you flourish by adopting an e-commerce model.
Why is this?
More of us have been buying online in recent years, both for personal and business purposes.
However, this global trend has been massively accelerated by the events of the last 18 months – with 400 million of us expected to have made an online purchase by the end of the year.
So, whether you service the B2B or B2C sector, and are yet to enter the world of web-to-print e-commerce, these statistics show why you are missing out on a significant revenue channel.
1. Global retail e-commerce sales are expected to grow to $6.4trn (£4.5trn) by 2024
While the impact of the pandemic and subsequent lockdowns have had a significant impact on online buying, it has been a growing trend for a number of years. Just a decade ago, the industry was worth just $1.6bn in 2014, according to Statista.
2. 22% of retail sales will be through e-commerce by 2023
Quite a staggering increase when you take into account that just 14.1% of retail purchases were online in 2019. In the United States alone, e-commerce sales are expected to exceed $563bn (£398bn) by 2025.
3. Sales on B2B e-commerce sites grew by 10% to $1.39trn (£980bn) in 2020
But it's not just the retail market that's seen huge e-commerce growth. A lot more of us are buying online for business purposes. According to a study conducted by digitalcommerce360.com, when combined with e-procurement sales, B2B e-commerce sales in 2020 increased by 11.8% to $2.19trn (£1.55trn).
B2B digital sales channels—including e-procurement, electronic data interchange (EDI) and other channels in addition to e-commerce sites— increased by 9.6% to $9.92trn (£7.02trn) in 2020 from $9.06trn (£6.41trn) in 2019.
4. 80% of all B2B sales interactions will be digital by 2025
One of the primary reasons we've seen an acceleration in B2B e-commerce is the increase in 'millennials' (those that have grown up in the digital age) in the workplace with buying responsibility. Data from Forrester shows that by 2023, 80% of B2B buyers will be millennials.
Gartner's Future of Sales research shows that by 2025, 80% of B2B sales interactions between suppliers and buyers will occur in digital channels. This is because a third of all buyers desire a seller-free sales experience – increasing to 44% for millennials, according to Gartner.
5. US e-commerce penetration accelerated by 10 years in 90 days during Q1 2020
This statistic, from McKinsey, is staggering in itself. However, digging deeper makes for slightly more grim reading, highlighting why all businesses need to have an e-commerce strategy. According to data from McKinsey, this acceleration has widened the gap between the best performing and worst performing companies.
The consultant forecasts that the top 20% of industries that fared the best during the pandemic could grab $335bn (£237bn) additional profit, while the bottom 20% could lose $303bn (£214bn).
6. January online retail sales grew 74% year-on-year in the UK
The third UK lockdown had a significant impact on online sales in January 2021, according to Capgemini. Not only did January's e-commerce activity saw a 74% increase on the previous year but it was 10 times (that's right, 10 times!) that of January 2019.
7. The mobile payment market is projected to hit $4.574 billion by 2023
With more of us buying online, we're now using mobile devices more than ever to do it. It's perhaps no surprise then to learn that according to Bank My Cell, in 2021, 62.24% of the population owns a phone that gives them access to the internet. As a result, mobile transactions (m-commerce) are expected to account for 72.9% of global e-commerce by 2021.
Which begs the question – do you have a responsive website that looks great on a smartphone, and can also handle mobile transactions? If not, you could be missing out on significant revenue.
8. Since the beginning of the pandemic, 46% of UK consumers purchased a product online that they had previously only ever purchased in store
Research conducted by Retail Economics and Natwest has revealed that 46% of UK consumers bought a product online they had previously only ever purchased in store.
When asked directly, 32% of consumers surveyed said they expect to continue with their new e-commerce habits in the future, a figure that rises to 40% in 45-54 year-olds.
9. More than half of consumers shop online more regularly than they did before the COVID-19 outbreak
A study conducted by the United Nations has revealed that most consumers switched to online shopping, with 52% agreeing they shop online more since the pandemic started. Additionally, 53% agree they will continue with the latest digital habits they adopted during the pandemic.
Maximise profits through the e-commerce boom
While we all eagerly await a 'return to normality', it is clear your customers' shopping habits are changing. Whether you serve the B2B or B2C sector, web-to-print technology means you can offer customers the digital buying experience that is no longer a novelty but what's expected of your business.
To find out more, book a demo and see for yourself the different ways you can utilise web-to-print to diversify and grow your printing business.