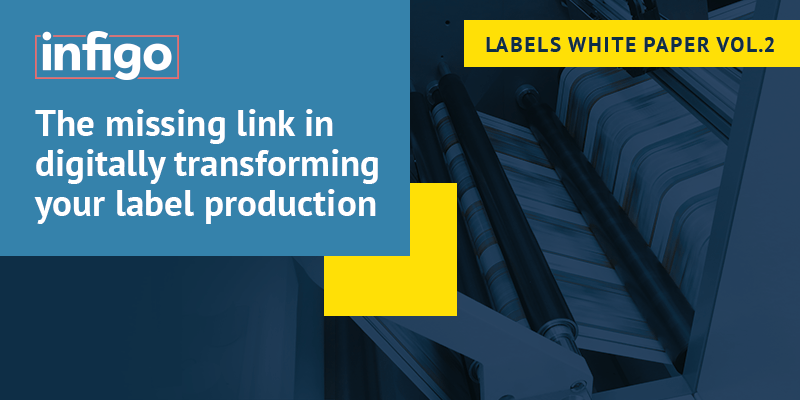 Label converters have been fighting challenges that other industries would love to have. An explosion in demand for labels and, for many converters, an inability to keep up with the demand. The industry has seen a significant investment in digital transformation in recent years. Installing and utilizing digital printing and finishing equipment, converters have been able to accommodate the ever-growing demand for shorter print runs and faster turnarounds, and still remain incredibly profitable.
Shift in production and mindset
Digital, "all-in-one" presses, have outstripped traditional press in recent years. So, what is fueling digital transformation across the label industry? On one hand there is increasing demand for longer runs with variable data, on the other there is the demand for shorter print runs with a number of SKUs. When using traditional print methods, these jobs can result in losses or are nearly impossible.
Digital printing offers:
• No set-up costs
• An array of materials and finishing options
• High quality production
• Print on-demand
Evolving customer expectations
Think Amazon – customer expectations have changed significantly in recent years. Online buying with the mindset of immediate delivery is standard thinking. 73% of B2B buyers today are millennials. Millennials primarily seek 3 things – ease of doing business, willingness to work collaboratively, and industry and marketplace experience, which explains why online sales are surging. These buyers want to search online, at their convenience, to place an order. Upon ordering, they want an email confirmation and expect product to deliver within 24 hours. Because they have the reigns through the ordering process and the process is so easy, they continue coming back to that retailer, increasing retention.
Customer benefits
Why would your customers waste time on endless emails or phone calls to review and approve product and design proofs, lengthening the time it takes to get their order? Being able to upload artwork, view and approve, and submit files for printing, allows the customer to be in control. Whether they are a small, boutique-shop, or a large brand, expectations are no different. Your customers expect to see their product, instantly, and with customization in place. They want to edit designs on the fly and play with different materials and finishes. They want to order at their convenience and don't want any surprises (whether that's a ship date or an error on a finished run).
Converter benefits
Whether you are creating a B2C or B2B storefront, you are creating niche brands that are more likely to rank via SEO and attract web traffic. Because your web-to-print platform can be integrated easily with a variety of systems, data is passed seamlessly from one to the other, reducing time and possible errors. By automating this process, you can take orders and generate revenue, 24/7, all without increasing your headcount. Your staff can now focus on what matters most, getting orders out of the door and to your customers, faster.
Getting started
Not every web-to-print system was created equally. Understanding how a digital solution, like this, fits into your overall digital strategy is important. Ease of use, flexibility, and scalability lead to success. There are several questions you should ask yourself when choosing the right web-to-print partner, but here are a few:
Is the platform secure?
Can you easily create a range of portals and storefronts?
Has the solution provider taken the time to find out everything about your business and how web-to-print fits your strategy?
Digital platforms and automation lead to quick turnaround, the ability to handle an array of files, and provide a global solution that can generate business from anywhere in the world. By investing in web-to-print you'll provide an agile solution that exceeds your clients demands and allows them to scale effectively.
Download our white paper, The missing link in digitally transforming your label production, and learn how to increase customer satisfaction by providing a 24/7 interface.