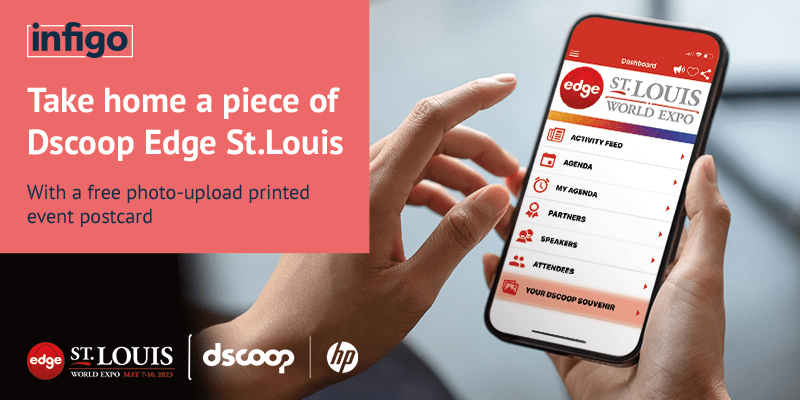 Create your own picture perfect Dscoop souvenir with Infigo and HP PrintOS Site Flow
Infigo has teamed up with our partners and friends at HP, for another groundbreaking demonstration of the online automated print process.
Attendees will be able to create their very own Dscoop postcard by taking their own picture, uploading it via an Infigo storefront, in partnership with Dscoop, then see it processed through PrintOS Site Flow, before collecting the finished product, all within minutes.
Printers will learn how Infigo and HP's PrintOS Site Flow can be integrated with other third party providers, to create a user-friendly experience for both customers and printers, all through a fully automated workflow, that significantly increases efficiency and reduces overheads.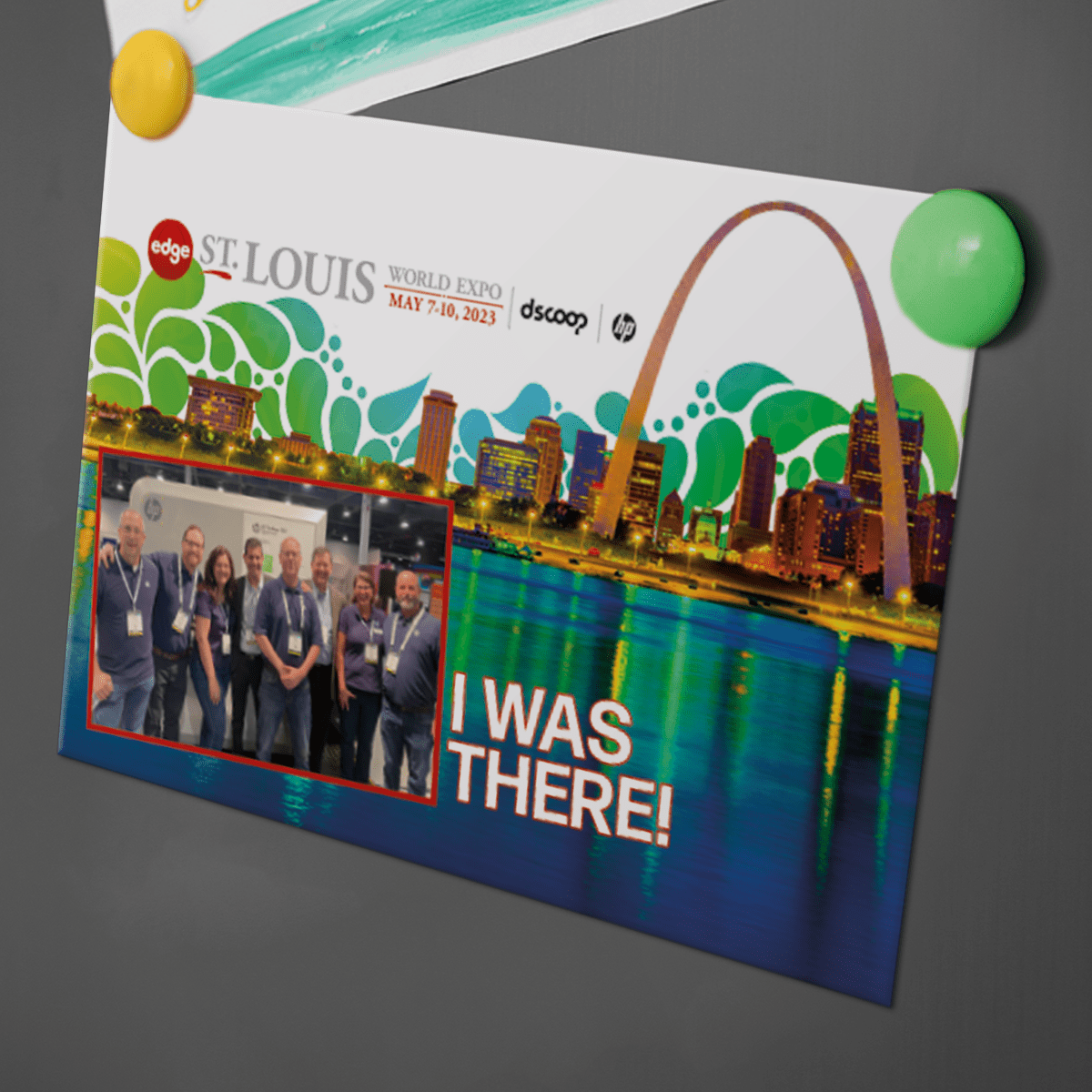 See the process in action
Users will be able to take 'selfies' and then upload them through the souvenir section of the mobile Dscoop app dashboard.
This demonstrates how an Infigo storefront can be uniquely branded, so clients don't realise that they are technically accessing a separate site.
Once the image is uploaded, users will be able to tweak their design, to personalise within pre-set templates. The job is then sent to PrintOS Site Flow, which automatically preps files, batches, schedules, imposes and delivers jobs.
This can either be to your own press or to an outsourced PrintOS Site Flow partner. While PrintOS Production Pro creates finishing plans for leading finishing equipment. Jobs print on the HP Indigo digital press and are kitted via barcode scanning with other items and dispatched to shipping.
At the Dscoop Edge World Expo event in St Louis, your souvenir postcard with be printed on the HP Indigo 100K digital press, laminated at Nobelus booth 306, and die cut at Rollem booth 118.
The finished postcards will then be displayed for easy pickup in the showcase. In short you will see how Infigo and HP's PrintOS Site Flow can be integrated with a range of other platforms (including other storefront, MIS and workflow platforms) to create a simplified, automated process with limited touchpoints.
So, to summarise, users will see the order submitted via Infigo, moved on to PrintOS Site Flow via APIs for Automatic Pre-Press (pre-flight, batching, imposition, scheduling, barcoding) on to the HP Digital Press, on to finishing and assembly management, with PrintOS Site Flow's partners Rollem and Nobleus, with a shipping label automatically generated through another API.
Another imaginative demonstration
Douglas Gibson, Infigo CEO & Founder said: "Dscoop is always our favourite event of the year, so we are delighted to once again be involved in another imaginative demonstration. Any web-to-print platform, or production workflow process, is dependent on its connectivity.
"None of these platforms operate in isolation, so it's critical for Dscoop attendees to see how our platform and PrintOS Site Flow can be connected with a range of other platforms, for a truly optimised print process – from ordering to shipping. The more creative we can be in demonstrating the technology, helps printers understand how creative they van be in diversifying their revenue streams."
Mr(s) x from PrintOS Site Flow, said: "The print industry, and the technology behind it is always evolving and innovating. There is healthy competition in the sector, and we do work with a number of web-to-print providers, but it's always a pleasure to work with our friends at Infigo, to give real world examples of the range of possibilities of an automated and digitised print process.
"It creates a much simpler user experience but critically we are seeing printers from a range of sectors reduce overheads and greatly improve efficiency with integrated workflows."
Visit Infigo Booth: 501 
Visitors can find us at this years Dscoop Edge St. Louis, at Booth: 501, opposite our friends and partners at HP and CERM where Douglas, backed by his specialist team of web-to-print all-stars, will be on hand to show you how quickly storefronts can be built, populated and integrated with other platforms to help fully automate your print workflow.
What's more, we'll be free-throwing visitors a personalised basketball to keep, which will seamlessly demonstrate first-hand, the winning teamwork between web-to-print and personalisation.
Find out more at our blog.