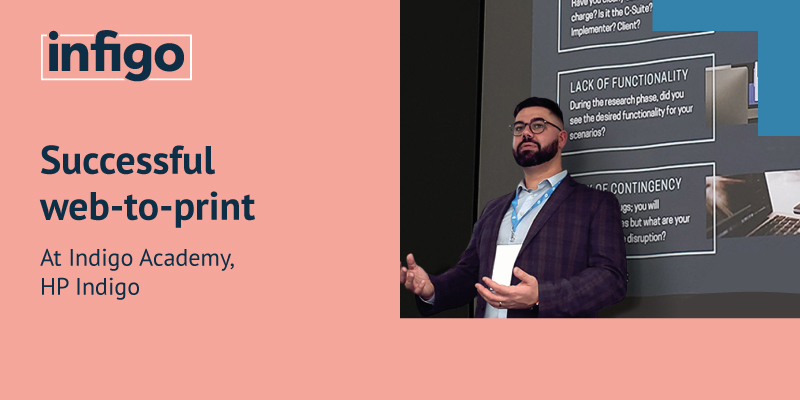 'The other 360 days are full of sunshine' said Pablo Cubillas, Spain-based Infigo Development Manager, jokingly, as he made light of the horrendous weather battering parts of the country.
This came about as our Customer Success Director, Greg Young, ventured back to Barcelona airport after another worthwhile, educational and insightful trip to the Indigo Academy, hosted by our partner HP Indigo at their experience centre in Sant Cugat, Spain. Thankfully the weather didn't dampen spirits as Greg met with some hardy souls looking to increase their knowledge and understanding of a topic that is at the top of Team-Infigo's agenda: #successfulwebtoprint. He shares his experience in this blog post.
"I was asked to return for a 2nd visit to the academy to deliver another presentation to educate, inspire and assist some of Europe's most forward thinking PSPs. In my first visit to the academy, in 2019, I presented alongside other partners offering anything from substrate & media to finishing equipment and software, and anything in between! This time, however, the session was a more focussed affair – I had a dedicated 2-hour time slot to deliver a workshop promoting web-to-print from any angle. From there, #successfulwebtoprint was born.
"This wasn't a sales pitch or a tool. This was an opportunity to engage some of HPs most forward thinking & innovative clients who wanted to be educated on why web to print often fails, and what both ourselves as a vendor but also themselves as a client can do to remedy this.
"The intimate group included Intergalactic Print Expert, Deborah Corn, who offered insight from a print buyers angle and also shared stories of how things differ across the pond in her native America. Alongside Deborah, there were two well established and highly successful print businesses who already offer web-to-print as a service, accompanied by a 2nd-generation printer from Estonia who is looking for their first foray into all things 'online-ordering' and a group of HP employees who offer after sales support & services wanting to better their knowledge of our market leading product.
"After an initial ice-breaker to establish a hashtag that best describes their business and a hashtag that best describes their knowledge of web-to-print, the tone was set and the pace certainly picked up! From the offset, the group were interactive yet honest; openly discussing key areas where they could make some minor adjustments or implement some basic configurations which would go a long way towards success within their respective organisations. The two existing customers shared frustrations with ordering processes but, as a collective, we worked through how they could be fixed with some quick wins identified straight away.
"The most interactive part of the day was also my favourite task; breaking down customers existing workflows and establishing where efficiencies could be made via automation and integrations.
"Throughout the presentation, I wanted to re-iterated the importance of a strong partner network and dived deep into the benefits of the existing integrations with some of the industries' key software providers such as Site Flow, Enfocus Pitstop and Tharstern to name but a few.
"The final chapter of the workshop focussed on client feedback; understanding how many PSPs were actually engaging with their clients post-transaction. I shared thoughts and ideas on how to interact with the end user for feedback, and the attendees shared some of their existing methods too.
"One of the biggest takeaways from the session was a quote from Xerox "web-to-print is a culture change, not a technology change". It was evident that this rang true with the attendees as the penny dropped; get the entire business to buy into the change, adopt it organisation-wide and make sure you are prepared to invest. Not just financially, but also in resource and ideas. Do these things well, and web-to-print will transform your offering as a PSP.
"Following my presentation, the group were joined by Jaume Gàzquez, Owner of local PSP, Serafi, who showcased annual printed gifts they produce as Christmas presents for their customers. Utilising HP technology, it was clear that these guys are experts in their craft, with their clients in mind. The beautiful keepsakes were a reminder of just how powerful a printed item can be; which echoed the sentiments of the day in its entirety. Finally, Fernando Gordillo, HP Flexible Packaging Solutions Consultant EMEA, delivered a presentation on sustainability; a topic on most people's agenda in an age were responsible usage of materials is paramount. Fernando explained the processes in which HP are adhering too, and discussed some excellent insight on Recyclability, Compostability, Bio-Degradability  and then finally Sustainability with HP Indigo.
"The day finished with a trip to an eatery in the heart of Sant Cugat for some traditional fare (and a couple of local cerveza's!) which rounded off a truly brilliant day."
Follow #successfulwebtoprint on social media to know more about our latest news, updates and developments, offering higher efficiency to all online print businesses with our SaaS solution.