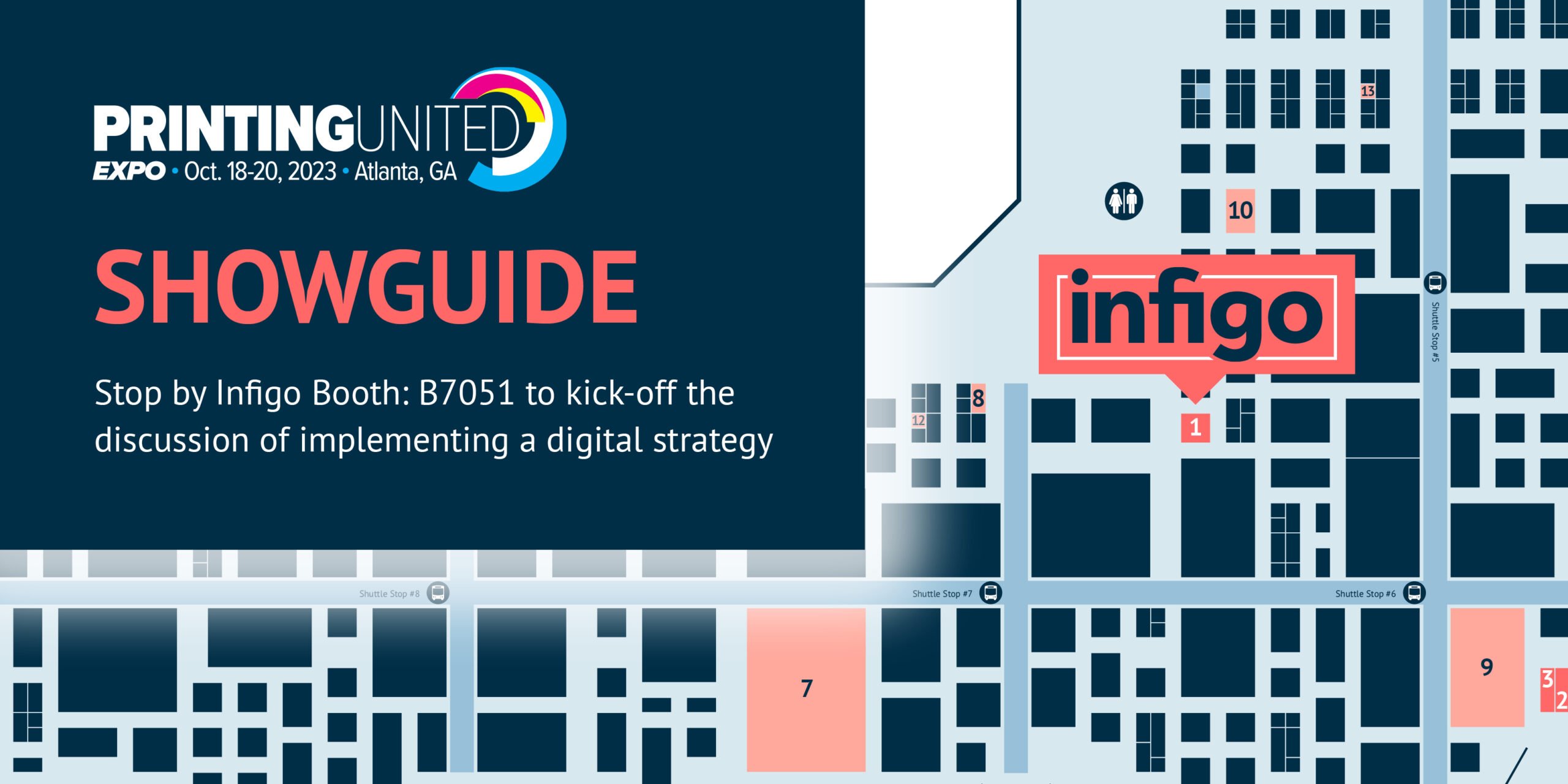 We're incredibly excited to be attending PRINTING United Expo, Atlanta.  
Our web-to-print experts will be on-hand to show printers and converters how they too can enjoy The Gift of Time and take advantage of highly profitable market sectors, as we reveal the latest innovations at this year's Expo in Georgia, USA.
During the event, being held between 18-20th October, at Georgia World Congress Center, Atlanta, attendees of Infigo Booth: B7051 will learn how an integrated, automated workflow, driven by online orders can save them significant amounts of time and money.
And with Santa heading out on his sleigh just 10 weeks later, printers and converters can find out how they could potentially be taking orders, and shipping them around the globe, in time for Christmas.
With so many amazing partners and features to experience in just 3 days, we wanted to share some of our top picks from the expo. You can also download our handy showguide map, which will help you in finding all of the expo best-bits:
Parametric design: the ultimate e-commerce 3D design tool for packaging sector – Infigo Booth: B7051
We are proud to officially offer cutting-edge parametric computer-aided design, thanks to our partnership with global CAD/CAM software experts, EngView – making us the leading web-to-print platform for the packaging sector.
Not only does the partnership with EngView mean we can offer cutting edge parametric computer-aided design, but it is also perfectly timed to demonstrate at Infigo Booth: B7051.
So whilst the feature might not be available for our customers to put under the tree just yet, they will still be able to see it for themselves, try it out, and ultimately receive as much technical detail as they need.
Why a fully automated workflow is the best present to find under the tree – Infigo Booth: B7051
The Infigo elves have been working extra hard for this years PRINTING United Expo, and will also be on hand to demonstrate  how businesses just like yours can implement an automated workflow that:
• Significantly reduces the manual touch points throughout the workflow – from ordering, to printing and shipping
• Minimises waste and your impact on the environment
• Increases profit margins
• Integrates seamlessly with other platforms, hardware and processes so data is shared across the workflow
• Eliminates costly errors that can occur when data is re-keyed manually in multiple systems (web-to-print storefront to MIS, for example)
• Gives you back The Gift of Time so you can focus on your Christmas shopping, generate additional revenue, or complete other tasks you never get round to, but keep you up at night
You can also download our free white paper: The Gift of Time, and find out how adopting an e-commerce strategy could help your print business have the happiest of holidays and give you a Christmas to remember.
Connect: CERM, the world's first end-to-end labels solution  – Infigo Booth: B7051
They "say good things come in three's", and our booth at PRINTING United promises just that, with our third feature of the event.
The Infigo Connect: CERM integration brings together Infigo's e-commerce and personalisation prowess with CERM's estimating, workflow and job management expertise to provide a complete package for label converters.
This short video demonstrates how the integration works, however below are just some of the many features and benefits of this revolutionary solution for the label printing industry:
• Retrieving estimates
• Creating products from estimates
• Push orders into CERM
• Reorder CERM products directly
• Sync BOTH customers & contacts
• View estimates, products and order history
• Variable product ordering
• Upload Artwork directly from Infigo into CERM
• Pre-flight all artwork before passing into CERM
If you missed the Connect: CERM grand reveal at this years LabelExpo Europe, Brussels, then visit Infigo Booth: B7051 and see out how converters can capitalise on the growing print e-commerce market.
A world-exclusive – EngView Systems Booth: B11097 
As well as demonstrations from our own booth (B7051 ), EngView Systems will also be in attendance at the Expo. As a leading producer of software for the packaging industry, EngView specialises in the development of CAD/CAM solutions for the design and pre-production of packaging and POP/POS displays from cartons, corrugated and rigid boards, composites, and other sheet materials.
Through their recent integration with Infigo, clients can easily create bespoke packaging, with the reassurance of complying with food and pharmaceutical packaging regulations.
With more than 1500 parametric designs for folding carton, corrugated board, grey board and PVC, the tool includes a library of full parametrized ECMA and FEFCO codes.
Visit EngView Systems Booth: B11097 to find out more about the services they provide, in addition to a world-exclusive of our new parametric tool.
Our other top picks: 
There is an abundance of innovative Infigo partners in attendance at this years PRINTING United Expo in Atlanta (of which can be located through our useful showguide map):
• Infigo Booth: B7051
• Esko Booth: B16014
• Enfocus/Significans Automation Booth: B15015
• Digitech Booth: C2247
• Elitron/Motionalysis Booth: C2303
• TLMI Booth: B720
• Fujifilm Booth: B2506
• printIQ Booth: B3054
• HP Booth: B13013
• HYBRID Software Booth: B8079
• Tharstern Booth: C1954
• Four Pees Booth: B2853
• EngView Systems Booth: B11097