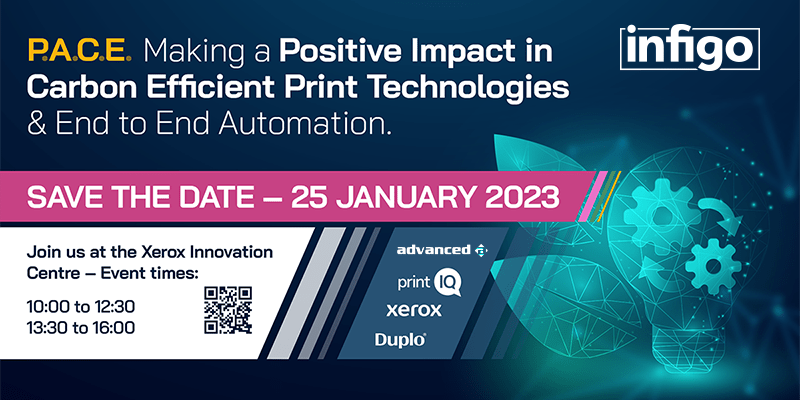 Join us for this thought-provoking event, held in West London at the innovative Xerox experience centre.
On January 25th, we, along with Infigo partners printIQ and Advanced UK, as well as Duplo UK, will be on hand to demonstrate how world-class print finishing, web-to-print and print technologies, can not only can provide a scalable turn-key solution for your business while helping to cut carbon emissions, creating a more sustainable future for the printing industry, too; and can save your space for the event now.
Who we are and what we do 
Infigo provides industry-leading web-to-print software that is both sophisticated and scalable. We're constantly working to increase our efficiency and capacity to deliver the highest sustainability standards, shrinking our carbon footprint, cutting energy consumption and reducing waste. As part of our Infigo-zero initiative, we have committed to planting a tree for every new storefront across all of our customer platforms (their success = adding a storefront = planting a tree).
Now is the time to assess where waste can be reduced and energy saved
According to the BPIF 73% of those surveyed reported rising energy costs during Q4 2021, while 70% expected further rises. So there has never been a more immediate case for taking a long hard look at your business's processes to see where overheads can be reduced.
But with increasing pressure for all businesses to achieve net-zero carbon within the next few decades, now is the time to assess where waste can be reduced and energy saved.
Therefore, workflow automation and connectivity has a huge amount of sustainability benefits.
How web-to-print can help to reduce your carbon footprint 
Research conducted by our partner HP Siteflow has revealed exactly how much waste can be reduced and the impact that this can have on margins by automating batching and imposition.
For example, using web-to-print and automated batching allows print shops to combine many small orders into larger print job.
And therefore, longer and more efficient print runs. Creating production rules based on selected criteria, such as due dates or common paper type, means smaller but similar jobs can be grouped into larger print runs. In short, longer batched runs are more energy efficient and job-to-job setup and changeover time is significantly reduced.
Likewise, smart imposition (with automated pre-press) means that the least amount of materials are used on each run. This reduces service charges on digital presses and removes labour costs for preparing the layouts as well as overall material consumption.
Another way you can reduce overheads and your carbon footprint is through intelligent shipping integrations. For example, Infigo offers integration with EasyPost. This allows your customers to choose the most appropriate method of shipping, from a number of providers.
They can choose whether they want the quickest or most sustainable method of delivery. The ability to track reduces delivery failure and the associated increased carbon footprint of additional journeys.
Our customers going the extra mile for their environmental responsibilities 
From our experience, companies that go the extra mile in terms of sustainability are proven to be the most profitable. A shining example of a printing company that has fully embraced its' environmental responsibilities is Infigo client, St Austell Printing Company, based in the South West of England.
St Austell designed its print factory with the sole purpose of being energy efficient. As a result, it has received an 'Excellent' BREEAM rating – the world's leading sustainability assessment for buildings.
The company has also implemented a delivery planning and tracking system for its fleet of vans, which calculates the most fuel-efficient routes for conducting each day's deliveries.
The Infigo-zero initiative 
Its efforts like these from our customers that made Infigo want to play our own part in a more sustainable and environmentally friendly world. We, therefore, have committed to planting a tree for every storefront on all of our customer's platforms. To kick-start the project, 1749 trees were planted (to represent the existing storefronts within our environment) in which will continue to plant for every new storefront thereafter.
We celebrate each contribution with our customers too, for their part in the initiative. As it is with their own growth and success, which results in planting a tree for the future.
Register now to avoid disappointment 
If you're interested in finding out more about how organisations like yours can help make a positive impact on the environment with carbon-efficient print technologies and end-to-end automation, we strongly urge our customers to register, to avoid disappointment.
We look forward to seeing you on January 25th!