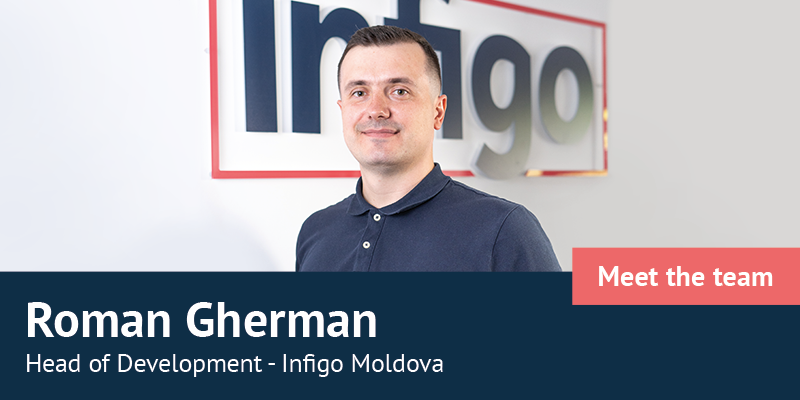 Our meet the team collection introduces different members of the Infigo team in a slightly different light, to show a side to them that you've most likely never seen before. This time is the turn of Head of Development at our Moldova headquarters, Roman Gherman – who shares a few of his creature comforts, out of hour activities, and some insights into what makes him tick.
Position
Head of Development
Location
Chisinau, Republic of Moldova
Length of service
7 years
Currently listening to
Twenty One Pilots – Stressed Out
What's your biggest achievement in the last 2 years? 
Making the decision to move away from the city. I would never have thought that I'd enjoy living in the countryside as much as I do!
What are your hobbies? 
I love travelling, walking, learning about different cultures and ways of living. I also enjoy watching Anime.
What can't you live without? 
My family. I have 2 wonderful little girls, Patricia (8) and Ilaria (6).
Tell us a bit about yourself, in your own words? 
I am Roman and I'm the Head of Development at Infigo Moldova, I've been a member of the Infigo family now for over 7 years.
I started my career as a developer 15 years ago and since then I've worked on a range different projects, and led several different teams.
One of the things I enjoy most about working for Infigo is knowing that every day brings new challenges, which keeps me on my toes. Managing/Leading people is also part of my day-by-day duties and I enjoy making sure everyone is happy and motivated.
I also enjoy attending work conferences and events when I can – I recently attended the IT Park's first face-to-face "Residents meet residents" networking event, which was held in Chișinău's ARTCOR – Center for Creative Industries of Moldova.
I attended for several reasons, One was to see how other companies are working and getting new projects, and how they hire and keep employees happy, especially after the Covid period. Another reason was to do some networking, get some contacts, and let people know about Infigo in Moldova, and what we are doing.
Tell us a fun fact not many people know about you 
I've recently attempted to invest in cryptocurrency.
I found myself checking the trends, and the currency with the best potential growth appeared to be Luna/Terra Coin,  So, I invested about $200.
Then after 4 months – when I was in the airport (after 36 hours of no sleep), traveling to the UK, I was reading the news and saw that Luna/Terra Coin had crashed from $90 each – to $0.00014.
Lesson learned, the hard way!
Why would you recommend Infigo to potential customers? 
Infigo has the best product, the best team, and is incredibly customer oriented.
On the weekends, you will most likely find me..
Out for a walk in the park with my family and friends, or working around the house.
We hope you enjoyed our meet the team feature. Stay tuned for future additions, when we will be shining the spotlight on another member of the Infigo team.
You can also find out more about the history of our moldova team at our recent blog article.