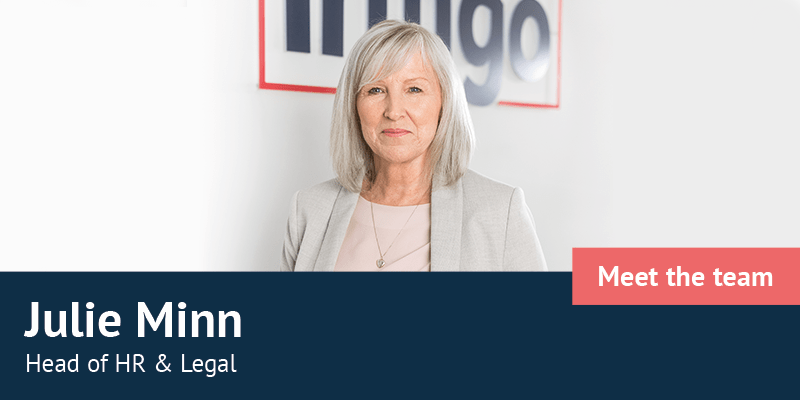 Our meet the team collection introduces different members of the Infigo team in a slightly different light, to show a side to them that you've most likely never seen before. This time is the turn of Head of HR & Legal (and all other things related),  Julie Minn – who shares a few of her creature comforts, out of hour activities, and some insights into what makes her tick.
Position
Head of HR & Legal (and all other things related)
Location
West Sussex
Length of service
6 years
Currently listening to
My own thoughts
What's your biggest achievement in the last 2 years? 
Implementing the BambooHR portal for our growing business, as well as creating an onboarding process for our new hires growth HR function.
What are your hobbies? 
Going on holiday, walking and generally enjoying life.
What can't you live without? 
My family (and the sun).
On most weekends, we can find you
Most likely at a football match, with my 3 beautiful granddaughters, walking my dog, shopping or sunbathing.
Tell us a bit about yourself, in your own words? 
I'm Julie, and I am originally from a Sales & Business Development background – serving a variety of industries, such as manufacturing, electrical contracting and projects, as well as software.
Since joining Infigo in 2016, I have learnt a lot about the printing industry, as well as our amazing customers within the sector.
My roles include (and are not limited to) Business Development, Sales & Commercial, COO, Head of HR & Legal, as well as having an input on our own internal marketing.
The last 6 1/2 years certainly haven't been dull, with many exciting, funny and emotional times!
I've always wanted to make a difference in whatever way I can, and I would like to think that as I move towards the sunset of my career, that as long as I continue to give my fellow colleagues with experience, support and understanding, my job will be done.
A recent personal goal of mine is to improve my fitness and health, to truly enjoy more 'me' time and travel to as many places I am yet to see.
Tell us a fun fact not many people know about you 
I used to teach Ballroom & Latin American Dance. Back in the day, I once danced in front of an examination board led by none other than Len Goodman from Strictly Come Dancing (Seven!!).
Why would you recommend Infigo to potential customers? 
It's a great product that offers flexibility and endless opportunities for growth and new revenue streams. The development team are constantly extending and improving our offering via feedback and requests from our valued customers. Above all, the team are what makes "Infigo" great.
What is your dream holiday location?
A long one.. ideally touring all of the Greek Islands.
We hope you enjoyed our meet the team feature. Stay tuned for future additions, when we will be shining the spotlight on another member of the Infigo team.