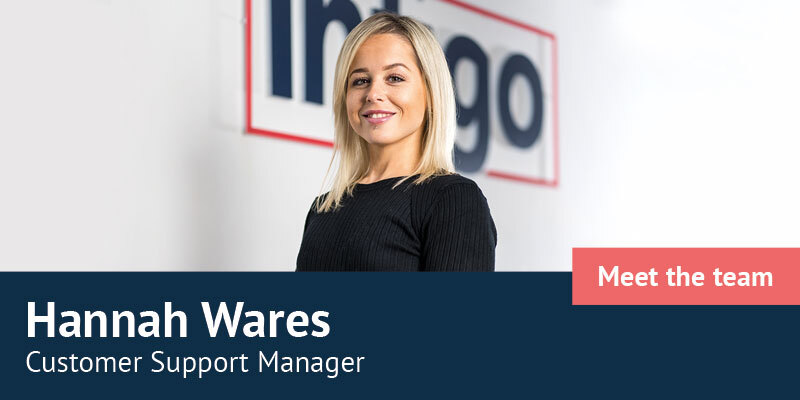 Our meet the team collection introduces different members of the Infigo team in a slightly different light, to show a side to them that you've most likely never seen before. This time is the turn of Customer Support Manager, Hannah Wares – who shares a few of her creature comforts, out of hour activities, and some insights into what makes her tick.
Position
Customer Support Manager
Location
Crawley, West Sussex
Length of service
1 Year
Currently listening to
"Today's Hits" playlist on Apple Music
What's your favourite food? 
I'd definitely consider myself to be a 'foodie', so it's hard to choose a firm favourite. I love Mexican, Indian or Thai food… but sometimes you just can't beat a good burger!
What are your hobbies? 
I'm really into sports, so I spend a lot of time training. I also love cooking and baking for my friends and family.
What's your biggest achievement in the last 2 years? 
I recently entered my first 10k run and completed it in 56 minutes, 59 seconds. I was incredibly proud of that, considering it was the first time I had ever run more than 5k!
What can't you live without? 
I can't live without my family. The various lockdowns and restrictions made me really appreciate the limited time we get to spend together.
What do you enjoy the most about working for Infigo?
My colleagues have been great – I felt truly welcomed from day one. When I first started, everyone was always happy to spend time bringing up to speed with the company, industry and our platform.
Tell us a bit about yourself, in your own words? 
I'm Hannah, and I've been managing the Customer Support Team at Infigo for a year, but I've worked in IT for around 10 years and for the most part, I have worked for SaaS providers.
I enjoy interacting with customers and colleagues alike – whilst also helping people find solutions to everyday challenges.
Outside of work, I like spending time with my family and friends, generally being as active as possible (as much as I do enjoy the occasional Netflix marathon too!). Hopefully I'll get back to travelling around the world and seeing new places
Tell us a fun fact, that not many people know about you? 
When I first started secondary school, I thought I'd give playing the Saxophone a go. The problem was, I'm not very tall.. so the Saxophone was nearly as big as me!
At the weekends, you would most likely be found…
You'll most likely find me in the gym, but if not I enjoy going to the cinema or watching a good TV series.
Why would you recommend Infigo to potential customers? 
We have a wide range of businesses using our platform, from large financial institutions and universities, to small independent start-ups. All of our customers get the same level of time, attention and care – we will always work closely to help them achieve success. I am proud to be part of a team that always goes above and beyond to bring customer ideas to life.
We hope you enjoyed our meet the team feature. Stay tuned for future additions, when we will be shining the spotlight on another member of the Infigo team.