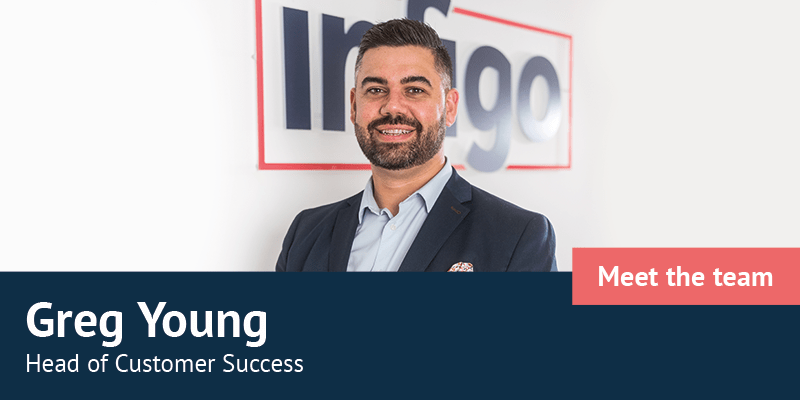 Our meet the team collection introduces different members of the Infigo team in a slightly different light, to show a side to them that you've most likely never seen before. This time is the turn of Head of Customer Success, Greg Young – who shares a few of his creature comforts, out of hour activities, and some insights into what makes him tick.
Position
Head of Customer Success
Location
West Sussex
Length of service
8 years (plus 3 as a customer)
Currently listening to
Popping off (Spotify playlist)
What's your favorite food?
During lockdown, I, like many others invested in a pizza oven and learnt how to make delicious Neapolitan style pizzas so that's high on the agenda but I am also a sucker for anything BBQ! I have been known on my travels across the pond to consume the occasional chicken wing!
What's your biggest achievement in the last 2 years? 
Welcoming our first child, Austin, into the world! He has given me a whole new perspective on life in such a short space of time.
What do you enjoy most about working for Infigo?
The tight-knit bond we have as a team. The term the Infigo-family is banded about a fair amount, but it is so true. We have an environment that allows everyone to grow and thrive which is so important for both personal and business growth.
What are your hobbies? 
Playing cricket, cooking and sampling the many IPA's that are entering the market (although we are blessed to have many small-breweries in Sussex, which deliver hoppy-goodness).
What can't you live without? 
My wife, my son and our half-bengal cat, Hugo (who resembles a dog more than a cat based on the size of him!)
Tell us a bit about yourself, in your own words? 
As many of you are aware, I started my Infigo career as one of the first ever customers working as a Graphic Designer within the studio at a local digital printer who remain an Infigo customer today. This was my introduction to our wonderful industry and a business I am forever thankful for as I got exposure to so many operational elements from the studio to production, to finishing and then ending up within the B2C photobook arm of the business.
Prior to that, I graduated with a 1st Class Hons degree in Industrial Design from Bournemouth University which is where I think my passion for our industry comes from. The appreciation of engineering to develop and manufacture the technology that sits on many of our customers shop floors but also the output that we see – creativity in both design and finishing to produce beautiful works of art.
After joining Infigo in March 2014, I have worked with the majority of our customers in one way or another; whether it was assisting on a support request, delivering onboarding & training or even just advice on how to tackle projects. My role has changed somewhat recently and am now focussed entirely on driving adoption, ensuring clients are making the most of the tools they have at their disposal and most importantly adding value to their proposition.
As well as looking after our clients, I am also responsible for the organisation of our event participation; networking events and trade shows / exhibitions which gives me a great opportunity to meet with even more of our client base. I am also proud to have the title of Brand Ambassador, too. Working closely with our marketing team, I have input on the creative elements & usage of our brand for any communication which ties back in with my degree!
The future at Infigo is incredibly exciting with some brilliant enhancements, improvements & features being released over the next 6-12 months and I can't wait to see the journey continue!
Tell us a fun fact not many people know about you 
I have size 14 feet (15US) so when visiting clients the other side of the pond, I normally have to stock up on the forthcoming year's supply of shoes (of which I currently have over 40 pairs, much to my wife's dismay!)
What is your dream holiday location?
A week in the hustle and bustle of Sri Lanka (ideally taking in some cricket) followed by a week on the beach in the Maldives – a trip I have been lucky enough to have made before but would love to do it again!
Why would you recommend Infigo to potential customers?
Having been in the privileged position of working with our existing clients for many years, every day I see the value which we deliver to so many businesses around the world. With innovative technology backed up by an excellent, forward-thinking team, it really is a force to be reckoned with!
We hope you enjoyed our meet the team feature. Stay tuned for future additions, when we will be shining the spotlight on another member of the Infigo team.