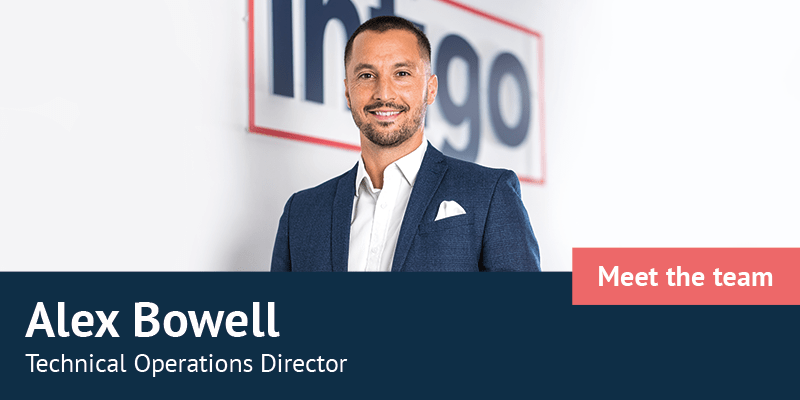 Our meet the team collection introduces different members of the Infigo team in a slightly different light, to show a side to them that you've most likely never seen before. This time is the turn of Alex Bowell – who shares a few of his creature comforts, out of hour activities, and some insights into what makes him tick.
Position
Technical Operations Director
Location
Crawley, West Sussex
Length of service
8.5 years
Currently listening to
Come With Me – Nora En Pure
What's your favorite food?
I LOVE food. I essentially exercise in order to eat as much as I possibly can. When going out to eat, we usually treat ourselves to a nice steak or something thai.
What do you enjoy most about working for Infigo?
The people. We are so fortunate to have a fairly low turnover of staff here at Infigo and the people that join us are passionate, talented and hungry. Despite constant growth we have worked hard at ensuring we stay as a tight group and every day I am inspired by the people around me to push on and be the best I can be.
What are your hobbies? 
I love being active and being outside – golf, football, cycling, running. As a family, we also like to travel a lot and see the world. We're also very social people so love spending time with our friends. Playing catch up after COVID.
What can't you live without? 
My wife, Steph, my son Finley and daughter, Lily. Well all our family and friends, we're very lucky.
Tell us a bit about yourself, in your own words? 
I graduated Bournemouth university with a first class honors in Business Information Technology Web Programming (bit of a mouthful) and quickly got a job that as a junior developer for a travel company that I loved in London.
I did this for around 5 years gaining experience and earning my stripes before Douglas came knocking.
This was over 8 years ago and at the time Infigo had only a handful of employees based in the UK so it was all very hands on. I was lucky to get exposure to so many different aspects of the business that have helped me to develop into the person I am today.
I am now the Technical Operations Director and responsible for many areas of the business including professional services, parts of development, technical customer support and customer success and also project management. I am hugely privileged to  get to work with some incredibly talented people on a daily basis in many varied roles.
I have a huge passion for improving the product and am constantly looking for ways to better what we do and how we do it. Putting our customers first and helping to make a real difference to their businesses is what drives me forward.
Tell us a fun fact not many people know about you 
When Steph and I had graduated from university, we went travelling around the world. In the middle, we spontaneously booked a detour and joined some friends in Central America for a few weeks in a beautiful part of the world which we later found out to be the murder capital of the world at the time – San Pedro Sula, Hondurus. Luckily our younger, niave selves made it out unscaved.
What is your dream holiday location?
We've been very fortunate to have been able to travel and see a lot of the world but I would love to go on safari and see the big 5.
Why would you recommend Infigo to potential customers?
I am biased of course, but our product really is the best. We are very proud of what we do and it shows in all areas of the business. Buying our product gets you an invite into our special group where we support and work with our customers to make them and us successful.
On most weekends, we can find you
Days out with the family, playing golf with my mates or hosting a BBQ and drinks at our home.
Beach or mountain?
Can I hike a mountain to get to a beach and then relax? I love a beach holiday but will always look to mix it up with some adventures along the way.
We hope you enjoyed our meet the team feature. Stay tuned for future additions, when we will be shining the spotlight on another member of the Infigo team.