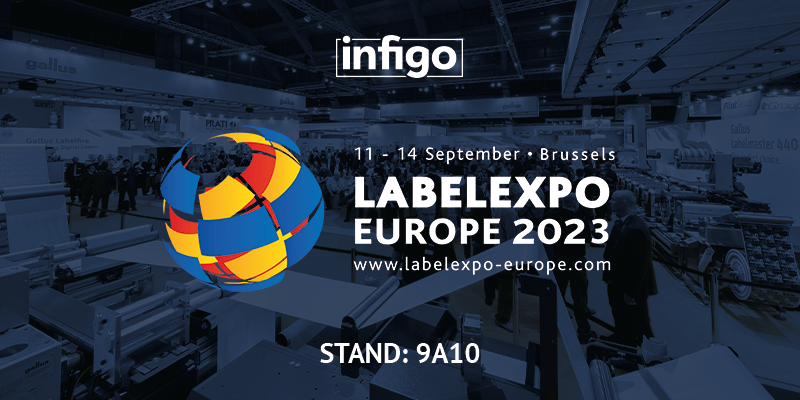 Infigo set to unveil revolutionary integration at LabelExpo Europe 
Keep it under your hat for now, but expect something big in Brussels in September. That's because we will once again be demonstrating that we are at the forefront of printing technology, as we unveil our latest partnership at LabelExpo Europe 2023, held from the Brussels Expo Centre in Belgium, one of the largest and best-connected exhibition centres in Europe, on 11-14th September.
During the Expo, Infigo will demonstrate (at Stand: 9A10, next to HP) just how easy it is to for label converters to set up e-commerce storefronts and attract online business from all over the world.
Attendees will also learn how our platform can be integrated with other print hardware and software (ranging from printers and cutters to MIS and shipping platforms) to create automated workflows that drive more business and reduce overheads, as well as showcase the latest print innovation with demonstrations of pioneering machinery and product launches from the world's leading manufacturers and suppliers.
The event, which is the continent's flagship exhibition within the labels and packaging space, is being hosted in association with FINAT, the European association for the self-adhesive label industry, of which Infigo is a proud member.
Revolutionary API launch
As well as our market-leading online editor, MegaEdit, which allows users to create original designs and edit customisable templates for any printable surface, we are also launching our latest API, which is set to revolutionise the labels and packaging industry.
Paul Bromley, Head of Global Sales here at Infigo said: "I can't go into too much detail at the moment, we want to save that for the official launch in Brussels, however I think label converters will be genuinely blown away by our latest integration.
"Obviously, no single piece of software or hardware is a silver bullet for the challenges the industry is facing. However, we have built this integration from the ground up, in consultation with some of the biggest names in labels space, specifically for the labels and packaging industry.
"Integration and connectivity have always sat at the core of our company ethos and this partnership matches our vision: to provide cutting edge solutions, harness automation and simplify the workflow, which is something our industry is now starting to embrace."
Competitive advantage
With the labels and packaging industry set to grow by 5% in the coming years, Paul said that the new integration will give users a competitive advantage over other label converters.
"Through our platform converters will be able to create individually branded storefronts and portals and take payment online.
"For the end-user, it means they can submit an order at a time that's convenient to them and not limited to business hours. Automated pre-flighting means the customer receives an alert if there is an issue with the design they have uploaded and requires re-submitting."
Continuing, Paul said: "However, where converters will be really blown away is with powerful live pricing.
"This means the client will see an accurate quote, based on quantities, substrates and express shipping. For example, the customer will receive real-time price adjustments based on a label that is embossed and plain finishing.
"Customers can then either upload completed label designs or use Infigo's powerful editing tools to customise their design. This means that converters can receive orders and take payment at any time of the day or night, effectively automating cash-flow.
For venue/travel information, or more information on how you can attend and visit the exhibition, you can find out more at the LabelExpo 2023 official website.