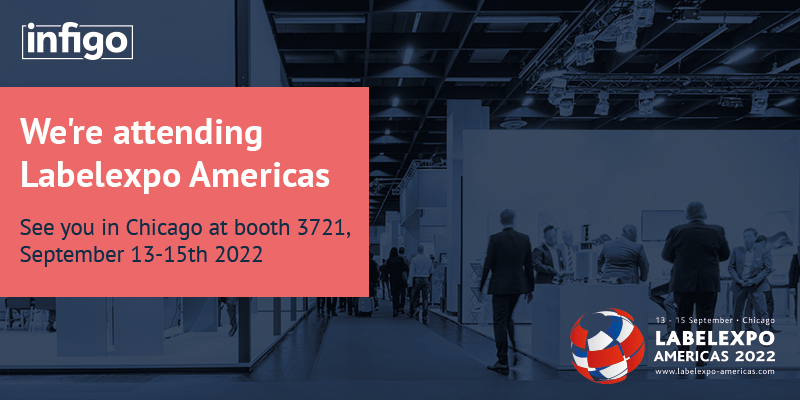 We're bringing our live Label Factory e-commerce experience to Labelexpo Americas 2022
Label converters will discover exactly how they can launch a thriving e-commerce brand, through our unique label factory experience, at Labelexpo Americas 2022 and you can pre-book a demo slot now.
Appearing at booth 3721, on the outer edge of Hall C at the Donald E. Stephens Convention Center, Chicago, between 13-15 September, Infigo's experts will dissect the tools and strategies required to build and scale a successful online business.
Visitors of the booth will learn exactly how to launch an e-commerce solution and build an online presence in as little as 90 days.
Through fictional ice cream brand, Scoops, Douglas Gibson, CEO of Infigo and Greg Young, Head of Customer Success, will dissect everything required for print ecommerce success – from the integrations that provide a seamless customer experience and printing workflow, to the strategies that improve conversions and enable scale.
In less than 45 minutes attendees will see how, with the Infigo platform, they can:
Create both B2B and B2C storefront solutions
Support artwork upload including preflighting by utilising Enfocus Pitstop technology
Provide pre-designed templates
Offer the ability to handle full variable data personalization
Douglas and Greg will also demonstrate the simplicity of the Infigo Connect open API, which syncs orders directly into workflow and MIS systems such as Hybrid, ESKO, printIQ, Tharstern, CERM and Label Traxx.
Douglas is looking forward to bringing the Label Factory experience to life.
He says: "We know the label market is experiencing significant growth at the moment, with the sector forecast to grow by around 5% in the next few years. We also know that e-commerce is the preferred choice for the majority of customers.
"Label converters know they need to have an online presence to profit from this growth but we've heard that often they don't know where to start.
"At Infigo we have a reputation for doing things differently and standing out and this demonstration will be no different. The Scoops brand has been designed by Infigo to showcase in real time all the great features that an Infigo system has to offer so label convertors can achieve online ecommerce success.
"They'll come away with a strong understanding of everything that's required to create a thriving label factory.
"It'll be a journey where even those new to print e-commerce aren't lost in technical speak but understand what comes next in the digital workflow and why and how it all links together."
Greg says: "Often web-to-print is sold as a silver bullet for label manufacturers. However not every vendor has the integration capabilities or professional services experience to help their users really hit the sweet spot with web-to-print.
"We'll demonstrate everything from how to create a storefront, how customers can upload and edit their own artwork, how the storefront integrates with your MIS and other platforms and the strategies that are required to really push and scale the brand.
"The Scoops storefront will be on show for people to come and look and play with the software but we're seeing this as more of an immersive experience than a standard demonstration. I think people will be surprised at the flexibility of the platform and the strategic and technical support we can provide to help our customers really scale their labelling business."
To ensure you don't miss out on the full Infigo Scoops experience, you can pre-book a demo slot here,  which will also enter you for a chance to win a state-of-the-art VR headset worth over $500.

*Applicants must pre-book a demo through our event booking portal then attend their chosen slot. Demonstration attendees will then be automatically entered into the prize draw, with the winner announced on the final day of the event. One entry permitted per person.