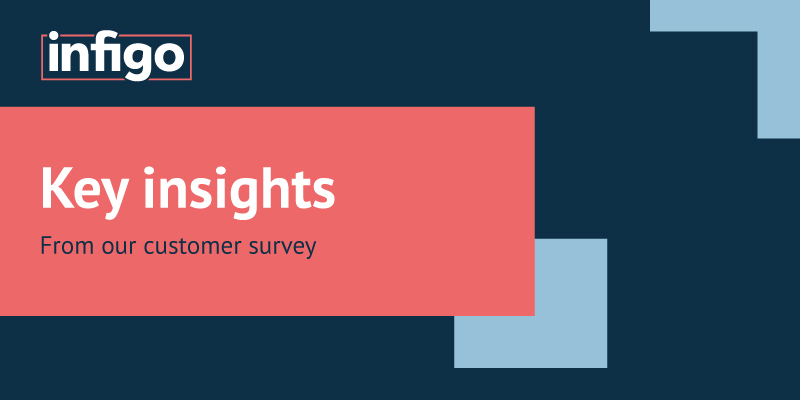 We've started the year in full swing at Infigo and as part of our exciting plans and key goals for 2021, we are working hard to produce new documentation that will empower our customers to not only make the most of their platform, but also grow their businesses too.
To better understand our consumer base, and how they use our software, as well as to ensure we offer the most useful and up-to-date content, we asked our existing customers to complete a quick survey.
The results are now in – and we'd like share some of our key findings.
The survey saw a balanced mix of new customers (47% said they have been with Infigo for 18 months or less) and longer served Infigo veterans (53% have been a customer for 2 years or more). On top of that, 63% of the respondents said that our solution had replaced their previous platform, whilst 37% had entered the world of web-to-print for the very first time when joining us.
Platform usage
Over a quarter (26%) affirmed that 3 people within their organisation had been trained to use the Infigo platform. 40% said to have 4 or more capable users, whilst 34% rely on only 1 or 2 people to use our system.
When asked approximately how much time per week their users spent working on the Infigo platform, 39% said they spend 20+ hours (2 days or more) in total, with the second highest result, 21%, stating that they spend between 1-3 hours (less than half a day) per week using our software.
In addition, we asked our survey participants to expand on the skills their teams held within their organisation – with the three most popular answers corresponding to Adobe design software (InDesign being a skill present in 95% of the organisations – which is good news for our soon-to-be-launched InDesign plugin for MegaEdit! – closely followed by Illustrator and Photoshop). Other popular skills included: project management, workflow automation and HTML.
Services offered via our platform 
18% of respondents said that their Infigo platform is in place to offer products and services via open e-commerce websites only; with 34% solely focused on the B2B market (supplying their customers via gated portals) and 21% using their platform as a solution for these two strategies. In addition, according to 10% of the survey respondents, our software is also being used exclusively as a marketing collateral management tool.
One thing that came as no surprise is that our customers serve across a varied range of sectors and industries, with the most popular being marketing & publications, healthcare and financial institutions.
On the subject of job management, 50% of survey submissions said that their system is integrated with an MIS solution, while 15% stated that they only use our core platform and hot folder features to manage their orders.
Benefits of a web-to-print system
63% of our customers that participated in the survey felt that web-to-print has improved their business – with many partially accrediting it to their growth, and others affirming that they are able manage operations more easily with it in place. 10% were unable to confirm, as their storefronts are still in development phase or they are currently analysing performance and results.
When questioned about the main benefits of having a web-to-print system – offering an easy way for customers to place orders; automation; and allowing customers to create, or edit, personalised designs online were the most popular answers received – closely followed by a reduction of operational costs with fewer touchpoints and the capabilities of online storefronts customisation.
The majority of our customers said that the benefits from implementing a web-to-print solution was evident within six months or less (or "not long at all") by 40% of the respondents, with an additional 10% affirming the benefits were noticed immediately.
Join our customer base
If you'd like to see our software in action and understand how it can benefit your organisation, please get in touch or book a free tailored demo today.