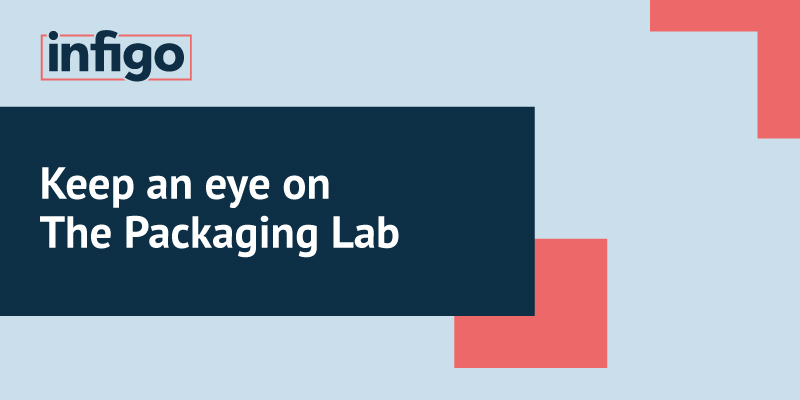 We are proud to see our customer The Packaging Lab featured as a 'Company to Watch' by Label & Narrow Web.
"Don't find customers for your products, find products for your customers" – It's fair to say that Dan Niblo and Jeff Searson followed the approach covered in this quote, from entrepreneur and marketing expert Seth Godin, when setting up The Packaging Lab.
The founders recognised a market that had a gap in supply – and decided to create an offering for it. From their experience, it was clear that the traditional printing methods in the packaging industry weren't favourable, nor attractive to small and medium companies.
Using their strong sales and operations background, Dan and Jeff addressed each of the key challenges that were stopping these businesses from purchasing personalised and professionally printed packaging:
Quantity: this target market tends to order smaller quantities, whether it's because of smaller production size compared to big corporations or limited budget and storage. With The Packaging Lab, there is no minimum order quantity.
Turnaround: a critical factor for businesses, and their profitability, is the lead time of their order. The Packaging Lab offers turnarounds in as little as one business day.
Printing process: printing in smaller quantities isn't cost-efficient using traditional methods. The Packaging Lab opted for HP Indigo Digital printing technology as well as an integrated Karlville finishing line, reducing manufacturing costs as well as production time.
Competitive price: most SMEs are very mindful of their budgets and expenses. The Packaging Lab offers no set up fee keeping production costs to a minimum.
Online ordering: consumer behaviour is steadily shifting to online purchasing.
Enter web-to-print.
According to Label & Narrow Web, "a focus on web-to-print and streamlined operations would be the key to speed and profitability" to which Dan added "we're doing things that have never been done in web-to-print."
Infigo was the chosen partner to provide the technology that powers their website and internal order management.
With our solution, storefronts can be fully customised. Not only does The Packaging Lab offer a website that helps build a strong and recognisable brand, it also provides an intuitive customer journey.
A slick ordering process was also an essential factor. Most printers focused on large corporations do not prioritise their online presence as a means to attract and maintain customers. The Packaging Lab, once more, went against the tide. "From online estimates and ordering to downloadable dielines, the process is designed to be simple for a first-timer" as Label & Narrow Web mentions.
The process however isn't only simplified for their customers, but also for their internal staff. Infigo is a HP partner and our web-to-print solution is fully compatible with their fleet of machinery, including the Indigo 20000 press, which is used by The Packaging Lab to produce their flexibile pouches.
Their set up with HP SiteFlow to manage the production equipment allows for an automated workflow where orders can be seamlessly transferred from their online store to their press in no time. This brings innumerous benefits, including the automated submission of orders as well as the reduction of touchpoints, which in turn cuts operational costs for improved cash-flow, to name just a couple.
In addition, the publication states that "recently, with a steady flow of work, they invested in their website, making it even easier and intuitive."  This statement highlights another advantage of web-to-print: the ability to easily modify content and add new product lines in order to quickly react to the target market, industry or economical environment.
Infigo is proud to be a part of this industry-breaking milestone. As innovators ourselves, we are always looking for ways to improve our offering and to help customers go further. We congratulate The Packaging Lab for this achievement.