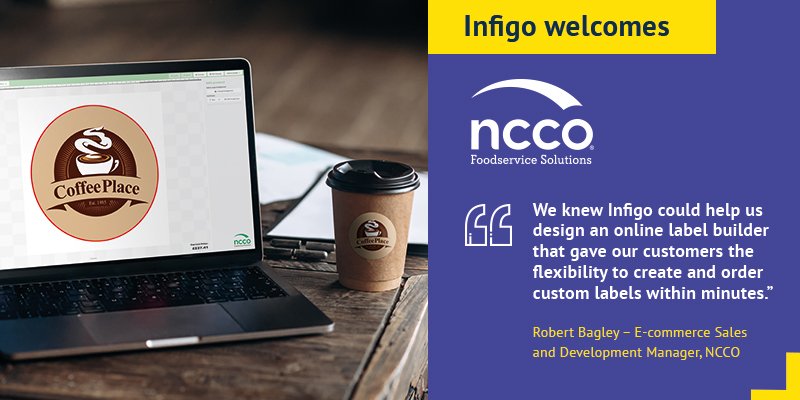 Food safety specialist NCCO embraces web-to-print e-commerce to deliver food allergen labels on demand with new Labels Your Way online label builder. 
Food safety and food service specialist NCCO, which specialises, among other things, in the production of food safety labels, has adopted our market-leading web-to-print solution to improve the service it offers to its clients through its new Labels Your Way online portal.
In response to growing client demand for a print e-commerce solution, by partnering with Infigo, NCCO will be able to reduce production time on print jobs from weeks to minutes, enabling clients to easily create, modify and order food allergen labels on demand.
"In the past, the process of ordering custom labels and stickers has involved a lot of back and forth between customers, sales reps, creative teams and printers," explains Robert Bagley, e-Commerce Sales & Development Manager at NCCO.
"But that process can take weeks, and it involves too many moving parts. Now, even when the office is closed, our website is open."
Following the integration of the Infigo platform, NCCO clients now have access to a flexible label builder where they can create and order labels within minutes. As well as providing a unique user experience for clients, NCCO said it is excited by the fact that it can now take orders any time of the day or night.
"If you can't give customers the kind of smooth, personalised shopping experience they're accustomed to with Amazon (or any other online retailer), you're going to lose a competitive advantage and eventually customers", Bagley adds.
"That's why we turned to Infigo. We knew they could help us design an online label builder that gave our customers the flexibility to create and order custom labels within minutes.
As well as being better placed to meet its existing clients' needs, Bagley believes an e-commerce solution will also give NCCO a competitive edge.
"Unlike many of our competitors, we now have a label builder that gives our customers the option to design their own labels online. Uploading a premade design isn't your only option anymore. We looked at many platforms for creating a website, but we chose Infigo for several key reasons.
"Infigo offers a system for designing and ordering labels that's ready to roll out of the box. The platform Infigo created allows us to immediately help our customers, but it also gives us room to grow and expand the types of custom labels we offer. We can now branch out beyond custom labels and stickers should we decide to go in that direction."
Infigo Head of Customer Success, Greg Young, adds:
"We truly believe in working in partnership with our users. Every print business is different – a label provider will use the platform differently to a wide format printer. It's our job to ask lots of questions so we can ensure that when our technology is deployed, every user gets a maximum ROI.
"NCCO realised how much time was wasted responding to multiple emails or making calls back and forth. Our e-commerce solution enables users to brand their own site and create a unique and simple ordering experience. Customers can now design and order their labels, with minimal human involvement, or loss in production quality.
"We can't wait to see what the future holds for NCCO and how they can scale with Infigo."