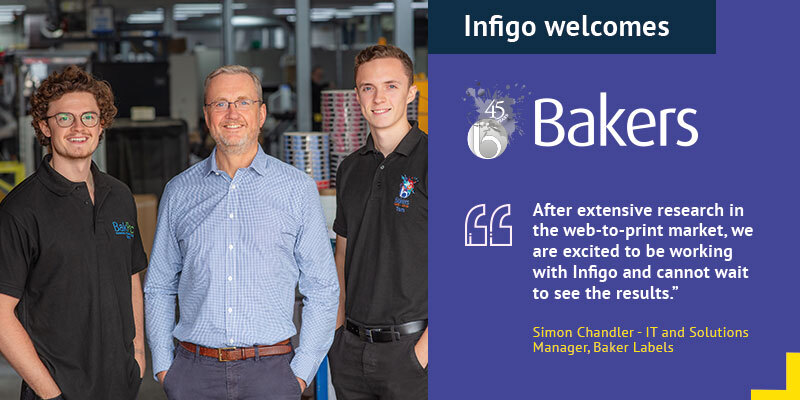 Baker Labels approached us to help implement an online store for their brand, Sportstiks, to help reduce unnecessary emails and phone calls with the sales team and enable the firm to increase efficiency and lower production costs, resulting in greater savings for the end customer.
While the initial priority is to develop an online store for sportstiks.com, Baker labels intend to offer automated ordering to B2B clients that use their Materials, BakPac and Labels divisions.
Jamie Doogan, Baker Labels Commercial Manager, said: "At Bakers we foresee that web-to-print capabilities are going to be a requirement for successful and continual growth. Our partnership with Infigo is a big step for us down that road. The fit for us with this platform ticked all the boxes. It's in the early stages of implementation, but we're confident we can achieve all we set out to achieve and hopefully more."
The UK-based printer, which employs 100 staff and offers labels, flexible packaging and athlete ID said that after assessing a number of web-to-print providers, it was Infigo that offered the functionality and flexibility they were looking for. The ability to share data between Infigo's platform and Baker Label's other systems, and massively reduce human involvement on simple jobs, was a major selling point, according to Simon Chandler, Baker Labels IT and Solutions Manager.
He said: "After extensive research in the web-to-print market, I was confident to recommend Infigo to be our partner in this venture.
"Our Sportstiks division is where we are focussed initially before we roll out to our Materials, BakPac and eventually Labels divisions. The first project is to create a comprehensive storefront to enable new and existing customers to order products directly with us.
"In turn, it will reduce the touch points on orders for our sales team and provide us print ready files therefore decreasing art working studio time. We are excited to be working with Infigo and cannot wait to see the results."
Infigo CEO and Founder, Douglas Gibson, said that Baker Labels is exactly the type of company that would thrive using Infigo's platform.
He said: "More and more print companies are beginning to realise the opportunities that web-to-print offers.
"Baker Labels identified how much time staff spend writing multiple emails or making calls back and forth. Our e-commerce solution enables users to brand their own site and create a unique and simple ordering experience. Customers can design and order their bibs, with minimal human involvement, or loss in production quality.
"While getting sportstiks.com up and running is the first phase of this project we are very excited about the plans Baker Labels have – to offer B2B portals for their labels and packaging divisions.
"However they are already thinking beyond this, looking at other ways they can diversify their business and build new revenue streams through web-to-print.
"We are all really excited to be working with Jamie, Simon and the team at Baker Labels and seeing the creative ways they intend to use the Infigo platform."