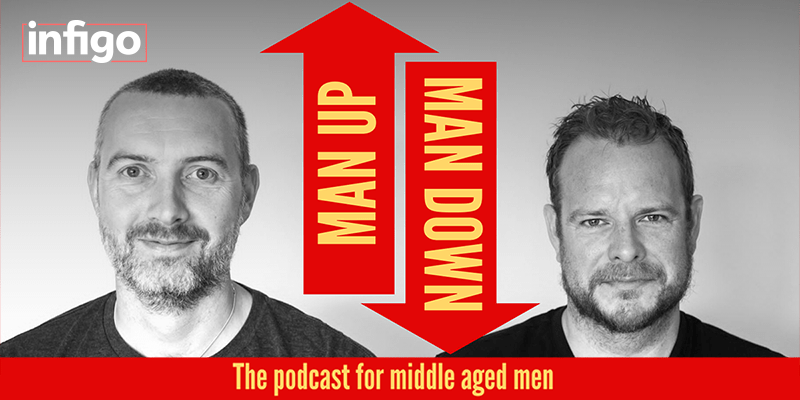 Mental health has always been highly important to Infigo.
This was particularly brought into focus during the pandemic and lockdown, supporting staff, when we were all fighting different logistical and mental battles.
This was one of the many reasons why we got involved with the Printing Charity – which provides a free 24/7/365 helpline, offering practical and emotional support to anyone working in the print, paper, packaging and graphic industry.
So we are delighted to announce that we are proudly supporting another great cause in the mental health space – as official broadcast sponsors for a live panel discussion, and recording of the Man Up / Man Down podcast, being held in Brighton, UK, on 28th November.
What is the Man Up / Man Down podcast?
Man Up / Man Down is a podcast aimed at middle-aged men, discussing the issues men are often afraid or ashamed to talk about with their friends or family. A group of people, who may not be great at sharing their own emotions, or have grown up around the mantra that they should just "Man Up."
Tragically, this is also a group who are three times more likely to commit suicide than their female counterparts, with males aged 50-54, most likely to take their own lives.
This was one of the reasons podcast co-host and co-founder, David Pawsey, who has also been an integral part of the Infigo marketing team over the last 5 years, set up the podcast.
David said: "I was introduced to my now fellow co-host, Volker Ballueder, through a mutual contact for a work project. However, we found that we spent a lot of time discussing our experiences during lockdown, the impact it had had on both our and our friends' mental health and the fact that we were both facing similar challenges as we approached middle age.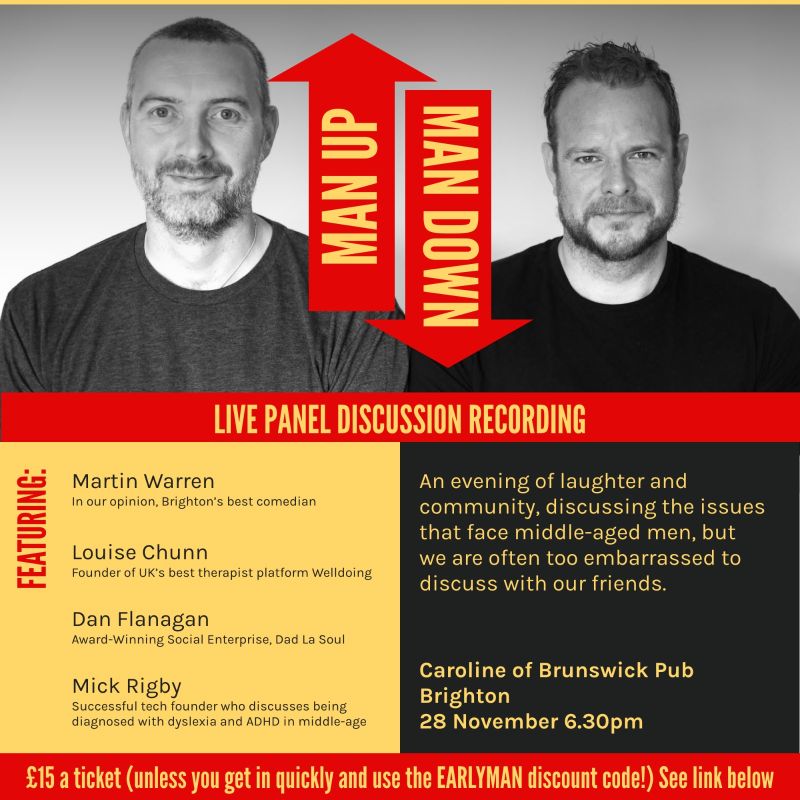 "That ranged from mental to physical health, a changing work environment, losing touch with friends, to our children growing up and becoming teenagers, and all the challenges that come with that."
After several of these conversations with this as a recurring theme, David and Volker, decided to create a podcast, as they felt that if they finding this period of life challenging, then others would too.
Mental health challenges ranging from neurodiversity to loneliness
David said: "Over the past year, we have interviewed experts on everything from neurodiversity to giving up alcohol, to loneliness; have spoken to men's talking groups and a whole range of amazing and inspirational people.
"While the podcast is aimed at men, we certainly don't exclude female guests and have found that we have developed a diverse following, as we're often talking about issues that men frankly don't talk to their partners about. In fact we often get messages from women thanking us for helping them to understand their partners better!"
"Us 'old-blokes' aren't alone in some of the challenges we encounter in life" 
Infigo Marketing Manager UK & EU, James Reffold, said on the sponsorship:
"I am so pleased we could find a way to support such a fantastic event. I am no stranger to my own personal demons and struggles, and have always spoken very openly about them, however for David and Volker to establish a stage for these themes to be discussed to a wider audience, just shows how much the topic genuinely means to them both.
"I'm looking forward to personally attending the event, not only to fly the Infigo flag, but be reminded that us 'old-blokes' aren't alone in some of the challenges we encounter in life, such as addiction, money struggles, home-life, or, particularly in my case, losing your hair!"
If you're interested in joining co-hosts David Pawsey and Volker Ballueder, with an amazing line-up of guest speakers, including Welldoing.org Founder, Louise Chunn, Dad La Soul Founder, Dan Flanagan and Yodel Mobile Founder and CEO, Mick Rigby, at the Caroline of Brunswick, Brighton, UK, on 28th November 2023, you can book tickets now.