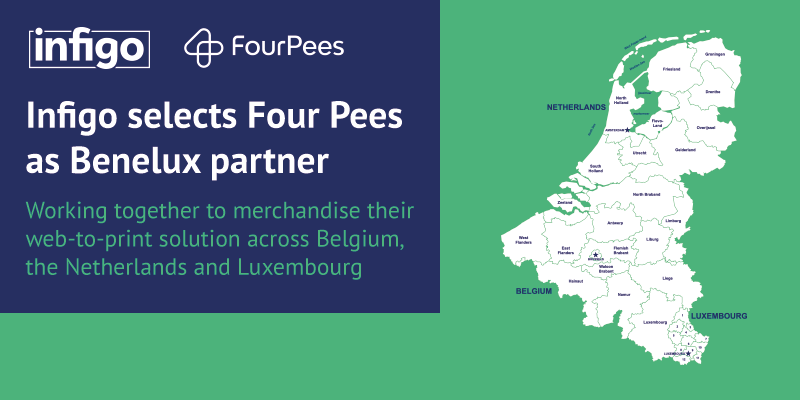 Infigo proudly partners with respected, proven European software implementation specialists.
We are excited to announce that we have officially partnered with implementation experts Four Pees. The partnership will mean Infigo's software stack is made available and supported across France and the Benelux region of Belgium, the Netherlands and Luxembourg.
Infigo has a long history of pushing technological boundaries to inspire customers to efficiently create beautiful products online through an elegant user interface. This latest partnership will allow us to implement our software in new territories delivered by local experts, communicating in native languages.
Infigo founder and CEO Douglas Gibson said about the partnership; "Four Pees operate at a high level, providing complimentary services and, at their core, share similar ambitions and values as Infigo – supporting customers, vision, and growing businesses. There is no one better in the territory so they were the natural choice to partner with."
Four Pees has built a strong reputation by helping print operations succeed in implementing hassle-free automation. They are known to provide solutions, working with a range of software partners, to streamline print and packaging production.  This may be through a software product or a seamlessly integrated solution from ideation or design.
Four Pees and Infigo are to work together in partnership to resell our market-leading web-to-print software and associated services.
Antonia Fagan, Partnership Growth Manager, said: "We are delighted to partner with Tom and his highly knowledgeable team; this partnership opens up the Infigo software to new markets and automation success."
Infigo will utilise the existing Four Pees network and will look to target the right opportunities in the commercial print, labels and packaging sectors, as well as direct to brands/companies.
The Four Pees team will be able to offer their network and the wider region everything from the Infigo platform to the integrated.
Tom Peire, CEO & Founder of the Four Pees, said: "We have an extensive range of industry-leading products that deliver optimisations and automate workflows. This partnership is aligned with our mission, and Infigo is the perfect fit and will complement our offering".
In the coming weeks, Infigo and Four Pees will host a series of online sessions where you can learn more about the partnership and the people. Attendees will have the chance to ask questions and learn about automation and growth success.