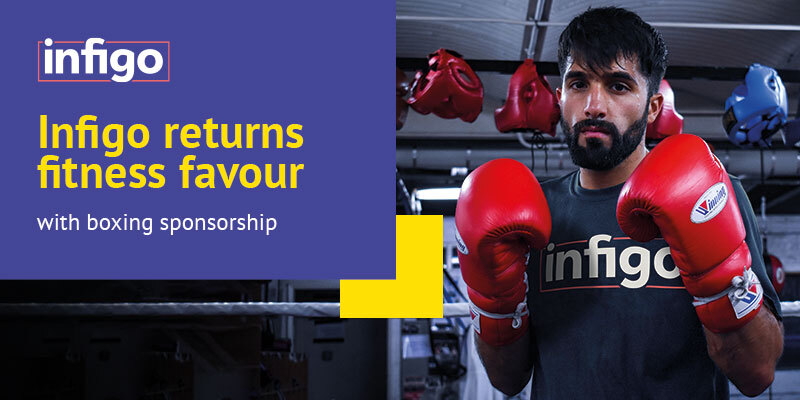 Exercise has become a lifeline for many of us over the last months as we have dealt with the pressures of the pandemic. This was certainly the case for Infigo CEO Douglas Gibson, who has turned to boxing training in recent years to take his mind off the demands of running an ever-growing company.
So when Douglas' personal trainer, Sher Khan, 29 from Crawley, announced he was taking on his first professional bout in November, Infigo was more than happy to sponsor the event.
With 40 amateur bouts under his belt, including a senior Southern Counties championship win, Sher says he realised from an early age the physical and mental benefits exercise gave him. This has inspired him to help others achieve their fitness goals.
He says: "Sport has always been a part of my life. I played football a lot growing up but then got into lots of other activities including boxing when I was 14.
"Realising how exercise made me feel both physically and mentally, I wanted to help others achieve this and feel good in themselves, so I qualified as a personal trainer."
"Just Do It!"
Douglas says Sher has been instrumental in keeping him match fit, which in turn has helped him steer Infigo through the challenges of the pandemic.
He says: "When you're running a company, with a million responsibilities, it's easy to think you don't have time to exercise. However, since I've been training with Sher, I've realised how important physical fitness is for your mental health.
"Obviously there was a period when we couldn't train face-to-face but Sher was there virtually, helping me work on my fitness through lockdown.
"It really helped me focus when there was so much uncertainty in the early days of the pandemic and lockdown. Once the gyms reopened, I even dragged several of the Infigo team down for some boxing training with Sher.
"Which is why I was more than happy to sponsor Sher for his first professional bout, as a thank you for keeping me mentally and physically fit throughout the duration of the pandemic.
"Without his help, I wouldn't have been able to keep a clear mind to make the decisions that have helped Infigo come out of the pandemic in such fine shape."
This is why Sher obviously urges anyone that's struggling with mental health to get in the gym.
He says: "Exercise and movement does wonders for mental health and has given many people something to stay focused on during the pandemic. It can be intimidating getting into a gym for the first time but to coin a well-known phrase – Just Do It!
"Getting through the doors is the hardest part. But you soon realise it is worth it. It makes you feel incredible with all the good endorphins being released and leaves you wanting more of that feeling."
"Visualise the end goal"
So what is Sher's routine for getting in the ring – particularly as he prepares for his first professional bout?
"I feel nervous before a fight but I turn that into good energy. I remind myself that the hard work has been done and visualise the end goal of having my hand raised at the end of the bout.
"Music is my main routine and gets me in the right head space. From the minute I wake up, I use a set playlist to keep me focused and get me prepared."
To cheer Sher on in his first professional bout, being held on 20th November 2021 at York Hall, Bethnal Green, London, you can book tickets directly through his partner (and no.1 fan) Aimee Edwards.
If you have been affected by any of the topics above, or require any assistance or help regarding your own mental health, please visit the NHS support page for more information.