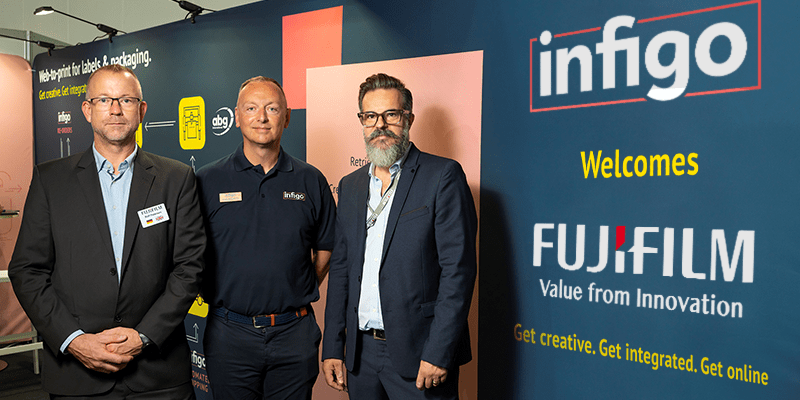 Infigo partners with Fujifilm to provide web-to-print solutions with the Jet Press FP790 
As one of the pioneering cloud-based web-to-print and marketing automation solutions, Infigo is thrilled to announce an exciting new partnership with imaging and printing technology powerhouse Fujifilm. The partnership will enable Fujifilm to provide customers with an extensive web-to-print offering alongside the Jet Press FP790, Fujifilm's inkjet press for flexible packaging. 
First launched back in 2021, the Jet Press FP790 is Fujifilm's first digital flexible packaging press. The press applies Fujifilm's industry-leading inkjet technologies and expertise to flexible packaging, offering packaging printers and converters the opportunity to adapt to changing market dynamics that are driving shorter print runs and product life cycles, faster delivery times and more sustainable production whilst also adhering to the regulatory requirements and production standards of flexible packaging. 
Announced at LabelExpo Europe 23 in Brussels, one of the largest events in the global label and packaging sector, the partnership will provide customers with a comprehensive and versatile suite of solutions and services. This will empower businesses to create, manage, and deliver dynamic print and marketing materials. 
"Redefining the future of print and marketing technology." 
Paul Bromley, Head of Global Sales for Infigo, said: "We have seen the Infigo customer base increase its need for 'micro print runs' which ultimately aligns to digitally printed solutions meeting this increasing demand. And this demand is only set to continue. 
"The collaboration between Infigo and Fujifilm represents a bold step towards redefining the future of print and marketing technology. By combining our respective strengths, we will provide a tailored range of solutions that enable printers to streamline processes, reduce costs and reduce their carbon footprint. All of which offers businesses the flexibility to create, manage, and deliver dynamic print and marketing materials. 
"We are excited to work with one of the innovation industry leaders and well-respected Jet Press FP790 technology in the space. 
Bromley continued: "Once again, it clarifies the vision of industry leaders to show that technical software innovation must be readily available for the market to achieve more in the 21st century." 
"A new era of possibilities" 
Chris Minn, Head of Global Marketing for Infigo, explained that the partnership between Infigo and Fujifilm signals a new era of possibilities for the print industry. Together, the two organisations are committed to delivering the highest quality, most personalised, and eco-conscious print and marketing solutions to businesses worldwide. 
Chris said: "It is always nice to form new partnerships in this very unique and special industry, but working alongside a company like Fujifilm and forming the partnership at LabelExpo in Belgium was great as we were all together in one place." 
Shifting customer demand 
Chris continues, "The shift and demand on the PSP to switch mindset and deliver jobs of greater individual volume rather than a large volume of the same print job. We call it '1,000,000 x1 rather than 1x 1,000,000'. The partnership with Fujifilm will only allow Infigo to support its customers further with this change." 
Ralf Petersen, Workflow & Solution Consultant, Packaging, Fujifilm EMEA comments: "Infigo is a renowned web-to-print software provider within the industry, and the perfect partner to maximise the potential of our new digital flexible packaging offering. 
We are delighted to be partnering to provide complete end-to-end solutions to our customers. Infigo's web-to-print solution is the perfect fit for our digital strategy and we are confident that this workflow addition will continue to provide our equipment and our customers with added value as we continue to evolve within the packaging space."