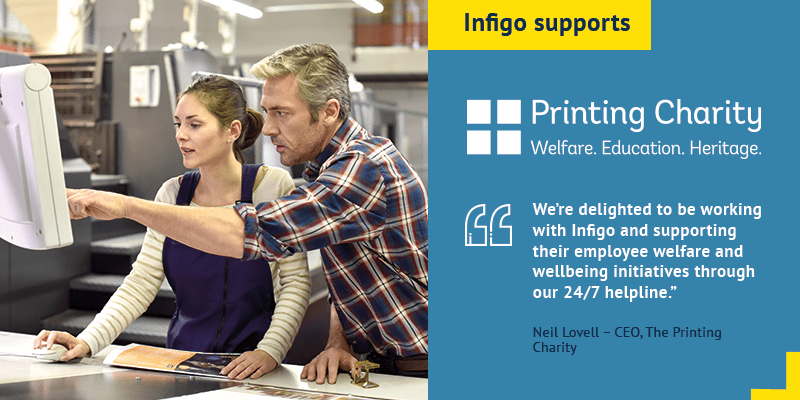 Infigo officially supports The Printing Charity, to help promote the welfare and wellbeing of people who work, or have worked, in the print, paper, packaging, and publishing sector.
As the national charity for our industry, and a fellow IPIA member, The Printing Charity provides a range of practical, emotional and financial support. This includes a free 24/7/365 helpline, offering practical and emotional support, including access to telephone, face-to-face and virtual counselling; the Rising Star Awards scheme, offering young people in our sector funding to develop skills to help them throughout their career; financial support; and sheltered accommodation, providing independent living for people in retirement after a career in print.
Infigo have historically provided ongoing support to a variety of charities and causes close to our hearts, such as Crawley Open House and more recently, the humanitarian crisis in Ukraine, but to be approached by one specifically aimed at supporting people within our industry, made it an easy decision.
Julie Minn, Head of HR & Legal at Infigo said on the partnership "We are thrilled at the opportunity to back a charity that not only provides financial, emotional and guidance support for people within the industry that we are in, but also offers help in skills and development, too, which will help develop careers and bolster the future of the print industry.
We care about our people, and this service also provides a helpline for our own employees if they need confidential and emotional support that they don't necessarily want to share with the business."
Infigo plan on raising ongoing awareness for the charity by signposting their logo across the website, making our employees, partners and customers aware of their services and generally sharing the word for some of the amazing work the people at The Printing Charity do on a daily basis.
Neil Lovell, CEO at The Printing Charity said "We're delighted to be working with Infigo and supporting their employee welfare and wellbeing initiatives through our 24/7 helpline.
It's more important than ever for people to have somewhere to turn to when faced with practical and emotional challenges and we'd encourage other companies to get in touch so we can roll this out to more people working in print, paper, packaging and graphics."
If you think you need our help, know someone who might, or want to explore how The Printing Charity can work with your own company organisation, then you can get in touch via their website, email, Twitter or Instagram channels.
Julie added "The printing industry in the UK dates back to 1476 and many family businesses have sadly died out in recent years, many of which suffering hardship or lack of education in the digital world.
This charity offers continued support to those who maybe suffering from these challenges, without judgement or embarrassment."