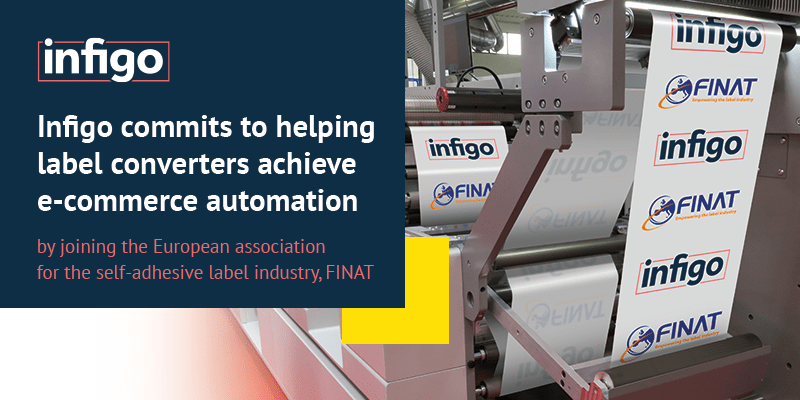 Infigo commits to helping label converters achieve e-commerce automation by joining the European association for the self-adhesive label industry, FINAT
We are proudly demonstrating commitment to helping European label market modernise digital processes by joining FINAT (an abbreviation of the French title: Féderation INternationale des fabricants et transformateurs d'Adhésifs et Thermocollants sur papiers et autres supports).
Through the membership, we will aim to share our strategic knowledge and technical insight to help modernise the European label industry and assist FINAT's members in optimising digital processes.
Chris Minn, Head of Global Marketing here at Infigo, said: "Joining FINAT is a testament to our commitment to driving innovation and providing exceptional service within the labels sector. I am proud to be a part of an organisation that is dedicated to advancing the industry and supporting its members."
Founded in 1958, FINAT has developed into an organisation of over 500 companies spanning all disciplines in self-adhesive labelling in more than 50 countries worldwide.
As a member of FINAT, Infigo is committed to establishing and maintaining industry-related best practices, standards, and test methods, to ensure that the self-adhesive label industry remains at the forefront of innovation and technological advancements.
"As an organisation, we are excited about sharing our insight into industry trends but also using our experiences with FINAT to improve our offering to the labels market." Chris adds.
Joining FINAT is Infigo's latest move in demonstrating its dedication to the global labelling industry. Last year they announced their partnership with the Tag and Labels Manufacturing Institute (TLMI) at LabelExpo Americas 2022.
Chris concluded: "In 2022, Infigo became a member of TLMI and the value it brought us was immense, enabling us to produce solutions focused around the label converters.
"As the Head of Global Marketing, I am thrilled to announce that we are now taking this commitment to another continent by becoming a member of FINAT, and I am eager to bring the same level of value to the European markets.
"I am confident that our membership will allow us to better serve the industry and drive innovation in the labels sector. As a young innovative company we are also particularly excited about contributing to FINAT's Young Professional's Network.
"We feel this will be particularly important in helping our young staff members develop their network and career. All in all this is a highly important step forward for the business as a whole."
Infigo is looking forward to contributing to FINAT's objectives to:
• Provide a networking platform for converters, suppliers, and indirect suppliers,
• Represent members' interests,
• Provide a central source for industry information,
• Offer education and technical publications,
• Represent the industry's views at the EU level,
• Establish and maintain industry-related best practices, standards, and test methods,
• Offer a global communication platform for regional and national associations worldwide.
For more information, take a look at FINAT's website.