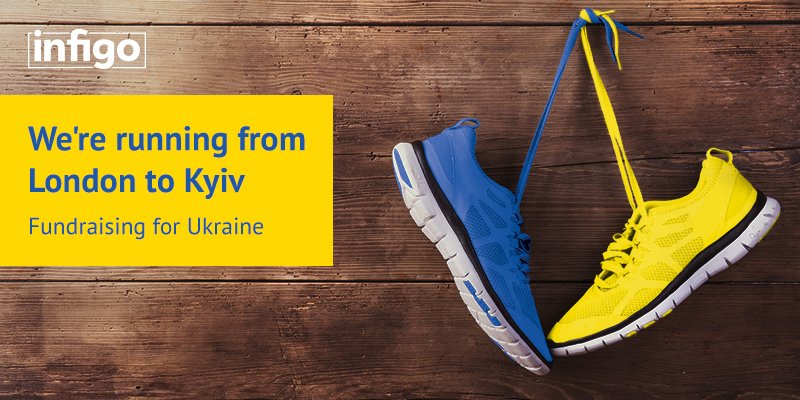 Infigo takes on group fitness challenge to raise humanitarian funds for Ukraine
There's not many of us who can appreciate what it's like to be trapped in, or to have fled from, a warzone. While we've all been through a lot over the last couple of years the trauma being experienced in the Ukraine is truly heartbreaking.
One night you go to bed, feeling safe and secure. The next morning you are either fleeing or fighting for your life. Leaving everything you hold dear, not knowing whether you will see your loved ones, pets, possessions, or work colleagues again.
Yes, we all have our own troubles and issues in life. But we generally go to bed at night safe in the knowledge that our families and livelihoods and way of life will be there for us the next day.
It's something we take for granted.
While we have seen people from all round the world mount humanitarian fundraising on an epic scale, the situation can make you feel quite helpless. Which is why Alex Bowell, Technical Operations Director for Infigo, decided to launch a challenge to raise funds for those that have seen their lives turned upside down, over the last three weeks.
As of 21 March 2022, Infigo is aiming to cover the distance from London to Kyiv (if not more) through a range of exercise. Some will be running, some cycling, some swimming and some walking.
And we are calling on our customers, followers, friends and families to sponsor us for our efforts via our Just Giving page (please click here to contribute).
Alex says: "The speed at which this catastrophe has unfolded has been truly devastating. I can't comprehend what it must feel like to wake up to discover that you are literally having to fight for your life.
"I find it truly traumatic trying to explain to my children what is happening. But the thought of having to say goodbye to my children, as many Ukrainians are for a multitude of horrific reasons, is incomprehensible.
"So I had to try and make a small difference to those families going through this nightmare."
Alex says that a secondary aim of the challenge is to help Infigo employees get more active.
He says: "It's as a good reason to get us all motivated and exercising together or individually. With many of us working from home, and all doing fairly sedentary jobs it's so important to get up and exercise both for body AND mind."
We will be updating this blog so you can follow our progress. If you want real-time progress then you can also follow our Strava group
We truly appreciate your support and look forward to raising as much money as we can through our Just Giving page, starting with a target of £2500.