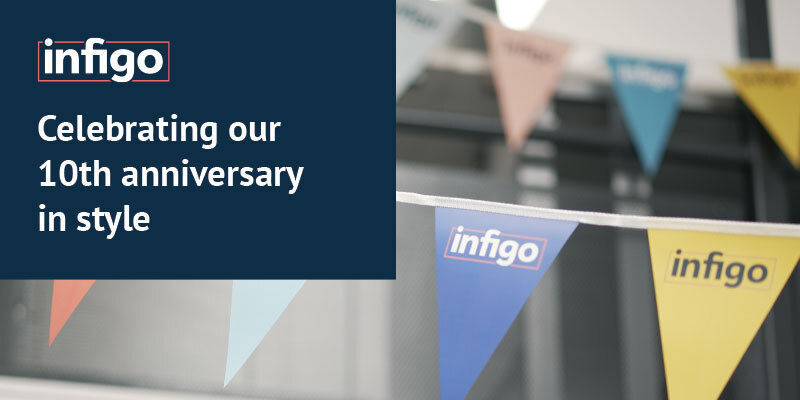 James Bond isn't the only one who's had to delay big plans this year. Even though we hit an incredible milestone last year – a decade of helping businesses grow through web-to-print – the splash we had to mark the occasion was put on hold due to our evil nemesis – no, not Spectre but Covid.
While Infigo hasn't (as far as we know) saved the world multiple times, we were able to give printers all around the globe a licence to sell at the height of the pandemic – through e-commerce.
Which is why we were delighted to finally get the UK sales, marketing, operations, development, technical support and customer success teams together, in our new office, to celebrate our 10th anniversary.
As you can imagine, having not seen each other for 18 months (other than in front of a computer screen), it was an emotional experience for us all.
New office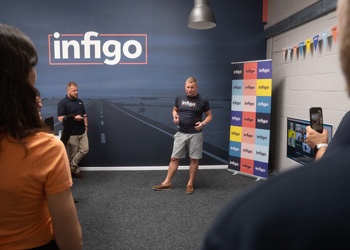 As well as being the first time most staff had seen each other since March 2020, it was also the first opportunity for many to visit Infigo's new head office. Demonstrating his wide range of skills, CEO Douglas Gibson, personally spent a lot of time converting the former warehouse in Lindfield, West Sussex, into a productive and fun space for staff.
Moving out of our former premises in October, the senior leadership team have been using the new HQ (complete with a dartboard, foosball table and generously stocked beer fridge) since January this year.
Infigo family reunion
While staff from our European and US offices had to settle for virtual attendance, Douglas said having the UK branch of the Infigo family together again was a very special moment.
Addressing the 40 strong global team, Douglas said: "It's been a journey, particularly over the last couple of years. We've had to learn from working in new environments. I'm sure there are lots more things over the next 12-18 months that we're going to have to get used to. But the reality is we all have each other, and we can lean on each other.
"Perhaps we overuse the word family at Infigo but I strongly believe we are a family, supporting each other in good times and bad.
"We've had some ups and downs over the last few years, as many businesses have, but we've certainly been very resilient."
A complete rebrand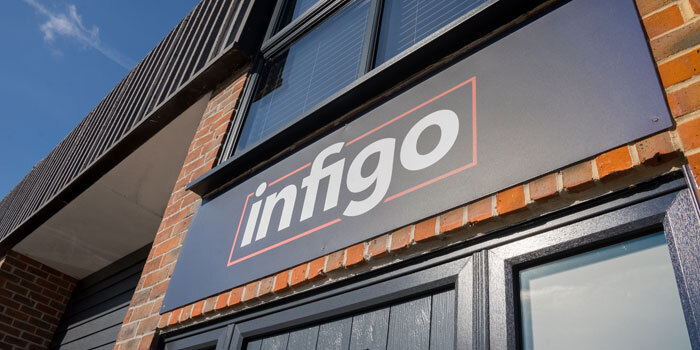 While Covid presented many challenges, Douglas said the company had reacted to the pandemic in typical Infigo fashion. After a short period of reflection, lockdown was spent planning a rebrand, including a redesign of the website, and the development of several upgrades to its web-to-print platform.
"Perhaps we should have been laying down and being quiet but anyone that knows me, and knows Infigo, knows that's not what we're about. So, at a time when conventional wisdom would say we should have preserved cash and we should have sat back to see what happens, we decided to rebrand, we decided to bring in a whole load of new features", Douglas said.
So does the rebrand represent a new direction for Infigo? Gibson said it was more about clarifying the company's values and overall mission.
"The rebrand is important because as you grow organically, you add a bit here and a bit there. You tend to lose your way a bit as a company grows over time. This was about allowing us to re-centre and refresh the brand and I absolutely love it.
More than a logo, however, the rebrand allowed the business to set their mission, vision and values, creating a solid foundation for years to come. Douglas shared "We've always had our values and our mission, which are so important to us. But they've always been in our collective heads – we've never written them down.
"The brand has been reborn and the feedback we've had from our customers has been fantastic."
Besides the website redesign, our new office has been fully rebranded too, including new signage on the door, walls and glass partitions, branded wallpaper – and for the occasion, we went the whole hog with branded party bunting to truly celebrate in style.
Let them eat cake (and pizza)!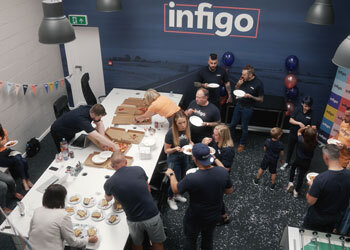 No party would be complete without cake and bubbles. With Douglas thanking staff for their efforts over the last 10 years (and their resolve over the last 18 months) all that was left was to raise a toast to Infigo and to cut the highly impressive cake. Hand made by Infigo's dedicated Executive Assistant Gina, not only did the cake incorporate Infigo's new branding but also illustrated Douglas' creative thinking and the team's drive over the last decade.
Ending the day with pizza, a couple of beers and a series of foosball matches, it was great to see all the teams together again, reinforcing the most important factor about Infigo: the people who make up the Infigo family.
To discover more about the personal highs and lows of the last 10 years you can read our interview with Douglas here. For an illustrated representation of Infigo's evolution, check out our timeline here.