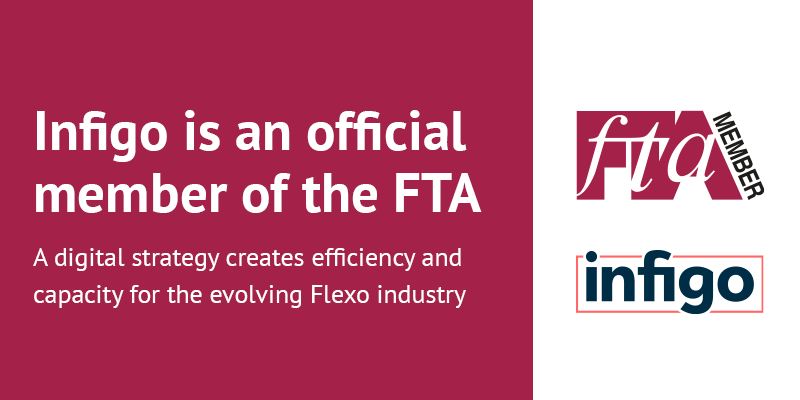 Infigo web-to-print supports the evolving flexo industry by becoming an official member of the FTA
We are delighted to announce that we are now an official member of the Flexo Technical Association (FTA). With key initiatives to improve productivity and product quality, the FTA was a natural fit for our organisation and company mission and vision.
Through our membership, we will aim to share our strategic knowledge around utilising web-to-print to automate the order intake process and simplify the customer journey. By doing so, manual touchpoints like entering an order, back and forth communication for artwork approval, file pre-checks and delivery status are removed from the equation. The re-ordering process is also simplified by putting the customer in control and providing platform access, 24/7.
Chris Minn, Head of Global Marketing at Infigo, said: "With such a rich history of driving flexographic printing into the packaging space, we are delighted to be an official member of the FTA. Flexo technology continues to evolve and with that comes the opportunity for printers to become digitally connected to their customers and create new revenue streams.
Chris added, "I am confident that our membership will allow us to better serve the industry and assist in sharing the knowledge and strategy for web-to-print. Personalised digital storefronts allow you to focus on what matters most, impressive efficiency, quality and overall customer satisfaction."
Founded in 1958, the FTA has been providing the means to enable flexographers to enhance their skills, connect with like-minded individuals, and expand their reachable market. The FTA provides knowledgeable videos, training, publications and more to their exclusive members, and the industry alike.
As a member of the FTA, Infigo is committed to sharing ways web-to-print can help support growth within the Flexo industry. Partnerships is at our core, and working with key MIS, pre-press, and printing partners has allowed us to become a unique piece to the automation puzzle across all sectors of print. Infigo puts your customer in control and provides a selling engine for any print business, around the clock.
Paul Bromley, Head of Global Sales, said: "Infigo has an impressive track record of working with and supporting our partners who offer best in class solutions. Our recent integration with Hybrid CloudFlow shows how flexible our solution is as we aim to assist companies looking to grow and streamline their operations whilst also simplifying the order process. We really enjoy working with the global Hybrid team and look forward to working together towards further for many years to come."
Our company mission is to work in partnership with our customers to provide innovative tools that integrate complex systems to remove unnecessary repetitive tasks and enable users to easily create sophisticated products online.
We look forward to showcasing these tools at the FTA Technical Event, October 9-11, in Louisville, KY. Please stop by our tabletop exhibit to understand how a digital strategy can increase efficiency and capacity.
For more information about the FTA, take a look at their website.
To learn more about the Fall Technical Conference or to join us at the event, check out the event website.