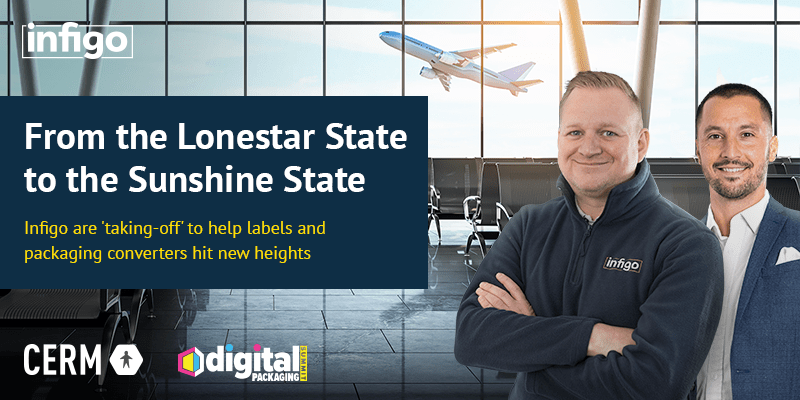 From the Lonestar State to the Sunshine State, Infigo are 'taking-off' to help labels and packaging converters hit new heights. 
From the Beatles, to the Rolling Stones and Led Zeppelin – the USA has always welcomed creative and innovative Brits. Which is why Infigo CEO & Founder, Douglas Gibson and his co-pilot, Technical Operations Director, Alex Bowell, are excited to be crossing the pond to embark on their own mini-tour of Texas and Florida.
While Douglas and Alex don't expect to be greeted by the screaming masses, or change the face of music, they are hoping to disrupt the North American labels and packaging market, with a whistle stop tour of the southern states.
CERM User Group Americas 2023
Touching down, after 4915-mile flight, in Texas, USA, Douglas and Alex will first take the stage at our friends and partners event, CERM User Group Americas 2023, held from the home of the largest wine festival in the Southwest United States, Grapevine, TX, between 7-8th November. Here they will demonstrate how the ground-breaking Infigo Connect: CERM integration can help packagers and label converters take orders online and automate their workflow.
The integration, which is tailored for the labels and packing industry, brings together Infigo's e-commerce and personalisation prowess with CERM's estimating, workflow and job management expertise, to provide a complete package for label converters.
Alex said that it would be a proud moment to introduce the integration to CERM's users, and get their feedback, seeing as they had been pivotal to the development of the module.
He said: "We were invited to CERM's annual European customer event earlier in the year, where we were able to hear precisely what the pain points were for label converters and what they wanted in an e-commerce solution for their industry.
"We were welcomed into their inner circle with open arms – where we floated the idea of the end-to-end integrated solution, obtaining invaluable feedback.
"We spoke with their customers, which include some of the biggest names in the labels and packaging sector, and managed to find a strong group for our BETA program.
"So, while we have had successful testing in Europe, we can't wait to update CERM's North American users, receive first-hand feedback and further improve the integration's capabilities."
The Digital Packaging Summit 2023, Florida
After enjoying some Texan hospitality from the Lonestar State, Douglas and Alex will then embark on a further 1400-mile trip to the exclusive Digital Packaging Summit, Florida, of which Infigo are also proud silver sponsors.
During the summit, which has been organised by our friends at PRINTING United Alliance and held in the beautiful surroundings of Pont Vedra Beach, St. Johns County (the wealthiest county in Florida) between 13-15th November, Douglas and Alex will be on-hand to demonstrate two ground-breaking Infigo integrations, the afore mentioned Connect: CERM module, as well as our latest (and yet to be officially named) 'parametric design' tool, each created specifically for their respective labels and packaging industries.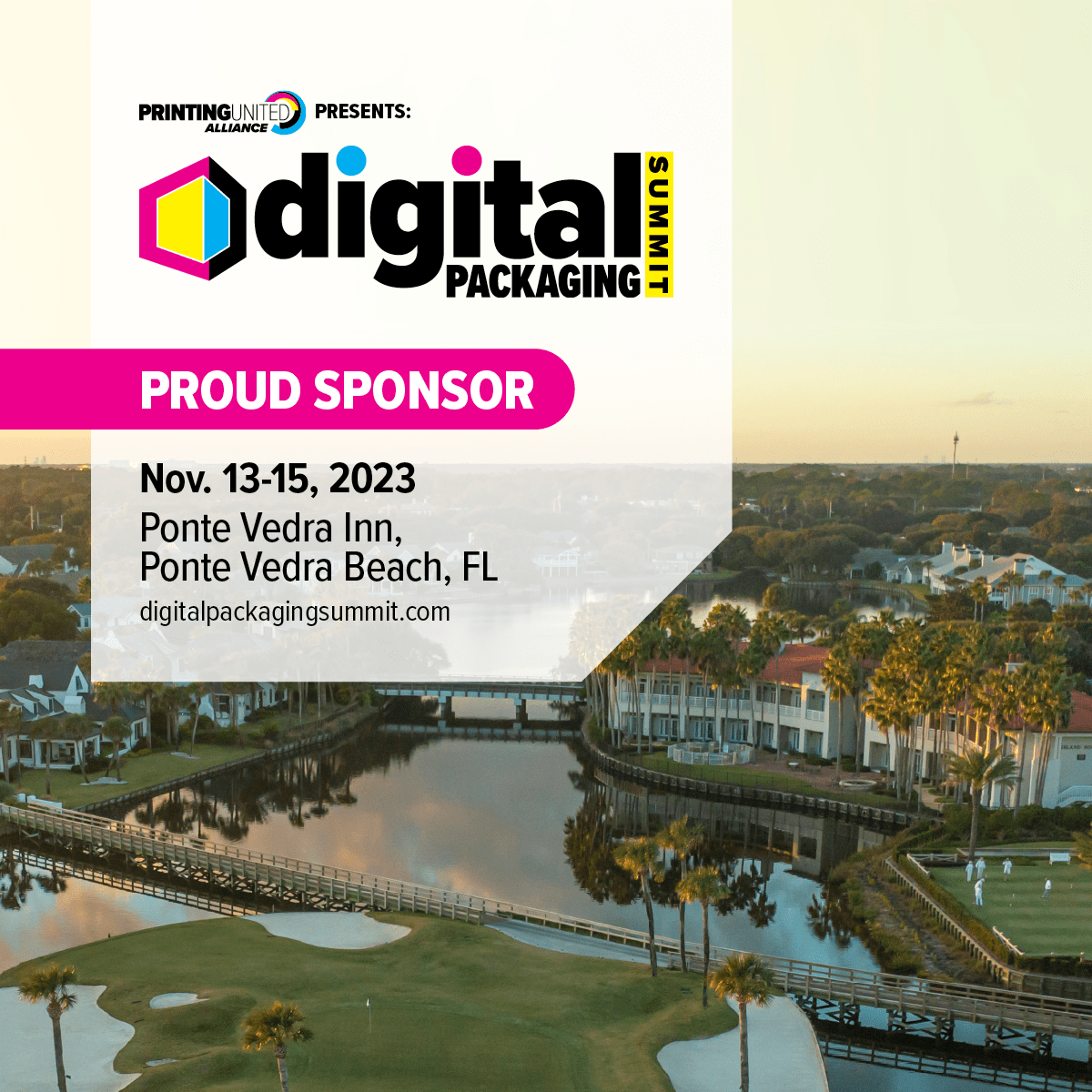 Built in partnership with EngView Systems, the parametric design tool allows users to easily create bespoke packaging, with the reassurance of complying with food and pharmaceutical packaging regulations. With more than 1500 parametric designs for folding carton, corrugated board, grey board and PVC, the tool includes a library of full parametrized ECMA and FEFCO codes.
Douglas said: "We're always excited to meet with our partners and clients in the US, but I'm particularly excited to show off the developments we are making in the packaging and labels sector and more importantly, get feedback so we can make further improvements."
Gibson explains that all sectors in the print industry were experiencing disruption and changing customer requirements.
He said: "Not only is there demand for smaller print runs, but customers want complete control over designing, ordering and paying for their print, whether they're ordering a personalised card or labels for their street food business.
"It is clear that printers need to be able to meet this demand, without cannibalising their profits.
"This is something that general commercial printers have embraced, creating successful, diversified revenue streams, through web-to-print e-commerce. However, we are now increasingly seeing this demand for both the labels and packaging markets, which is why we partnered with the best in the business, to understand the exact needs of businesses in these sectors, and create tailored solutions."
To find out more information about CERM User Group Americas, held from Grapevine Texas between 7-8th November 2023, you can visit their website.
If you'd like to find out more about the PRINTING United Alliance Digital Packaging Summit, held from the Ponte Vedra Inn, Ponte Vedra Beach, Florida, between 13-15th November 2023, you can also visit their website.