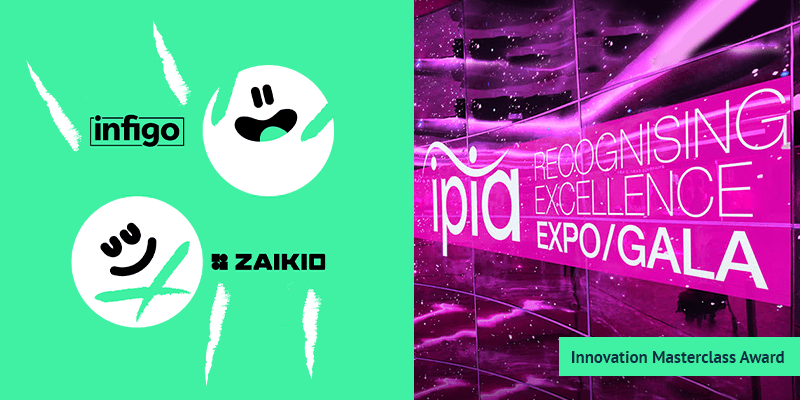 Infigo have been co-nominated with Zaikio for the IPIA 'Recognising Excellence' Awards 2023, in the Innovation Masterclass category, which is taking place on Wednesday November 29th (voting ends 3rd November)
Want to help us win an award? Since Infigo was launched more than a decade ago, we have strived to push the boundaries of print technology. Rather than telling printers how 'innovative' we are on our website, we have always let our demonstrations do the talking, so those in the industry can see precisely how innovative we are.
Another driving force for us has been to develop integrations with other technology partners, to create bespoke automated workflows for our users.
A winning partnership (if you vote for us!)
So, we are absolutely delighted to have been co-nominated for an Independent Print Industries Association (IPIA) 'Recognising Excellence' award, in the Innovation Masterclass category, with our partners, Zaikio, which is set to be held on Wednesday November 29th 2023, at the Leonardo Hotel and Conference Centre, Hinckley Island, in Leicestershire, UK.
But to get over the finishing line, we need your support and would really appreciate you voting for us by the end of this week! (before 3rd November)
A huge honour
Chris Minn, Head of Global Marketing for Infigo, said it was a huge honour to be nominated with Zaikio for a number of reasons. He said: "This is an event that we have always looked forward to, but to be nominated for an award really is the icing on the cake.
"We only formalised our partnership with Zaikio a few months ago, so this is testament to the impact that the integration between our technologies has had.
"When I was voted on to the IPIA council, back in December 2022, I was excited to share mine and Infigo's expertise and work with other members, to help modernise and digitise the industry.
"When I was introduced to fellow member Karl Ciz, Partner Success for Zaikio, it was clear we were on exactly the same wavelength as individuals and companies. As a leading API developer, Zaikio has enabled to really push the boundaries of what Infigo users can achieve with print e-commerce and automated workflows.
"Covid-19 has forced the print industry to accelerate digital change, which has seen many print businesses thrive in an extremely challenging economic environment. Adopting automation and digital processes have enabled them to capitalise on profitable new markets and revenue streams. So we are delighted that both us and Zaikio are recognised as leaders in the field of print automation and really would love our customers to vote for us."
Superior workflow solutions
Through the partnership with Zaikio, Chris said it reaffirmed Infigo's commitment to not merely sell web-to-print software but to provide superior workflow solutions.
He said: "We believe in enabling our customers to maximise their revenue within an automated workflow, which necessitates leading-edge connectivity. Zaikio is an exemplar in this respect, embodying the essence of connection within the print industry.
"Zaikio really is a one stop shop for PSPs and will help our customers to experiment with new products and services and diversify their revenue streams."
So please vote for us and Zaikio by the end of the week (3rd November).