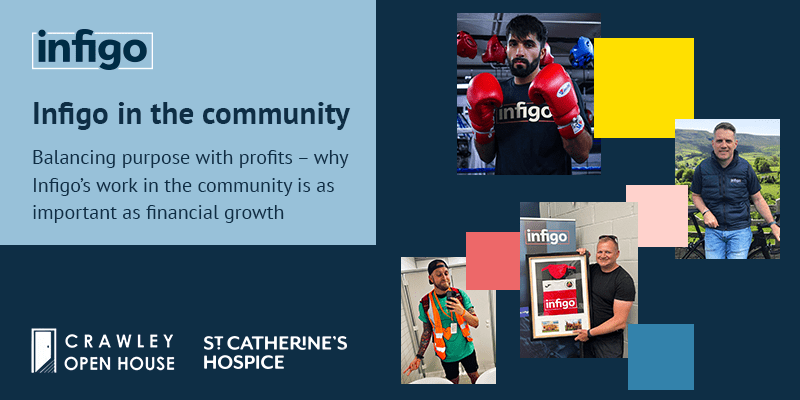 Balancing purpose with profits – why Infigo's work in the community is as important as financial growth
Business philanthropy isn't a new concept. While the industrial revolution transformed manufacturing and commerce in the Victorian era, it also saw the rise of businesses that wanted to use their position for good.
For example, US banker George Peabody created affordable housing for the working class in the UK, while chocolate manufacturer George Cadbury is credited with revolutionising employment practices and benefits. While Infigo can't yet claim to have made a similar impact on history, doing good in the community has always been at the forefront of what we do.
And as the business grows, and the more financially successful we become, the more of a positive impact we can have on the local and global community. In this blog we look back at the initiatives Infigo has got involved in to try and make the world a better place and our plans for the future.
Crawley Open House
One of the charities Infigo has supported for almost as long as the business has existed is Crawley Open House. Crawley Open House provides support and services for those suffering the effects of homelessness, unemployment, loneliness, discrimination, or other forms of social exclusion. This support has ranged from financial, food and clothing donations to more hands-on support.
We are also building them an Infigo storefront skinned and managed free of charge. This will help their fundraising efforts as they will be able to create personalised print and digital files for their donors more easily.
We have also put them in touch with a local printer to provide them with a more competitive price for all print work such as business cards, leaflets and posters which can be ordered through the site we have built for them.
St Catherine's Hospice
Another local charity that Infigo has supported in a number of ways is St Catherine's Hospice. Most recently Antonia Fagan, Partnership Growth Manager, and James Reffold, Digital Marketing Strategist for Infigo, volunteered to marshal an all night fundraising walk for the charity. They were covering a crossroads to ensure the participants all went on the right route. And did we mention this was between 11pm and 4am?!
James said: "It is just great to get behind the local community and charities. Particularly a hospice. I know that the hospice provide only the best care for those in their last hours and have supported so many through such sad times. To offer some of my time to stand on a street corner and help for a few hours seems like the least we can do to help."
James said that physically lending support to the community was particularly important.
He said: "Nowadays everything is done through social media and the in-person community fundraisers have become few and far between. I love helping at these face-to-face events because nothing beats seeing people smile once they've accomplished something – both for their own personal goal or raising money for a great cause.
"I will happily fly the Infigo flag at events like this when I can."
Supporting local sports stars
Another area Infigo has always shown commitment to is the local sports scene. Over the years, Infigo has sponsored local football teams Crawley AFC and Maidenbower Colts, particularly championing more inclusivity in grassroots soccer.
Chris Minn, Head of Global Marketing at Infigo and Chairman of Crawley AFC, said: "Ultimately, clubs can't operate without the support of local businesses. So, any support enables sports clubs to provide a service to the community, which we're all motivated to do.
"Most of these sports organisations are not for profit so any financial assistance is greatly received. Amateur sports in the UK is at an all time low in terms of funding but demand is at an all time high. At Crawley we went from four female football teams to 11, after the Lionesses won the Euros. Which is great for the sport but the funding from local government isn't there.
So, sports clubs, and the members of the community that access them are reliant on businesses like Infigo to fill that gap. Which is the only reason, clubs like ours are able to provide sporting opportunities for all races, faiths and sections of the community."
And while the Infigo platform's versatility means we can service different print sectors, we've also diversified with our sports sponsorship. Other beneficiaries have included local motorsports enthusiasts and promising young boxer Sher Khan.
Supporting the international community
As well as rasing funds for the local community, Infigo was also motivated to raise humanitarian funds, following Russia's invasion of Ukraine. Spearheaded by Alex Bowell, Technical Operations Director at Infigo, the company raised £2700 with a group fitness challenged, where the team (spread across the UK, Moldova, Germany and Spain) covered the distance between Infigo's head office and Kyiv.
When asked what prompted him to get the team involved, Alex said: "With us being so privileged with the life we have and the freedom we have I wanted to use this as a reason to raise money but also encourage team spirit and comradery in business.
"It helped us all demonstrate that when we work together as a team we can achieve amazing things and I think this transferred for a lot of people in to their work too. It was also a good reason to get everyone exercising – good for both body and mind – improve wellbeing, mood levels, health and fitness."
And there could be another company challenge on the cards. There have been whisperings of taking on the Three Peaks challenge – climbing Ben Nevis, Scafell Pike and Snowdon (the three highest mountains in Scotland, England and Wales respectively) one after the other.
Supporting future generations
While climbing three mountains, in succession, is a challenge, it's not the biggest challenge that Infigo faces. Because, like the rest of the World, the biggest challenge we face is global warming. This is why sustainability will become Infigo's main priority going forward.
Not only are we committed to becoming carbon neutral (and obtaining the PAS2060 Carbon Neutrality Standard and Certification) but also helping our customers do the same.
To achieve this Infigo will assess where it can cut carbon emissions (such as driving to European events rather than flying) as well as offsetting through a partnership with More Trees.
Not only will we plant a tree for every storefront that goes live on our platforms, we'll also plant one for every lead we capture at exhibitions. We're also creating a new module for our customers that will provide reliable and certified information about the level of CO₂ emissions generated by each print job.
In addition to this, we will offer the option for customers to acquire corresponding CO2 certificates to neutralise the CO2 emissions for each job.
Alex said: "There are different ways to run a business and there has to be a balance. Of course we have to survive, thrive, make a profit and grow – we have a responsibility to our staff and our customers to do this, but we won't do it at all costs.
"We want to leave a legacy, not just as a well-run, successful web-to-print software company but as a pillar of the community, as a fair employer, as a company that respects the environment and takes actions and makes decisions to benefit the greater good. That is what is important.
"If every business in the world did more to make the world a better place, the world would be a better place. Simple."
Volunteering makes business sense
As Alex says, it is a balancing act between profits and purpose. But the data suggests that these aren't opposing strategies. Greater purpose can lead to greater profits as well as improved mental health and productivity in staff.
According to analysis from YouGov 60% of volunteers, through an employee programme, rated their general happiness at seven out of ten or more, compared with only 55% of employees who have never volunteered. A happier workforce is a more effective one, with previous TUC research showing higher wellbeing results in better productivity and fewer sick days.
Employees who have done employer-supported volunteering are also more likely to recommend the company they work for, YouGov's study found. While only half of survey respondents who had never volunteered recommended their employer, this rose significantly to 70% among those who had volunteered through an employer-led programme.
Great place to work
So it's no surprise that the work Infigo does in supporting the community, fosters productivity and positivity in the work place.
Over the last year we have been awarded a hat-trick of awards by the global organisation Infigo Great Place to Work®. We have been  recognised as one of the UK's Best Workplaces™ in Tech, one of UK's Best Workplaces™ for Wellbeing and one of the UK's Best Workplaces™ for Women.
Not only do we have a dog-friendly office but the team also have the flexibility to work from home. And did we mention we only work four days a week?
Which gives us even more free time to make a positive impact on the community.