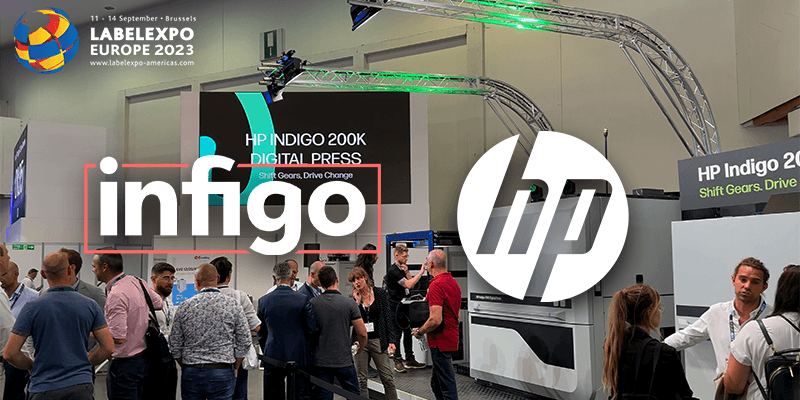 Converters learn how print e-commerce and automation can transform their business at Labelexpo Europe 2023 demonstration
It's something that's always bothered us when demonstrating the Infigo platform at tradeshows. We can easily show how easy it is to spin up a storefront and populate with products; let attendees use our MegaEdit editor, to see how design elements can be either locked in or personalised (depending on how much design flexibility and brand consistency is required); and talk about how easy it is to integrate with other systems and hardware.
However, we always find it most effective to demonstrate the platform alongside our partners systems, so customers can truly see an entirely automated workflow.
The power of an automated workflow
Which is why we were elated to be asked by our partner HP to help demonstrate the power of print e-commerce, in an entirely automated workflow at Labelexpo Europe 2023. In this blog we take you through the workflow, from design and ordering to printing and cutting, demonstrating how data can be synced to and from different systems, eliminating manual touchpoints and the potential for rekeying errors.
Because it's only when integrated with other systems and hardware (such as our labels MIS partner CERM, HP's Indigo 6k, HYBRID Software and AB Graphics DigiJet) that you really understand the flexibility of the Infigo platform.
Personalisation and 3-D preview
Using a demonstration version of one of our storefronts (Tony's Beer) we showed clients how simple it was to personalise a beer bottle. Attendees were able to personalise beer labels with their own name, using MegaEdit. Once they were happy with the design they could then see a 3D rendering, getting an accurate impression of what the finished label would look like on the actual bottle.
Automated pre-press checks eliminate costly touchpoints
Once the user was happy with their design and choice of materials and finishing, and had submitted their order, it was sent to our pre-press partners HYBRID Software.
HYBRID Software automatically proofed the design, which means customers can submit a label design any time of the day or night. In a real-world scenario, the customer would receive an automated warning if there were any issues with the artwork, that might affect the finished product.
Once pre-press checks were completed, the job was sent into the workflow (based on availability of machines and similar batched jobs). Again, this is an entirely automated process and in a real-world scenario, the integrations between the systems would trigger an automated email. This would be sent through the Infigo storefront, letting the customer know their job has been processed.
They would also receive updates when the job has been completed and shipped – reducing the number of email conversations and phone calls your staff would have to deal with.
Automated printing and finishing
Once the job was batched it was then sent to the HP Indigo 6K, which is described as "a game changer for the label and packaging industry".  As our partners state, its unmatched quality, speed, and versatility, opens up a world of possibilities for businesses looking to enhance their printing capabilities and deliver exceptional results to their clients.
Once printed, the labels were then sent to A B Graphics International (ABG) DigiJet for embellishment. Attendees were able to see first-hand, how the module gives an inline or offline fully digital system, allowing for multiple processes in one pass, including spot varnishing, cold foiling and tactile screen effect on any size of print run, all with no tooling.
It's all about partnerships and integration
As we began by saying, it's impossible to show off the full capabilities of the Infigo platform, without seeing it as part of a workflow. This is one of the reasons working with partners across the industry, has always been part of Infigo's growth.
So, thanks to HP, we were delighted to be part of this amazing demonstration, which showed how quickly and easily personalised labels can be produced, in an automated workflow.
As our friend, Tiziano Albanese, EMEA GEC L&P manager for HP said: "1500 personalised beer labels during the show, from web-to-label every day. Mission Possible thanks to the great partnerships between HP, Infigo, HYBRID Software, AB Graphics International, CERM, and GMG."