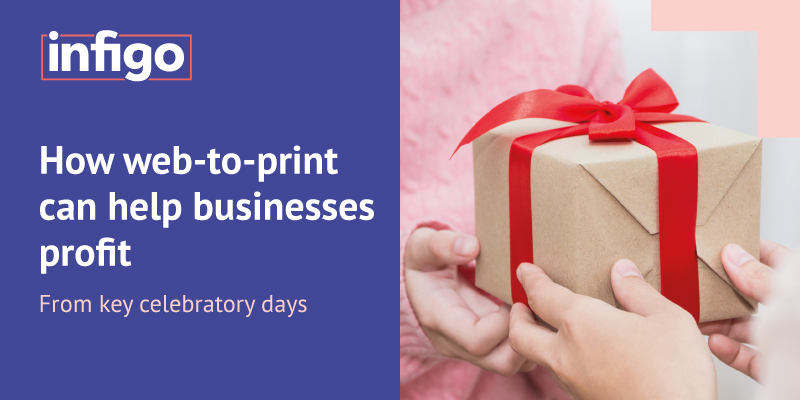 How web-to-print can help businesses profit from Valentine's Day – and other meaningful dates
The most romantic day of the year is fast-approaching, and that means a time to celebrate love and appreciation for that special someone. Although many still turn to the cliché gifting options, from buying last minute flowers and chocolates from a petrol station to the usual bottle of his or her favourite drink, an increasing number of customers are looking for something more personal – and that means, more personalised.
According to an article recently published by Print Week, the UK personalised gift market is expected to reach £1bn over the next 12 months, with potential customers expected to spend more than £40 each on unique gifts for their loved ones.
The article also outlines that the average UK shopper is even prepared to spend an extra 7% on gifts that have an element of personalisation. One of the main driving forces behind this trend is the fact that shoppers consider a personalised gift to be more thoughtful, in addition being unique, and not available straight off-the-shelf.
How to harness the opportunity – and offer personalisation online?
Many suppliers in the gifting market have realised the demand for personalised products and, in turn, the potential to increase their revenue and profit – especially during key celebratory dates, such as Valentine's Day. The trouble is that most still struggle to offer a diverse enough range of personalised gifts that set them apart from the competition, and in a way that fulfils customers' expectations of an 'Amazon-like' ordering process – that is, simple, quick and with minimum human interaction.
The features of a web-to-print platform allows businesses to tap into this market, with the opportunity to start small, if needed, and scale up in line with the growth in demand.
Some benefits of Infigo's web-to-print software
• Customisable websites: Your brand is unique – and your website should be too. With Infigo, you can create fully branded and customised e-commerce platforms which seamlessly adapt to any screen size, from desktop to tablet and mobile devices, all with standard out-of-the-box performance. Just one of the ways you can stand out from the competition.
• Market-leading editor: With our powerful editing tools, customers can personalise pre-set templates, or create a custom design from a completely blank canvas, and then view their purchase from all angles before adding it to the basket with our state-of-the-art 3D preview feature – making the experience of creating a gift as (if not more) enjoyable as receiving one.
• Instant pricing and simple checkout: Studies show that a customer is 21 times more likely to proceed with a quote that is generated within five minutes than one supplied in half an hour. Providing instant pricing and a simple checkout process will increase chances of boosting revenue and reduce the number of abandoned baskets on your site, as customers are more likely to place orders.
• Email notifications: It's easy to set up email notifications to be automatically sent to customers at key milestones of their order processing, including order confirmation and order shipped. This eliminates emails and phone calls regarding order status and allows businesses to offer a better customer journey and experience.
Walk the walk
There are many examples of how web-to-print has helped companies successfully offer new products and increase sales – we would like to highlight one of our customers, who have their website and offering locked and loaded, ready to profit from the incoming Valentine's shoppers that will be intentionally looking for products to purchase.
Start-up company, PrintMySmile.co.uk, have utilised our web-to-Print platform to help develop a wide range of personalised gifts, from posters and mugs to clothing and calendars. With such a diverse offering, they are able to not only stand out in the competitive market, but also appeal to a wide range of customers, maximising the chances of taking orders for any occasion, such as Valentine's Day, birthdays, Christmas and more.
Print My Smile owner and founder, Suzanne Rouart, said: "Putting a name and photo on a piece of print is nothing new, and the choice of personalised gifts available is vast, so differentiating ourselves and building loyalty with customers to become their number one all comes down to the user experience and the quality of the product. This was key to the decisions we made when choosing the e-commerce, web-to-print solution and packaging partner."
Needless to say, the technology must be simple and intuitive to use as well as offer a user-friendly mobile experience. That's because the key target market for personalised printed products favours very much towards the under 35s – according to Print Week's article, younger shoppers are more likely to spend more on personalised gifts than their older counterparts, with 18-34 year olds on average willing to spend an extra £30, compared to shoppers aged 55+.
Read more
We believe there is plenty of untapped opportunities to enter and grow in the gifting market – and our web-to-print solution can help businesses create a profitable revenue stream, showcasing a range of ultimately unique products, during all occasions and events of the year.
If you want to read more about the power of personalisation, how web-to-print can revolutionise your printing business or what to consider if you are thinking of replacing your current web-to-print system, check out our free white papers and e-guides.