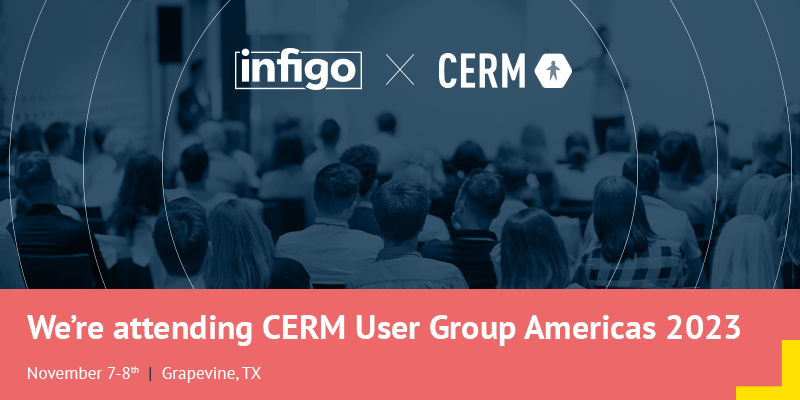 Infigo heads to Texas to demonstrate new integration at the CERM User Group Americas 2023 
They say that "Everything in Texas is best", which is just one of the reasons why we're excited to attend our partner CERM's User Group Americas, between 7-8th November 2023.
Held from the home of the largest wine festival in the Southwest United States, Grapevine, TX – CERM will share the latest updates to their MIS platform, as well as best practices and first-hand user experiences from the CERM team.
And while we can't wait to experience everything Texas has to offer – from the world's finest BBQs, to bucking broncos – the main reason we'll be there is to talk about our ground-breaking integration, Connect: CERM.
Infigo CEO & Founder, Douglas Gibson and Technical Operations Director, Alex Bowell, will be on hand to demonstrate how Infigo's Connect: CERM integration can help packagers and label converters take orders online and automate their workflow.
The integration, which is tailored to the labels and packing industry, brings together Infigo's e-commerce and personalisation prowess with CERM's estimating, workflow and job management expertise to provide a complete package for label converters.
During the event, Douglas and Alex will explain the benefits of the integration as well as share insights into how our clients have transformed their print businesses with e-commerce revenue streams.
The Connect: CERM integration allows users to:
Retrieve estimates
Create products from estimates
Push orders into CERM
Reorder CERM products directly
Sync BOTH customers and contacts
View estimates, products and order history
Variable product ordering
Upload artwork directly from Infigo into CERM
Pre-flight all artwork before passing into CERM
Plus much more
As CERM is a specialist in the labels and packaging space, it meant that Infigo was able to create a solution specifically for the labels sector, from the ground up – based on input and guidance from some of the biggest names in the labelling industry.
Alex Bowell said that it was important to work with a partner that not only had expertise in the labels space but shared the same company values.
He said: "We looked at many of the leading labels MIS out there but instantly knew that there was a standout partner that we wanted to work with, for many reasons, and that was CERM."
Infigo was then invited to CERM's annual customer event where Alex was able to hear precisely what label converters wanted from an e-commerce solution for their industry.
"Not just fit for purpose but best in class"
Alex continued: "They invited us in with open arms – transparent about the direction of the business and how they worked – and there was instant synergy. We were invited into their inner circle to speak at their customer event – where we floated the idea of the end-to-end integrated solution – and obtained invaluable feedback.
"We spoke with their customers, which include some of the biggest names in the labelling sector, and managed to find a strong group for our BETA program.
"In short, we worked closely with the experts in that field to solutionise a labels offering that is not just fit for purpose but best in class."