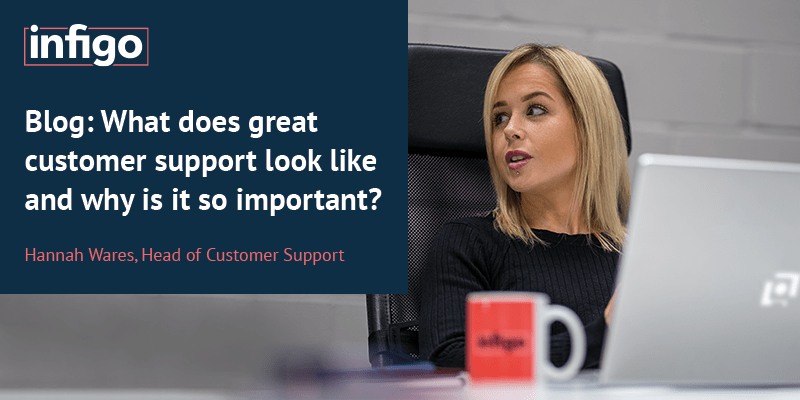 It's an understatement that great customer service is critical for any organisation. Unsurprisingly, 64% of business leaders say that good customer support has a positive impact on their company's growth. However, when organisations are reliant on your software to keep their business running, you need to ensure you have the capacity to handle any technical hiccups.
After all, for SaaS companies, it's integral ensure users get the best out of the product. Because if they're not able to get the results they were expecting (especially after having their minds blown by the incredible sales pitch), they'll soon be looking for another vendor.
And don't forget, customers that are seeing a sizeable return on their investment, will become your greatest advocates. Data shows 94% of consumers who give a company a "very good" customer experience (CX) rating are likely to recommend that company.
The importance of strong customer support
An unhappy customer won't be shy in telling their peers why they should avoid you. And further data shows that by increasing customer retention rates by just 5% can increase profits by between 25% and 95%.
This is why effective customer support has always been at the heart of what Infigo does. However, in some ways we've become a victim of our own success. As we become the chosen web-to-print vendor for a range of businesses (from global financial institutions, to general commercial printers, to packagers and converters) obviously there are a growing number of users that need our help.
So, over the last 18 months we have looked at how we can provide a high level of hands-on support when required, but also ensure that we can provide coverage to all customers and respond to their queries quickly and efficiently.
What does good customer service look like?
This was the question we asked ourselves when growing the customer support. After all, if we want to provide great support to our customers, what is the benchmark we set? To do this we thought about what we would expect as customers.
We settled on the following three pillars of good customer service:
• Getting a quick response
• The person you're speaking to understanding why the issue is important to us and how it impacts the business overall
• Setting expectations – knowing what the next steps the provider is going to take and in what timeframe.
This meant that on a weekly and monthly basis we could hold ourselves to account – had we responded to customers quickly (even if we weren't able to immediately resolve the issue)?
Had we done enough to understand the issue at both a personal and business level? Had we explained what action we would be taking to resolve the issue and how long it would take? Were we leaving people with a good fuzzy feeling afterwards?
Timely responses
According to Hubspot, 90% of customers rate an 'immediate' response as important or very important when they have a customer service question. 60% of customers define 'immediate' as 10 minutes or less. However, separate studies have shown that a 'good' response is within an hour (which just 21% of SaaS companies achieve), the 'average' response is within 24 hours but a longer wait than that is 'bad'.
Obviously, it's impossible to resolve every issue within an hour. Some queries and issues can obviously be a lot more complicated to fix than others. Some issues will be more critical to the running of respective businesses than others.
So we say to customers that from the initial ticket that you raised, we will get back to you within eight business hours or 24 hours on the clock. So, everyone knows that within one day they will get a reply.
However, we obviously prioritise queries based on the impact it's having on the business. For example, if it's a critical ticket, which means the client can't run their business, (what we call a "P1"), we aim to get back to them as soon as we possibly can (last year our average first response time on a P1 critical ticket was 26 minutes).
Understanding the issue, understanding the customer, understanding the business
Obviously, we work with a lot of different customers from a range of different businesses. All who use the platform in slightly different ways.  However, the longer you work for Infigo, the more you get to know and understand the different scenarios that can spring up. And while every customer is different, there are often common circumstances and solutions that can be used.
As well as building detailed notes on each customer and their business you do actually remember any quirks within their system. Because we have such a high staff retention rate, even if we started working with a client a decade ago, there will be someone around who knows that particular storefront.
As part of the sales process, our sales team take their time to get to know the customer and gather as much information as possible. So even if it's a new client, we will already have a good understanding of their business.
So in short, the majority the time, because of the relationship we have with our customers (we see it more as a partnership) most tickets we can deal with quite easily. And even if we can't,  where possible, we'll always give the customer a realistic timeframe of when we'll have the issue resolved.
Empowering the customer
One of the main goals for Infigo in 2023, is to empower our customers, so that they can become as proficient at using the platform as us.
According to Hubspot, more than 69% of consumers prefer to solve issues on their own, and 63% almost always start with a search through a company's online resources before ever turning to a support representative. This is why we have created the Infigo Academy. This is a library of content that we are constantly updating. So whether you want to batch import products, add integrations or group customers into departments, more often than not, there will be a video tutorial available, and if there isn't one, the chances are there will be soon, as part of the Academies goals and initiatives for 2023- so you can learn whatever you need to about the platform, in your own time, as and when you need it.