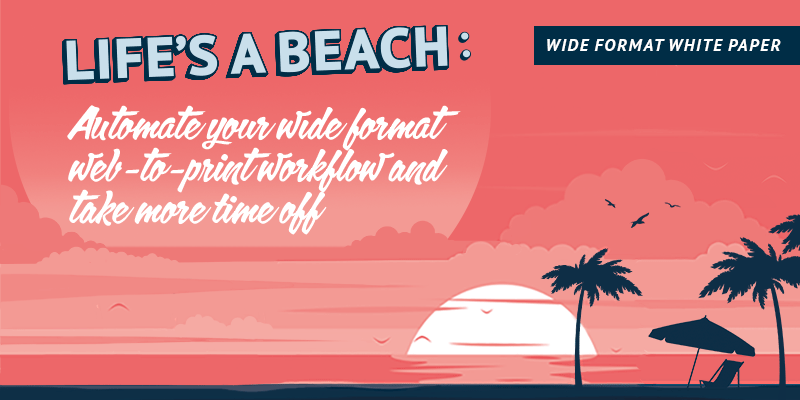 Creating a digital strategy may seem like a daunting task. Even automating just one portion of your workflow may leave you with questions about where you should start and what solution partners suit your needs best. Staying dynamic, ease of integration and being able to scale will be important considerations throughout the process. Let's jump in and take a look at the 5 things you should consider when navigating web-to-print for your wide format business:
A digital strategy for your wide format business leads to increased sales
The large format printing business is expected to grow from $9.62bn in 2023 to $11.91bn in 2028. With a CAGR of 4.36% between 2023-2028, there is risk in not investing in solutions to ensure your business is successful. Whether you're in textiles, packaging, interior décor or other wide format segments, online storefronts work around the clock, taking orders from buyers when it's most convenient for them. Not only are they taking orders, but they're collecting approved, print-ready files to move orders to press faster. Web-to-print provides a means for less manual tasks, increased capacity and in turn, maximised revenue.
Web-to-print portals increase customer satisfaction
Personalisation drives performance and better customer outcomes. According to Mckinsey, companies that grow faster, drive 40% more of their revenue from personalization than their slower-growing counterparts. Print buyers expect an Amazon-like experience. They like to go online 24/7, upload their artwork, view and approve and collect status updates along the way. Recent research from NAPCO shared that 94% of printers who have successfully implemented portals have strengthened customer relationships.
Flexibility with your web-to-print portal allows for integration, and in turn increased automation
Finding the right web-to-print solution for your organization is critical. Flexibility is key and the ability to integrate with several pre-press, printing and finishing solutions is imperative. The customer wants to go online and have control of their order, but they also want to trust the process when they aren't involved to ensure their order arrives correctly, and on time. To do this successfully, considering an MIS system, pre-flight and imposition software, digital printing and digital finishing is important. Establishing a relationship with a platform provider that easily "talks" to each one of these will help you in the long run.
Increase revenue with B2B and B2C portals
Considering both B2B and B2C online storefronts could open doors for many wide format printiers. B2B portals simplify the ordering process for a number of businesses. They want to enjoy a personalised experience in which they can view only their products. Their marketing teams want to be able to set limitations on colors and customizable areas to ensure brand protection. B2C portals can be tailored to various consumers. If you do wide format signage, you may have a restaurant storefront, a trade show storefront, a retail storefront and more. Each industry will have a different experience, tailored to what they want to see and how they want to step the customer through placing an order.
Web-to-print gives you and your staff more time off
Automating your order intake process reduces the need for added headcount. You have a sales rep, working around the clock to take orders for you. You have an automated customer service rep that is removing the back-and-forth conversations and emails with your customer to ensure their artwork is correct and providing live updates along the way. You no longer have the need for large files to be passed back and forth by email or utilising a file sharing tool. You and your staff can now take time off while orders continue to process.
Want to learn more about web-to-print and how it can enhance your wide format business? Download our white paper, Life's a Beach, Automate your wide format web-to-print workflow and take more time off.