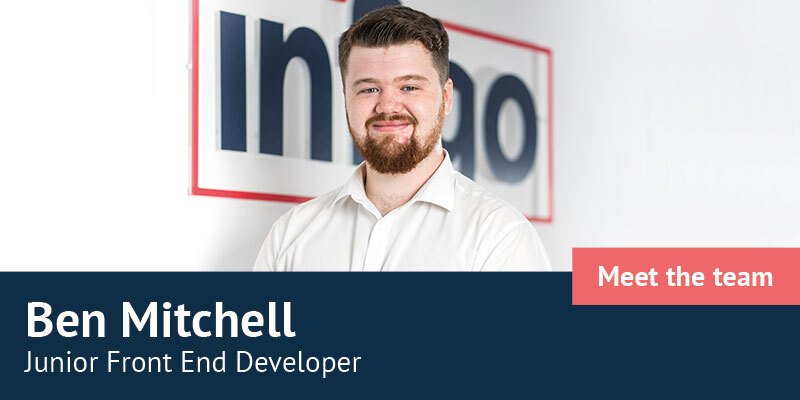 Our meet the team collection introduces different members of the Infigo team in a slightly different light, to show a side to them that you've most likely never seen before. This time is the turn of Junior Front End Developer, Ben Mitchell – who shares a few of his creature comforts, out of hour activities, and some insights into what makes him tick.
Position
Junior Front End Developer
Location
Horley, Surrey
Length of service
5 years
Currently listening to
Can't Go To Hell – Sin Shake Sin
What's your biggest achievement in the last 2 years? 
I have migrated from the Infigo support team to the front end team and have already handed over multiple projects.
What are your hobbies? 
Listening to music, playing games, reading, writing, cooking.
What can't you live without? 
Music. If I'm not on a call, I have music in the background all day long.
Tell us a bit about yourself, in your own words? 
I worked on the support team for the better part of four years, but have been a Junior Front End Developer at Infigo since October 2021 and have truly discovered my passion for the role.
Strangely enough, since the pandemic hit I have found myself going out to do things like hang out with friends more, since being unable to do so gave me a real appreciation for it.
It's also given me the motivation needed to give learning to drive another go, as I was having lessons prior to the pandemic which I was loathing, but now that regulations have been lifting, I have re-started them with a new instructor and find myself looking forward to the freedom given by the ability to drive wherever you'd like, hoping to be on the road by the end of 2022.
Tell us a fun fact not many people know about you 
I co-owned an esports organisation for two years.
Why would you recommend Infigo to potential customers? 
Over the years I have seen countless occasions where someone in the company went the extra mile for a customer, and have done so myself on many occasions. It's just part of the company culture.
At the weekends, you would most likely be found…
Either meeting up with friends, hanging out with family, or relaxing at home.
We hope you enjoyed our meet the team feature. Stay tuned for future additions, when we will be shining the spotlight on another member of the Infigo team.