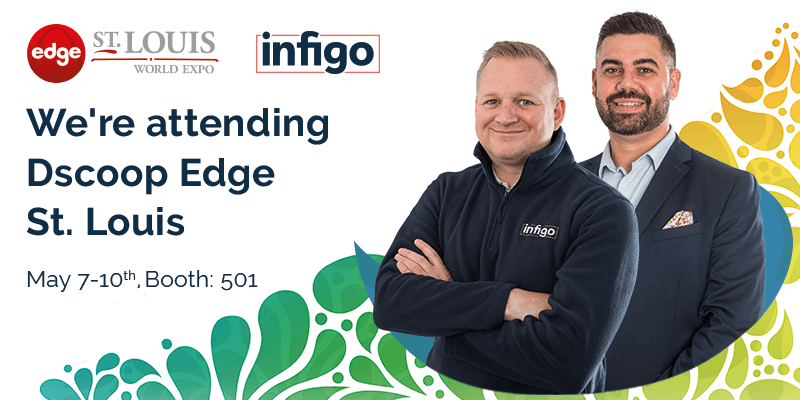 Infigo to show how print e-commerce can give your revenue a slam dunk at Dscoop Edge St. Louis 2023
We're be bringing our dream team to Missouri USA and demonstrating the power of web-to-print at this year's Dscoop Edge. The event, which will be held from America's Center in downtown St. Louis, is set to be one of North America's most popular trade events of the year, particularly with sporting legend, Earvin "Magic" Johnson, delivering a keynote speech.
Infigo All Stars
Appearing at Booth: 501, next to our friends and partners, HP, Infigo's web-to-print experts will be on hand to demonstrate how your business can achieve print e-commerce success. Infigo CEO & Founder, Douglas Gibson and Head of Customer Success, Greg Young, along with several other members of Infigo's web-to-print all-stars, can't wait to get back across the pond and show print businesses just how quickly and easily storefronts can be built, populated and integrated with other platforms to help fully automate your print workflow, so don't miss out- register your interest for a 1-to-1 demo slot now.
Don't leave it to a buzzer beater, though – pre-book your 1-to-1 Infigo demonstration with an expert now.
During the demonstration you will learn:
• How you can create a storefront in minutes and begin taking orders, even with little web design experience
• How the platform can be integrated with a number of systems, from your MIS, to your CRM to shipping providers, to automate manual touchpoints and seamlessly sync data
• How partnerships with leading providers, such as HP Site Flow, means the platform can be easily integrated with an existing workflow
• The digital marketing strategies that can be used to drive a range of B2B and B2C customers to your storefronts
Coaching for success
As if you needed any further incentive to attend Dscoop Edge St. Louis, this year's keynote speaker is none other than Basketball Hall of Famer and international business leader, Earvin "Magic" Johnson.
Douglas Gibson says: "It's no secret that Dscoop Edge is one of our favourite events of the year. It was great to be back last year in Denver, especially after the pandemic put things on hold for so long. However, I have a real feeling that this year is going to be the best yet.
"We have seen throughout history that the greatest crises can result in the greatest innovations. Our customers have been blown away by the features we have been developing and testing over the last couple of years – from our groundbreaking Adobe InDesign plugin, Invent, to our various ongoing platform upgrades – we can't wait to show attendees how quickly and easily they can create storefronts and products.
"And the best part is, with so many print innovators in one place, such as our friends at HP, we'll be able to demonstrate how it can all fit together to create a seamless, automated workflow. Most importantly, we'll be giving printers a glimpse into our Hypergrowth playbook, so they can learn the winning tactics that are bringing our customers into the web-to-print hall of fame."
Don't miss out 
Greg Young said: "I think anyone that missed last year's show will be blown away by the digital progress that has been made in the last few years – from our platform, to digital hardware. But what's most inspiring is how the industry is increasingly breaking down silos, so there is a lot more collaborative approach – whether that's working with technology partners or individual print businesses.
"I would urge anyone who has even a mild interest in the possibilities of print e-commerce and automation to book a demonstration slot in advance."
Register your interest for a free 1-to-1 demo slot at Dscoop Edge St. Louis now.