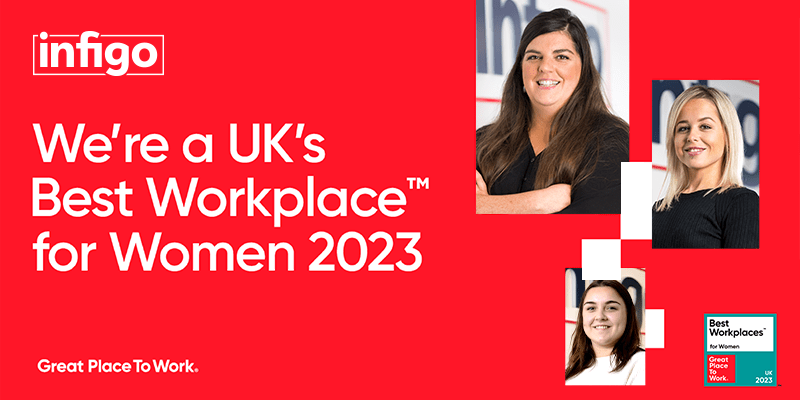 We are absolutely delighted to be recognised as one of the Best Workplaces™ for Women 2023.
The accreditation is based on anonymous feedback given by women to Best Workplaces™, reporting how well represented they are in both the workforce and senior positions. So we are delighted to see that our employees recognise how we foster an environment of equality and empowerment.
In the report we were praised for the mutual trust and respect demonstrated across the organisation, positive interpersonal relationships, and clear and open communication.
A leader in equal opportunities
Julie Minn, COO & Head of HR for Infigo, said: "We're delighted to be recognised as a leading employer in providing equal opportunities for ALL our staff. We have always strived to create a culture that fosters open communication and opportunity across the business.
"I won't lie. In our early days we were perhaps a more male dominated workforce but it's great to see that we have addressed that imbalance and we are a organisation that attracts all types of talent.
"And it's great that we have women representing all levels of the workforce – from entry level, right the way up to the senior leadership team."
Say it loud and proud
While feedback to Best Workplaces is completely anonymous, we asked some of our colleagues why they felt Infigo is such an incredible place to work.
Becky Bray, Junior Designer for Infigo, said: "I've worked at Infigo for 10 years now and I love every moment of it. Being able to work around design is something I've always wanted to do since I was at school.
"Working here has really opened my eyes to how much I can do and how much more I can learn about design and the print industry. Everyone is great to work with and we all get along really well. I am really happy working at Infigo and feel the opportunities to progress are open to us all."
Rebecca Mayne, Accounting Manager for Infigo, said: "Infigo has a brilliant and diverse team who, combined with our software, enables our customers to produce amazing products. Having worked for Infigo for many years, I have always found it incredible to see the endless opportunities that there are in the company and in print in general.
"Everyone is encouraged to put their ideas forward. It doesn't matter where or who the idea comes from, if it meets our values and benefits the organisation then it's put into action!"
"A positive and supportive environment for women"
Benedict Gautrey, Managing Director of Great Place to Work® UK, said:
"We're delighted to announce our 2023 collection of the Best WorkplacesTM for Women for the sixth consecutive year. This list celebrates the workplaces that are not just providing a great work environment for all, but are ensuring they're creating a positive and supportive environment for women too.
"Each of the companies on our list have been commended by their own female employees who have anonymously told us their workplace has gone above and beyond to ensure that women employees are treated fairly in terms of recognition, training, and promotion opportunities.
"Ensuring people aren't discriminated against, placing positive value on our differences, creating fair access and advancement for all, and fostering a sense of value and empowerment in employees is what being a Great Place to Work® is all about. It is fantastic to once again celebrate so many Best Workplaces™ for Women this year, across all sectors and organisational sizes."
Hat-trick of awards ⚽️⚽️⚽️
This is the third award Infigo has received from Great Place to Work®. In December we were named as one of the UK's Best Workplaces™  in Tech and earlier this year we were recognised as one of UK's Best Workplaces™ for Wellbeing.