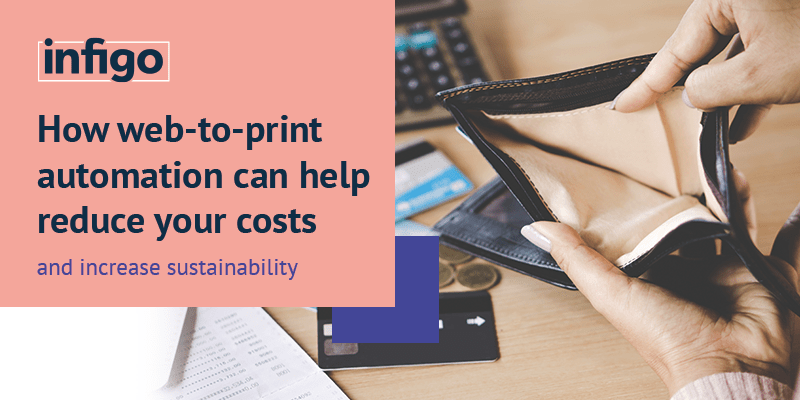 How web-to-print automation can help significantly reduce your costs and increase sustainability
You don't need us to tell you the impact inflation is having on your business. From the spiralling cost of energy to paper shortages, the current environment could prove to be as challenging as the pre-vaccine pandemic.
If rising costs are keeping you awake at night, you're not alone. In a recent survey conducted by the British Printing Industries Federation, energy costs were the top business concern for printing companies – just ahead of substrate costs.
67% of respondents reported that energy costs were their biggest challenge, with 66% stating that substrate costs (paper, board, plastics etc) were their most pressing concern.
According to the BPIF 73% of those surveyed reported rising energy costs during Q4 2021, while 70% expected further rises. So there has never been a more immediate case for taking a long hard look at your businesses processes to see where overheads can be reduced.
But with increasing pressure for all businesses to achieve net-zero carbon within the next few decades, now is the time to assess where waste can be reduced and energy saved.
Here we look at how printers can reduce overheads while also reducing their environmental impact.
Is sustainability really worth the investment?
First, we need to address the elephant in the room. Obviously lowering your businesses carbon footprint is essential for the environment in the long term. But how is going to affect your bottom line over time? And what impact is it likely to have on your energy bills in the short term?
After all, one particular UK politician recently drew criticism by suggesting that investing in a £20 kettle would save the public £10 on electricity within a year.
We'll address the first point first. From a general point of view, businesses that have invested heavily in sustainable processes, have seen the financial benefits.
Research conducted by economists at Harvard and the London Business School suggests that sustainability initiatives can actually help to improve financial performance. The researchers examined two matched groups of 90 companies. The companies operated in the same sectors, were of similar size, and also had similar capital structures, operating performance, and growth opportunities.
The only significant difference: one group had created governance structures related to sustainability and made substantive, long-term investments.
Less waste = higher margins
According to management consultancy McKinsey, "resource efficiency is a strong indicator of superior financial performance overall". Having developed a metric (the amount of energy, water, and waste used in relation to revenue) to analyse the relative resource efficiency of companies within a sector. Mckinsey found a significant correlation (95 to 99 percent confidence) between resource efficiency and financial performance. This was across sectors as diverse as food products, specialty chemicals, pharmaceuticals, automotive, and semiconductors.
In each sector, there were also a small number of companies that did particularly well. Encouragingly these were the ones that had taken their sustainability strategies the furthest.
If we look specifically at the printing industry, sustainability through print automation can improve financial results. According to one survey, high-automation firms generate more revenue than medium- and low-automation firms. In this survey, the automation leaders earned 26% more than the average across all levels of automation
Automation in printing
Further evidence reinforces how automation can boost profitability. According to NAPCO Research, print automation can improve financial results. In one survey NAPCO found that, high-automation firms generate more revenue than medium- and low-automation firms. According to the study of 201 North American commercial printers and 53 UK commercial printers, those leading in automation processes earned 26% more than the average across all levels of automation.
When asked the primary reason for introducing automated processes the most common answer was "to improve their company's financial health."
So what aspects of automation can produce the biggest savings and improve sustainability?
Take more orders, even when the shop is closed
One of the primary benefits of web-to-print is the ability to take orders around the clock, through your e-commerce storefront. Consider the cost of accepting an order, when the office is in full flow, with all the lights on and PCs running.
With the to and fro between the client, designers and print manager, margins are going to be considerably lower than a job that's submitted online in the dead of night, where the client finalises their design and submits the order, without you generating any labour or energy costs.
Pre-press batching and imposition
Workflow automation and connectivity has huge amount of sustainability benefits.
Research conducted by our partner HP Siteflow has revealed exactly how much waste can be reduced, and the impact that this can have on margins, by automating batching and imposition.
For example, using web-to-print and automated batching allows print shops to combine many small orders into a larger print job.
And therefore, longer and more efficient print runs. Creating production rules based on selected criteria, such as due dates or common paper type, means smaller but similar jobs can be grouped into larger print runs. In short, longer batched runs are more energy efficient and job-to-job setup and changeover time is significantly reduced.
Likewise smart imposition (with automated pre-press) means that the least amount of materials are used on each run. This reduces service charges on digital presses, removes labour costs for preparing the layouts as well as overall material consumption.
According to industry analysts the average number of jobs for printers in the EU stands at 3,510 per month. For the largest printers (with over 100 employees) the average is 5,200 jobs.
According to HP Siteflow, based on 3,510 orders a month, this could add up to savings of £10,000 a year.
Punch out catalogues
Another way you can stabilise margins is through "punch out catalogues." When the client places an order through your e-commerce storefront, the costs they're presented with is direct from the supplier.
Your platform is effectively speaking to your suppliers' platforms, so the client gets a real-time quote, based on the current cost of materials. It's no exaggeration to say that we are seeing the cost of materials increase on a daily basis.
When clients get a real time quote, based on the availability and current cost of materials, you have more control of your margins. You won't quote for a job only to find that overheads have gone up again 24 hours later, which you have to soak up.
Intelligent shipping
Another way you can reduce overheads and your carbon footprint is through intelligent shipping integrations. For example, Infigo offers an integration with EasyPost. This allows your customers to choose the most appropriate method of shipping, from a number of providers.
They can choose whether they want the quickest or most sustainable method of delivery. The ability to track reduces delivery failure and the associated increased carbon footprint of additional journeys.
Web-to-print also enables you to easily partner with other print shops around the world. If you have a UK client that's taking part in a conference in New York, you can take the order but delegate printing and fulfilment to your East Coast partner.
Obviously having the materials produced closer to the end destination significantly reduces the costs and carbon footprint of printing in the UK and shipping to the US.
Going the extra mile
As we have discussed, companies that go the extra mile in terms of sustainability are proven to be the most profitable. A shining example of a printing company that has fully embraced its' environmental responsibilities is our client, St Austell Printing Company, based in the South West of England.
St Austell designed its print factory with the sole purpose of being energy efficient. As a result, it has received an  'Excellent' BREEAM rating – the world's leading sustainability assessment for buildings.
With roof-based solar panel arrays powering its factory and offices, the building produces a carbon-saving of at least 45 tonnes per year. On top of this the company harvests rainwater for flushing toilets and has grass-topped roofs.
Movement sensors are implemented across the building to automatically switch lights on and off, as well as light sensors to automatically switch lights on and off at dusk/dawn.
The company has also implemented a delivery planning and tracking system for its fleet of vans, which calculates the most fuel-efficient routes for conducting each day's deliveries.
According to St Austell: "We also ensure our production schedules accommodate multiple-drop runs, with the aim of minimising emissions. This saves around 2 tonnes of carbon per year.
"When it comes to printing, we're constantly working to increase our efficiency and capacity to deliver the highest sustainability standards, shrinking our carbon footprint, cutting energy consumption and reducing waste."
Take the first step to reduced costs and higher margins
While combatting inflation will be the primary concern for printers, sustainability will continue to be a focus. Technologies that increase productivity, reduce waste will increasingly become important for print providers.
To find out how Infigo can help you reduce your overheads, increase revenue and profitability get in touch with one of our web-to-print experts.