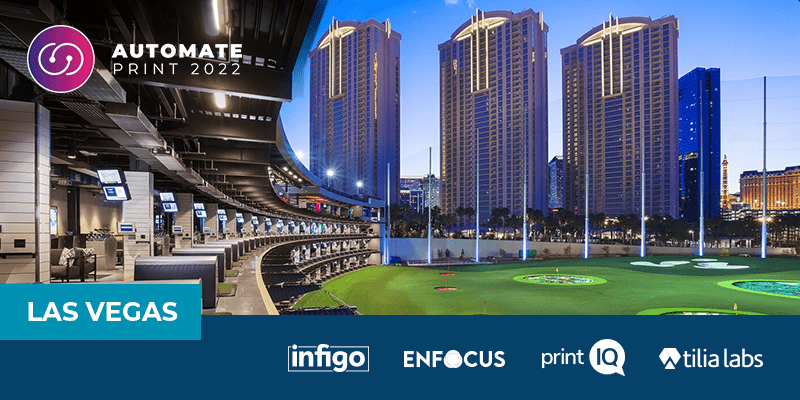 Join us for our inaugural Automate Print user group, on Tuesday October 18th, 1:00pm to 10:00pm at Top Golf – Las Vegas, NV.
The team at Infigo would like to invite you to join us at Top Golf in Las Vegas, NV, for a full day of in-person discussions and demonstrations, as we host our first ever user group event.
Automate Print 2022 will take place one day before kick-off at Printing United and we will be joined by three strategic partners, to showcase a fully automated web-to-print workflow:
Tilia Labs – Planning, imposition, and automation
printIQ – Estimating, ordering, e-commerce and production MIS
Enfocus – Versatile automation software
What to expect
Plan for a day of innovative discussion and demonstrations. The opening session will be presented by all four partners, then the teams will break for more focussed discussions around each solution. Your registration will include:
• Lunch, snacks, dinner and drinks
• #successfulwebtoprint, with myself, Greg Young
• Tech Tuesday: meet our CTO, with Infigo CTO, Michael Zauner
• Web-to-print 3.0, with Infigo CEO & Founder, Douglas Gibson
• Networking with other print industry professionals
• 2 hours of Top Golf
Whilst this event is taking place in the USA, we welcome guests from all around the globe to attend. With limited space available, we also strongly urge our customers to register early, to avoid disappointment.
If you are unable to join this inaugural event, then don't fret! We intend to host a similar event in Europe next year.
If you have any questions about the event, or your registration, please feel free to contact us directly and we look forward to seeing you on October 18th at Automate Print 2022, Las Vegas.