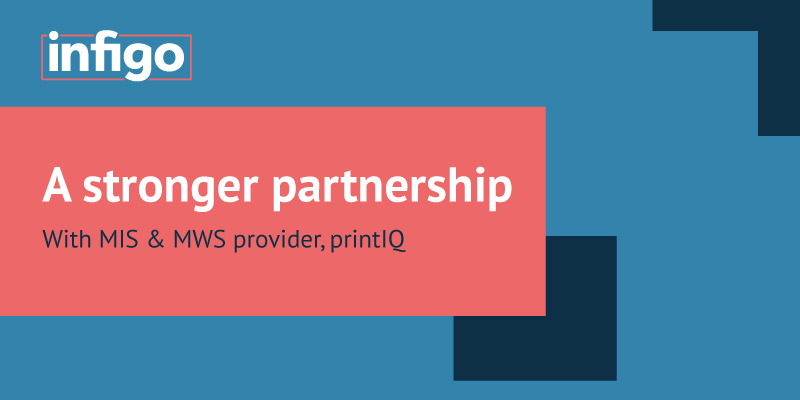 We are proud to announce further enhancements to our partnership with leading MIS and MWS (Management Workflow System) provider printIQ – offering greater flexibility, efficiency and cost savings to our customers.
With pressure on print facilities to create diversified revenue streams and improve productivity, we are committed to building partnerships that enables clients to fully digitalise and futureproof their operations.
Through the dedicated integration with printIQ, our mutual customers will benefit from a seamless, end-to-end estimating, ordering, and production workflow system.
The cloud-based MWS solution gives print managers complete oversight of the workflow, so they can maintain continuity between stock suppliers, internal shop floor, right through to outsourcing.
Users can log in to the cloud-based system anywhere in the world, track jobs online and manage entire projects remotely – from estimating all the way through to invoicing. This enables printers to massively improve operation efficiency – from increasing quote response rate to reducing production errors.
To explore the full benefits of this partnership, and how the integration works, Douglas Gibson, managing director and Mick Rowan, Product Director from printIQ hosted a webinar on the 30th September. 
Douglas Gibson said: "Building on the momentum we have seen over the past year as well as the feedback received from current clients, we have taken the decision to further extend the features we offer as part of our integration. This partnership will enable our customers to push boundaries and make decisions that are necessary to remain ahead of the game, in today's challenging environment. I'm greatly looking forward to the opportunity to discuss the benefits of the integration with our counterparts at printIQ during our forthcoming webinar"
Mick Rowan added: "Our first goal, at printIQ, was to solve the problem of estimating complex print jobs quickly and accurately. The next step was to simplify it to the point that customers, sales, and non-skilled staff could easily complete their own quotes online. Once we'd achieved that we looked to enhance the offering and that desire lead us straight to Infigo. In fact, Infigo fit so perfectly within the printIQ ecosystem that the natural synergies between the two companies made the tech partnership the obvious next step".