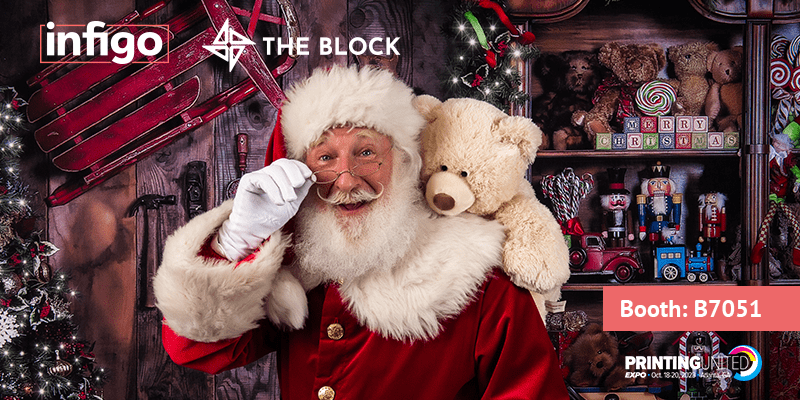 Infigo are to donate Christmas gifts for children's charity, Kids @ The Block at Infigo Booth: B7051, PRINTING United Expo, Atlanta, which is to be accepted by Republican member of the Georgia House of Representatives, Soo Hong.
Working with partners that share the same goals and values as Infigo has always been intrinsic to the growth of the company, and while helping the print industry to reduce costs and increase revenue is a driving factor for us, helping those less fortunate in life has always been equally important to the business.
As our presence in the US has grown, and we have enjoyed growing commercial success, we wanted to give a little something back, and are therefore proud to have formed partnerships that will enable us to bring some Christmas cheer to those that haven't been as lucky in life as we have.
Special delivery from Santa
We are delighted to confirm that the big man himself, Santa Claus, has agreed to make an extra special trip from the North Pole, especially to deliver toys and games to Infigo Booth: B7051, at this year's PRINTING United Expo, Atlanta.
This is all because Infigo will be supporting local charity, Kids @ The Block.
Kids @ The Block provide a safe after-school space to foster emotional, spiritual, and academic growth for local children. However, through volunteers, the charity also delivers free weekly grocery bags, to more than 135 families in the Buford-Sugar Hill area.
Not only does the charity provide nutritionally balanced food, with a mix of proteins, carbohydrates and pantry staples, it also makes a concerted effort to provide culturally appropriate produce for the largely Hispanic client base.
So, we couldn't think of a better organisation to team up with, and are delighted that Santa is available to truly make it the most wonderful time of the year for underprivileged kids.
Connecting businesses with non-profit organisations
However, to avoid a repeat of How The Grinch Stole Christmas, we need to make sure we are handing over our donations to someone trustworthy and respected within the Budford-Sugar Hill community, to look after the gifts, until they can be distributed to the children ready for the big day.
And the natural choice was Republican member of the Georgia House of Representatives, Soo Hong.
Ms Hong said: "I'm excited to be accepting the donation from Infigo on behalf of Kids @ The Block at this year's PRINTING United Expo in Atlanta.
The Block's mission is built on the foundation of loving our neighbours, and their school programs do just that — providing kids throughout the community with a place that sees, supports, and loves them.
"I'm grateful to connect the business community with non-profits to facilitate generous donations to programs like Kids @ The Block.
Next week's generous donation from Infigo will help students grow emotionally, spiritually, and academically and support families every step of the way."
"Businesses should do more"
Infigo CEO & Founder, Douglas Gibson, said that supporting local communities, both in the UK and the US had always been a driving force for Infigo.
He said: "I've always felt that businesses should do more to help those that are less fortunate in life. When I heard about the work that Kids @ The Block do, it was an initiative that myself and the Infigo team wanted to support.
"The Block does incredible work for the underprivileged in the Buford-Sugar Hill community. However, it breaks my heart to think that on Christmas Day, there are hundreds of children who will be lucky to get fed, let alone have a present from Santa to open.
"So, we are proud and humbled to support Kids @ The Block over Christmas, by providing some seasonal cheer, and will continue to support them throughout the year."
Visit Infigo Booth: B7051 at PRINTING United Expo and meet Santa 
Infigo can also now unveil our new partnership with the ACTUAL real-life Santa (AKA Father Christmas, Saint Nicholas, Saint Nick), at this year's PRINTING United Expo, Atlanta. Perfect timing for passing on our donations to Ms Hong.
So have your cameras at the ready, and visit Infigo Booth: B7051 to have your photo taken with the big man himself (pictured).
We're also giving out a Christmas-staple.. SOCKS! Courtesy of our friends and partners, Zaikio, who will also be in attendance to demonstrate how they can automate the most time-consuming of workflows with their solution.